RICHMOND, Va. -- In an effort to provide accurate, easy-to-read information on the on-going COVID-19 outbreak and its impact on our community, WTVR.com will update this post with the day's local coronavirus headlines and statistics.
COVID-19 IN VIRGINIA (Scroll to bottom for U.S. stats)
Positive COVID-19 Cases: 32,145 (+1,005 from Monday)
People Hospitalized: 3,904 (+82 from Monday)
COVID-19-Linked Deaths: 1,041 (+27 from Monday)
Total Tests: 224,991 (+ from 6,598 from Monday)
CITY/COUNTY-BY-COUNTY BREAKDOWN OF CASES (Updated numbers here)
Accomack: 688 (+20)
Albemarle: 138 (+2)
Alleghany: 7 (+1)
Alexandria: 1,476 (+16)
Amelia: 18
Amherst: 25 (+1)
Appomattox: 23
Arlington: 1,590 (+30)
Augusta: 84 (+2)
Bedford: 40
Bristol: 3
Botetourt: 31 (+1)
Brunswick: 20
Buchanan: 16
Buckingham: 411
Buena Vista City: 8
Campbell: 13
Caroline: 42
Carroll: 48 (+3)
Charles City: 22
Charlotte: 11
Charlottesville: 71
Chesapeake: 384 (+4)
Chesterfield: 988 (+10)
Clarke: 19
Colonial Heights: 76
Covington: 2
Craig: 4
Culpeper: 374 (+9)
Cumberland: 23
Danville: 44
Dinwiddie: 36
Emporia: 52 (+2)
Essex: 31
Fairfax: 7,643 (+257)
Fairfax City: 47
Falls Church: 44 (+2)
Fauquier: 213 (+2)
Floyd: 4
Fluvanna: 81
Franklin City: 29 (+2)
Franklin County: 30
Frederick: 211 (+2)
Fredericksburg: 93 (+4)
Galax: 80 (+3)
Giles: 5
Gloucester: 28
Goochland: 87
Grayson: 21 (+1)
Greene: 19
Greensville: 50
Halifax: 27
Hanover: 220 (+5)
Hampton: 161 (+3)
Harrisonburg: 632 (+1)
Henrico: 1,252 (+26)
Henry: 36 (+2)
Highland: 2
Hopewell: 51 (+2)
Isle of Wight: 115
James City: 186 (+7)
King George: 48 (+1)
King and Queen: 7
King William: 14
Lancaster: 7
Lee: 10
Lexington: 6 (+1)
Louisa: 59
Loudoun: 1,446 (+16)
Lunenburg: 7
Lynchburg: 73
Madison: 24
Manassas City: 594 (+20)
Manassas Park: 187 (+4)
Martinsville: 5 (+1)
Mathews: 5
Mecklenburg: 167 (+3)
Middlesex: 12
Montgomery: 66
Nelson: 12
New Kent: 26
Newport News: 193 (+6)
Norfolk: 350
Northampton: 198 (+2)
Northumberland: 18 (+1)
Norton: 2
Nottoway: 16 (-1)
Orange: 56 (+3)
Page: 161 (+3)
Patrick: 6
Petersburg: 58
Pittsylvania: 24 (+1)
Poquoson: 7
Portsmouth: 225 (+3)
Powhatan: 24
Prince Edward: 73
Prince George: 49
Prince William: 3,666 (+103)
Pulaski: 10
Radford: 3
Rappahannock: 12
Richmond City: 758 (+17)
Richmond County: 261 (+57)
Roanoke City: 120
Roanoke County: 85 (+1)
Rockbridge: 11
Rockingham: 389 (+2)
Russell: 8
Salem: 32
Scott: 7
Shenandoah: 303 (+6)
Smyth: 15
Spotsylvania: 312 (+8)
Southampton: 135
Stafford: 467 (+8)
Staunton: 34 (+1)
Suffolk: 264 (+4)
Surry: 6
Sussex: 80
Tazewell: 6
Virginia Beach: 548 (+9)
Warren: 99 (+3)
Washington: 49
Waynesboro: 22
Westmoreland: 42
Winchester: 80
Williamsburg: 43
Wise: 23
Wythe: 16 (+1)
York: 62
*NOTE: This data is provided from the Virginia Department of Health daily at 9 a.m. Officials said their cutoff for data is 5 p.m. the previous day. So your local health department may have issued an alert about a case before it is added to the statewide tally released the following day.
COVID-19 LOCAL HEADLINES
Data begins to show economic impact of COVID-19 in Virginia
Virginia revenue collections were down $700 million in April, the first month to include impacts of the coronavirus response on state tax collections, said Secretary of Finance Aubrey Layne during a virtual presentation to the House Appropriations committee Monday. More here.
Use of lifesaving drug Narcan increases in Richmond during COVID-19 pandemic
New data released on Monday show the use of a lifesaving drug in the City of Richmond has increased since the start of the COVID-19 pandemic. More here.
Richmond doctor makes clear masks to help hearing impaired
The COVID-19 pandemic has changed the lives of people in every corner of the globe. But those who are hearing impaired, the coronavirus pandemic has created an entirely new set of challenges. While masks are important in stopping the spread of COVID-19 and required in many public settings, Richmond audiologist Dr. Lori Gardner of Hear Virginia said that they make communicating especially difficult for those who are deaf or hearing impaired. More here.
Virginia receives shipment of antiviral drug Remdesivir
Virginia has received its largest shipment yet of the antiviral drug Remdesivir from the federal government over the weekend. The drug has been shown to help patients fighting COVID-19 and will be distributed to hospitals across the state. More here.
Mental health experts see devastating firsthand impacts of COVID-19
The emotional impact of COVID 19 has mental healthcare workers on alert. Globally and in Central Virginia, healthcare workers note an increase in reports of fear, anxiety and depression, further complicated by the disruption of medical care, social isolation and financial uncertainty. More here.
12 new COVID-19 outbreaks reported in Virginia
Health officials are investigating 304 outbreaks of COVID-19 in the Commonwealth, according to Virginia Department of Health (VDH) data released Sunday. That is an increase of 12 outbreaks since yesterday's report. More here.
Nearly 4,000 COVID-19 patients discharged from Virginia hospitals
More than 80 COVID-19 patients have been discharged from Virginia hospitals in the last 24 hours, according to data from the Virginia Hospital & Healthcare Association. More here.
Some Virginia restaurants reopen, but others opt to hold off for now
As many Virginia restaurants reopen as much of the state enters Phase One of Gov. Ralph Northam's Forward Virginia plan, other eateries are opting to continue with takeout in favor if opening their patios to patrons. More here.
Most of Virginia begins gradual reopening amid coronavirus
Most of Virginia is beginning the first phase of a gradual reopening plan put in place by Gov. Ralph Northam. More here.
Fink's Jewelers owner calls reopening safe and busy
Back in business is the theme in Short Pump, as some stores in the mall were allowed to reopen -- with strict regulations -- on Friday. More here.
Dining with dummies? Renowned Virginia restaurant adds mannequins
One of the country's most renowned restaurants says mannequins will add a touch of whimsy and help with social distancing when customers return to its grand dining room later this month. More here.
Some seniors visit University of Virginia despite no in-person ceremony
The coronavirus pandemic may have delayed the in-person graduating ceremonies at the University of Virginia, but that didn't stop some seniors from getting pictures taken on campus Saturday. More here.
Some Richmond restaurant owners criticize city's Phase One delay for 'pulling rug from under our feet'
"We ordered lots and lots of food because as large as this deck is 50 percent capacity is about 100 people," said Dave Gott, Legend Brewing Company's vice president of operations. More here.
Child care centers hope for limit increase as they prepare for more kids, state reopening
As most of Central Virginia begins the first phase of a gradual reopening plan, many parents, who are non-essential workers, are trying to figure out what to do with their kids when they clock back in. More here.
Free COVID-19 testing offered for uninsured in Richmond and Henrico
Two free COVID-19 community testing events have been scheduled for next week in the Richmond and Henrico Health Districts.More here.
Virginia DMV to reopen 9 locations by appointment only
The Virginia Department of Motor Vehicles (DMV) will reopen nine locations by appointment only beginning on Monday, May 18. More here.
7 cases of COVID-19 reported at Chesterfield ramen factory
Maruchan Virginia, Inc. reported on Thursday that seven employees have tested positive for the virus and are currently quarantined at home.More here.
Northam: Richmond will not enter Phase One of reopening on Friday
Mayor Levar Stoney announced Thursday he has formally requested that the City of Richmond delay Phase One of the reopening process, scheduled to begin Friday, May 15. More here.
Why Virginia will no longer include antibody results in COVID-19 test totals
The Virginia Department of Health has been boosting their testing numbers by combining two types of tests that many health experts said paints an inaccurate picture of testing in the state. More here.
Ashland offering grants to help businesses reopen: 'We're all in this together'
Localities across Central Virginia are making plans to get businesses going again. More here.
Northam says Virginia has enough PPE to move forward
As Virginia prepares to move forward into Phase One of reopening, Governor Ralph Northam announced that the state now has enough Personal Protective Equipment (PPE). More here.
Northam calls for increase in COVID-19 testing at federal detention centers
Gov. Ralph Northam is calling for an increase in COVID-19 screening and testing at two federally-run detention centers in Virginia. More here.
Why do Virginia's COVID-19 testing rates remain so low?
Virginia Governor Ralph Northam declared a state of emergency in response to the coronavirus on March 12. Within two weeks, schools were closed, as were gyms, beauty salons, and restaurant dining rooms.More here.
Relief fund aids RVA small businesses impacted by COVID-19
Small businesses in the Richmond region that have been impacted by COVID-19 may be eligible for a grant to help provide immediate financial relief to their business. More here.
Nextup RVA providing free enrichment courses for middle schoolers
COVID-19 may have forced school kids out of the classroom, but the learning forges on. Most are turning to technology to keep up with school assignments. More here.
Northam: Phase One is 'small step forward,' but Virginians must 'remain vigilant'
Gov. Ralph Northam called the first phase of Virginia's reopening set to begin Friday a "small step forward," but warned Virginian's to remain on guard in the fight against the spread of the highly contagious novel coronavirus. More here.
Legislative Black Caucus has 'grave concerns' about reopening Virginia too soon
"While we understand the valid concerns that non-essential business closure and stay-at-home orders have taken a substantial toll on our Commonwealth's economy, these concerns must be weighed with the substantial negative impacts on many Virginians, especially Black Virginians and Virginians of Color," the Caucus wrote. More here.
Virginia DMV to reopen 11 locations for appointment-only services
"We'll start with 11 DMV centers in seven of eight regions. Northern Virginia centers will not open at this time," Gov. ralph Northam said. More here.
How to find work during COVID-19 pandemic: 'People are still hiring'
some employers are still hiring during the global health pandemic. Here are some tips for finding works from experts. More here.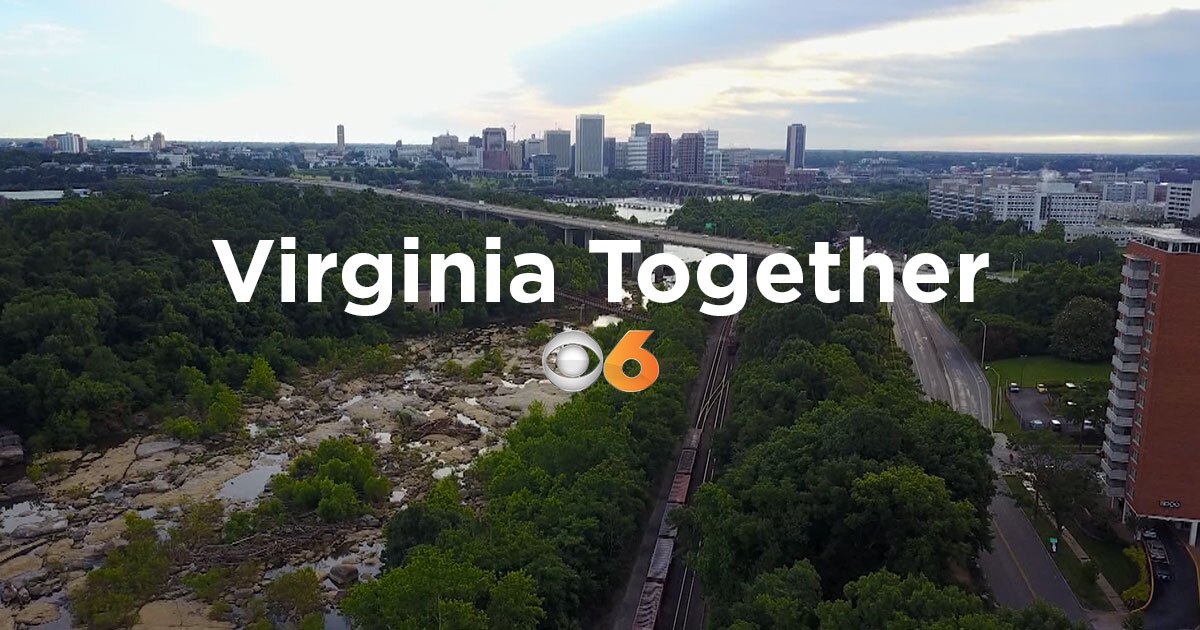 Horse visits Virginia rehab center for window therapy to 'lift spirits'
A horse took part in a Petersburg rehabilitation center's initiative to brighten the day for patients Saturday. Harley the horse visited Encompass Health as part of the facility's "pet therapy through the window" program. More here.
Dance studio hosts 'Cookies for Kids' parade to help food bank
A Henrico dance studio that had to postpone their spring recital held a drive-thru parade Saturday to benefit a great cause. More here.
Virginia woman, last of 19 children, turns 90 years old
Family members celebrated the milestone birthday of Agnes Webb, a remarkable woman who turned 90 years old on Friday, with a drive-by parade. More here.
Couple credits COVID-19 for retirement community marriage
In their senior living facility's chapel, 90-year-old Leo Walsh and 82-year-old Madeline Hardison Walsh recited their marriage vows after 6 years of friendship. More here.
Boxes of food, water distributed to Church Hill residents
Residents of Fairmont House in Richmond's Church Hill neighborhood were delivered boxes of nonperishable foods on Friday thanks to a partnership between Senator Joe Morrissey and Costco. More here.
Boy Scout distributes cards to show love to isolated seniors: 'It feels really good'
Joseph Ferry may not know the cure for COVID-19, but what he's holding is a prescription for happiness.More here.
Family, Henrico heroes help throw best birthday ever
No big birthday party? No problem! Bryce Moody said he had the BEST BIRTHDAY EVER thanks to friends, family, Henrico Police, and Henrico Firefighters. More here.
Ledbury trades designer shirts for virus-protecting masks
Ledbury is a men's clothing company based in Richmond. But for more the last couple of months, it's gone from making shirts to making masks. More here.
Richmond shoe store, nonprofit give 400 sneakers to hospital
Fleet Feet and nonprofit Shood (Shoes for Good) dropped off shoes donated by On Running shoe company to VCU Medical Center Thursday. More here.
Chesterfield teacher focuses on maintaining relationships with her students: 'It's really important"
It's storytime for 1st-grade students who attended Bellwood Elementary School in North Chesterfield. This morning, it's on Zoom. More here.
Firefighters, volunteers deliver masks, hand sanitizer to low-income communities
Gregory Gaskins lives just off Cool Lane in Richmond's East End and getting hand sanitizer and a face mask since the COVID-19 pandemic began has been nearly "impossible." More here.
Petersburg teacher raps motivational message to students ahead of exams
Terri T. Smith says she always has music playing in her Petersburg High School classroom, usually of the R&B variety. More here.
Watch this big National Nurses Week thank you to these heroes
National Nurses Week continues and with the coronavirus pandemic, these frontline workers deserve encouragement now more than ever. As a way to say thank you, senior reporter Wayne Covil surprised a group of nurses at Southside Regional Medical Center in this week's CBS 6 Gives. More here.
Metropolitan Business League helping Richmond business owners
For over 50 years, the The Metropolitan Business League (MBL) has been a resource for small businesses, female-owned businesses, and minority-owned businesses in Central Virginia. That has not changed in light of COVID-19. More here.
Chesterfield man raises more than 4K to buy meals, WiFi hotspots
A Chesterfield man's bike riding initiative raised more than $4,000 to help buy meals and provide WiFi hotspots to children in need. More here.
Musicians unite in Richmond neighborhood to thank hero workers
"I've been here in this neighborhood for 50 years," Plunky Branch said. "These days, I have been just doing my part, to try to spread some good cheer… usually, it takes 10 minutes."More here.
Children use lemonade stand to raise money for food pantry: 'She just knocked my socks off'
In Colonial Heights, three young entrepreneurs have made quite an impact at the Colonial Heights Food Pantry. More here.
'Heartsick' ICU nurse finds innovative way to reconnect COVID-19 patients with families
When coronavirus patients end up in intensive care, they're isolated from their family members. Loved ones can't hold their hands or be there to say, "I love you."
Registered Nurse Michelle Vaughan has been working in the ICU for seven years, but she's never had to face a situation like this before. More here.
YMCA of Greater Richmond 'Fill the Bus' challenge donates groceries to families
The YMCA of Greater Richmond is partnering with local food banks to help families in need. More here.
Photographers give graduating seniors a chance to smile: 'It hits pretty close to home'
Callie Fabrie counts herself among the graduating seniors upset and disappointed during the COVID-19 pandemic.More here.
Goochland High School class of 2020 to graduate at drive-in theater
Goochland County Public Schools announced the class of 2020 will graduate at the Goochland Drive In on Tuesday June 16 at 8:30 p.m. More here.
Virtual Walkathon raises money for special needs program
A group of young adults are getting outside and pounding the pavement to raise money for a new special needs program in Richmond. More here.
Firefighters, police hold parade birthday party for Petersburg boy
A Petersburg boy celebrated his birthday Monday afternoon with a little help from Petersburg Police and Fire. More here.
Breweries, distilleries making, donating sanitizer to frontline workers
The Virginia Wineries Association announced they would be teaming up with breweries, distilleries, beer distributors, and cideries across the state to produce thousands of bottles of sanitizer, in response to the coronavirus pandemic. More here.
World War II-era planes fly over Virginia hospital in tribute to health care workers
Two World War II-era planes performed a flyover above Riverside Walter Reed Hospital in Gloucester as a tribute to health care workers Sunday. More here.
Short Pump Town Center reopens; here's a list of open stores
Short Pump Town Center has reopened now that Governor Ralph Northam ordered the Phase One reopening of Virginia on Friday. More here.
The show must go on at the Ashland Theatre
When the crowds disappear and entertainment stops cold the silence inside Ashland Theatre can be deafening.
"It's just making us really sad to have the doors closed again," General Manager Cathy Buckenmaier said. "We definitely have our moments of frustration looking at an empty building all day long." More here.
Mudhouse Coffee setting up shop in Richmond
A mainstay of Charlottesville's downtown mall is heading to Jackson Ward. Mudhouse Coffee Roasters is preparing to open a cafe at 418 W. Broad Street.More here.
Gradual reopening planned for Virginia State Parks amenities
Virginia State Parks plan to gradually reopen some facilities as the state slowly eases restrictions to contain the spread of COVID-19. More here.
These Richmond-area malls will reopen Friday
At least a few Richmond-area malls will take the plunge and reopen Friday, the same day the governor will loosen existing restrictions on businesses. More here.
Richmond arts groups shift away from venues and into the digital realm
Even in a time of pandemic, the show must go on. More here.
Dominion Riverrock festival announces virtual experience
While the annual Dominion Riverrock Festival has been cancelled due to the COVID-19 outbreak, the event organizers are bringing the experience online with virtual trail events, live streamed music, and other digital content. More here.
Nutty Buttery owner: 'I've always loved every kind of nut'
The owner of Nutty Buttery, a restaurant in Richmond's historic Carver District, is doing what she can to keep her doors open during the COVID-19 pandemic. More here.
Salt & Forge donating 1,400 biscuits to celebrate National Nurses Week
Salt & Forge, a popular Richmond-based breakfast and lunch spot, is known for its delicious sandwiches and biscuits — and now they're in the spotlight for their service to the community. More here.
Richmond artist creates Frowny Face Dolls to help process sad emotions
As many of us have recently experienced, life isn't always "all smiles." One local business owner took that idea and created a tool for teaching that lesson to her child. The unique idea caught on, and now she sells the dolls to the masses. More here.
Shrimps dishes out soul food in Richmond
Shrimps Restaurant, on W. Brookland Park Boulevard, continues to safely serve customers in Richmond's Northside. More here.
Richmond startup takes on restaurant takeout
Just as to-go has become the go-to for getting restaurant food, a Richmond startup has launched an app intended to make takeout easier. More here.
How COVID-19 is impacting The Veil, Charm School, and Stella's south Richmond plans
A brewery-anchored project on the Southside is eyeing a summer finish line, the same time many Richmonders are hopeful for an ending of social distancing guidelines. More here.
COMPLETE COVERAGE: COVID-19 HEADLINES (App users, click here for complete list.)
LATEST COVID-19 U.S. AND WORLDWIDE STATS