RICHMOND, Va. -- In an effort to provide accurate, easy-to-read information on the on-going COVID-19 outbreak and its impact on our community, WTVR.com will update this post with the day's local coronavirus headlines and statistics.
COVID-19 IN VIRGINIA (Scroll to bottom for U.S. stats)
Positive COVID-19 Cases: 36,244 (+495 from Saturday)
People Hospitalized: 4,214 (+33 from Saturday)
COVID-19-Linked Deaths: 1,171 (+12 from Saturday)
Total Tests: 272,333 (+14,170 from Saturday)
CITY/COUNTY-BY-COUNTY BREAKDOWN OF CASES
Accomack: 727 (+5)
Albemarle: 148 (+5)
Alleghany: 13
Alexandria: 1,733 (+30)
Amelia: 21 (-1)
Amherst: 25
Appomattox: 26
Arlington: 1,873 (+69)
Augusta: 90 (+1)
Bedford: 41
Bristol: 4
Botetourt: 31
Brunswick: 21
Buchanan: 18
Buckingham: 442 (-1)
Buena Vista City: 12
Campbell: 13
Caroline: 47 (+1)
Carroll: 74 (+8)
Charles City: 27
Charlotte: 19
Charlottesville: 80 (+6)
Chesapeake: 433 (+7)
Chesterfield: 1,193
Clarke: 21
Colonial Heights: 83
Covington: 3
Craig: 5
Culpeper: 594 (+20)
Cumberland: 26
Danville: 46
Dinwiddie: 48
Emporia: 60
Essex: 43 (+2)
Fairfax: 8,989 (+44)
Fairfax City: 52
Falls Church: 47
Fauquier: 282 (+13)
Floyd: 4
Fluvanna: 84
Franklin City: 38
Franklin County: 32
Frederick: 262 (+7)
Fredericksburg: 118 (+5)
Galax: 88 (+1)
Giles: 5
Gloucester: 30
Goochland: 90
Grayson: 26 (+2)
Greene: 22 (+1)
Greensville: 55
Halifax: 29
Hanover: 252
Hampton: 174 (+2)
Harrisonburg: 716 (+7)
Henrico: 1,446 (+35)
Henry: 67 (+4)
Highland: 3
Hopewell: 66 (-1)
Isle of Wight: 124
James City: 196 (+4)
King George: 54 (+2)
King and Queen: 7
King William: 20
Lancaster: 10
Lee: 9
Lexington: 6
Louisa: 69 (+2)
Loudoun: 1,821 (-10)
Lunenburg: 8 (+1)
Lynchburg: 77
Madison: 32 (+5)
Manassas City: 802 (+10)
Manassas Park: 239 (+9)
Martinsville: 24
Mathews: 5
Mecklenburg: 200 (+7)
Middlesex: 12
Montgomery: 69
Nelson: 13
New Kent: 27
Newport News: 237 (+3)
Norfolk: 399 (+6)
Northampton: 213 (+3)
Northumberland: 22
Norton: 2
Nottoway: 19
Orange: 80 (+3)
Page: 188 (+2)
Patrick: 14 (+1)
Petersburg: 86 (-1)
Pittsylvania: 32 (+4)
Poquoson: 7
Portsmouth: 262 (+9)
Powhatan: 29
Prince Edward: 108
Prince George: 60
Prince William: 4,468 (+60)
Pulaski: 10
Radford: 6 (+2)
Rappahannock: 12
Richmond City: 1,012 (+33)
Richmond County: 275 (-1)
Roanoke City: 140 (-1)
Roanoke County: 90
Rockbridge: 14
Rockingham: 453 (+1)
Russell: 8
Salem: 32
Scott: 7
Shenandoah: 372 (+7)
Smyth: 15
Spotsylvania: 401 (+15)
Southampton: 143 (+2)
Stafford: 581 (+12)
Staunton: 35
Suffolk: 295 (+5)
Surry: 6
Sussex: 114
Tazewell: 6
Virginia Beach: 603 (+5)
Warren: 111 (+1)
Washington: 51
Waynesboro: 38
Westmoreland: 48 (+2)
Winchester: 143 (+15)
Williamsburg: 43
Wise: 24
Wythe: 17
York: 68 (+1)
*NOTE: This data is provided from the Virginia Department of Healthdaily at 9 a.m. Officials said their cutoff for data is 5 p.m. the previous day. So your local health department may have issued an alert about a case before it is added to the statewide tally released the following day.
COVID-19 LOCAL HEADLINES
Northam visits Virginia Beach as beachgoers flock to oceanfront
Beachgoers gathered at the Virginia Beach oceanfront Saturday to enjoy the sun, sand and surf on a Memorial Day weekend unlike any other. Gov. Ralph Northam said social distancing appeared to be going well and that most people were respecting the guidelines. More here.
5,100 COVID-19 patients discharged from Virginia hospitals
Fifty-five more COVID-19 patients have been discharged from Virginia hospitals in the last 24 hours, according to data from the Virginia Hospital & Healthcare Association. More here.
Large-scale COVID-19 community testing event held in Petersburg
The Crater Health District is holding several other community testing events, so anyone who would like to be tested must call 804-863-1652 and select option 1 for a screening interview. More here.
New COVID-19 outbreak reported in Virginia
Health officials are investigating 324 outbreaks of COVID-19 in the Commonwealth, according to Virginia Department of Health (VDH) data released Sunday. More here.
Northam gives Virginians 'homework' for likely mask mandate Tuesday
Virginia Gov. Ralph Northam said during a Friday news briefing on the COVID-19 pandemic that his administration is working on policy for a statewide mask mandate. More here.
Will Richmond churches reopen this weekend?
President Donald Trump announced Friday that he would enforce the reopening of places of worship, classifying them as "essential." More here.
Richmond union protests outside VA Hospital for hazard pay, PPE
A protest outside the Hunter Holmes McGuire VA hospital in Richmond was held on Friday evening.More here.
New Virginia center to help more people file unemployment claims
Virginia is opening a new call center to handle the unprecedented amount of calls from laid-off workers looking to file for unemployment benefits. More here.
Virginia unemployment rate in double digits due to pandemic
Virginia's unemployment rate shot up into the double digits in April due to the effects of the coronavirus pandemic and efforts to contain it. More here.
Virginia SNAP beneficiaries can now order groceries online for delivery
For the first time, more than 740,000 Virginians who receive Supplemental Nutrition Assistance Program (SNAP) benefits will be able to pay for their groceries online and have them delivered. More here.
COVIDCheck online tool helps Virginians check symptoms, connect with healthcare
A new online tool will enable Virginians to check their COVID-19 symptoms online, connect with health care professionals, and sign up for testing. More here.
How Richmond company is helping Virginia businesses reopen
Richmond-based The Shed, a rental marketplace that provides businesses like gyms and restaurant with the tents, equipment and furniture they need to set up shop outdoors, is helping businesses get back up and running. More here.
School reopening options include a virtual start before Labor Day
The Memorial Day weekend marks the unofficial start of summer. But for students and families, the coronavirus pandemic brings unanswered questions as to what the school year will look like in the fall after in-person instruction was canceled this spring.More here.
Gov. Northam: 'We are well stocked with PPE'
In aFacebook Live interview with CBS 6, Gov. Ralph Northam confirmed that Virginia is "well stocked" with personal protective equipment and doesn't expect to have shortages in the near future.Watch here.
Why some streets are being closed in Hopewell
Crews shut down some streets in Hopewell Wednesday so that restaurants can create outdoor dining areas.More here.
Data begins to show economic impact of COVID-19 in Virginia
Virginia revenue collections were down $700 million in April, the first month to include impacts of the coronavirus response on state tax collections, said Secretary of Finance Aubrey Layne during a virtual presentation to the House Appropriations committee Monday. More here.
How to find work during COVID-19 pandemic: 'People are still hiring'
some employers are still hiring during the global health pandemic. Here are some tips for finding works from experts. More here.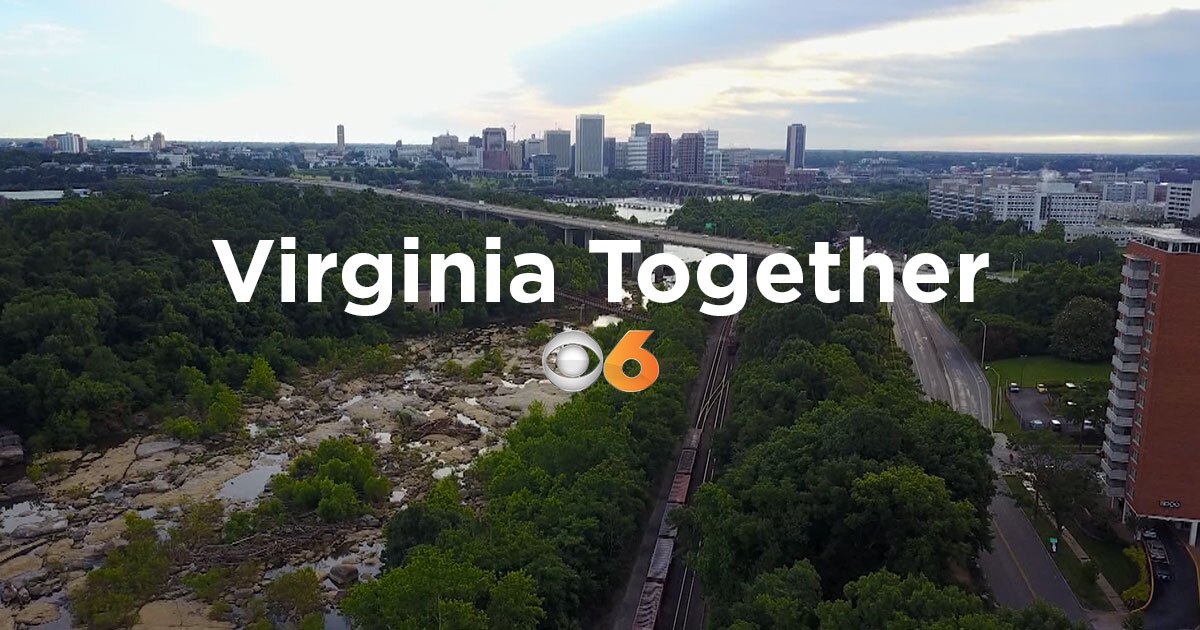 Richmond students start Rubik's Cube tourney for COVID-19 relief
A group of Richmond high school students are using Rubik's Cubes raise money to help battle COVID-19. More here.
Church plans to feed 400 families for the week
A Midlothian church plans to give out a week's worth of groceries to hundreds of families in need Sunday. More here.
Volunteers hand out 15,000 COVID-19 care kits in Henrico
A large group of volunteers and Henrico County employees distributed care kits to about 15,000 homes in the central and eastern parts of the county Saturday.More here.
100-year-old World War II vet survives COVID-19; released from Henrico hospital
Lloyd Falk, a 100-year-old World War II veteran, was released from Henrico Doctors' Hospital this week after a 58-day battle with COVID-19. Falk was one of the hospital's first COVID-19 patients when he was admitted on March 24. More here.
Richmond DJs host virtual dance parties on Facebook
Looking for a virtual party this Saturday night? Look no further than the DJ duo of DJ Drake and Cedric St James. More here.
Children's book exchange to take place in Mosby Court
A book exchange program in Richmond hopes to help kids throughout the city discover a love for reading. More here.
How to exchange your worn American Flag for a new one in Richmond
A partnership between Woody and Nelsen funeral homes and the Virginia War Memorial is giving Richmonders an opportunity to trade in their old, worn out American flag for new a 3' by 5' flag. More here.
Horse visits Virginia rehab center for window therapy to 'lift spirits'
A horse took part in a Petersburg rehabilitation center's initiative to brighten the day for patients Saturday. Harley the horse visited Encompass Health as part of the facility's "pet therapy through the window" program. More here.
Virginia Beach reopens, but it will be far from a normal day at the beach
If you're hoping to use the Memorial Day weekend to swim, surf, sunbathe, or fish, you're in luck. The Virginia Beach Oceanfront was set to open -- with restrictions -- on Friday. More here.
Skyline Drive now reopen for recreational use
Shenandoah National Park is increasing recreational access beginning Memorial Day weekend. Beginning Saturday, Shenandoah National Park will reopen access to the following areas for day-use only. More here.
Massanutten Resort announces reopening plan
Massanutten Resort will reopen, in phases, beginning June 12. "Our property is unique in both its size and variety of amenities, and we've taken the development of our new re-opening plans and protocols very seriously." More here.
Richmond Flying Squirrels offer Funnville Foodie Friday
Since the Richmond Flying Squirrels cannot take the field, due to COVID-19, the team is now offering that ballpark food for curbside pickup. More here.
ForwardRVA helping Richmond region small businesses with reopening process
More help is on the way for small businesses in the Richmond region that have reopened or are preparing to do so. More here.
Goodwill stores are reopening in Central Virginia
Goodwill stores in Coastal and Central Virginia are beginning to reopen after closing due to COVID-19. More here.
Henricus Historical Park to reopen with safety changes
Henricus Historical Park in Chesterfield plans to reopen Wednesday, June 3, in accordance with CDC and Chesterfield County guidelines. More here.
Short Pump Town Center reopens; here's a list of open stores
Short Pump Town Center has reopened now that Governor Ralph Northam ordered the Phase One reopening of Virginia on Friday. More here.
The show must go on at the Ashland Theatre
When the crowds disappear and entertainment stops cold the silence inside Ashland Theatre can be deafening.
"It's just making us really sad to have the doors closed again," General Manager Cathy Buckenmaier said. "We definitely have our moments of frustration looking at an empty building all day long." More here.
Mudhouse Coffee setting up shop in Richmond
A mainstay of Charlottesville's downtown mall is heading to Jackson Ward. Mudhouse Coffee Roasters is preparing to open a cafe at 418 W. Broad Street.More here.
Gradual reopening planned for Virginia State Parks amenities
Virginia State Parks plan to gradually reopen some facilities as the state slowly eases restrictions to contain the spread of COVID-19. More here.
Ashland offering grants to help businesses reopen: 'We're all in this together'
Localities across Central Virginia are making plans to get businesses going again. More here.
These Richmond-area malls will reopen Friday
At least a few Richmond-area malls will take the plunge and reopen Friday, the same day the governor will loosen existing restrictions on businesses. More here.
Richmond arts groups shift away from venues and into the digital realm
Even in a time of pandemic, the show must go on. More here.
COMPLETE COVERAGE: COVID-19 HEADLINES (App users, click here for complete list.)
LATEST COVID-19 U.S. AND WORLDWIDE STATS