RICHMOND, Va. -- In an effort to provide accurate, easy-to-read information on the on-going COVID-19 outbreak and its impact on our community, WTVR.com will update this post with the day's local coronavirus headlines and statistics.
COVID-19 IN VIRGINIA (Scroll to bottom for U.S. stats)
Positive COVID-19 Cases: 52,647 (+470 from Wednesday)
People Hospitalized: 5,360 (+88 from Wednesday)
COVID-19-Linked Deaths: 1,520 (+6 from Wednesday)
Total Tests: 453,869 (+10,383 from Wednesday)
CITY/COUNTY-BY-COUNTY BREAKDOWN OF CASES (click here for updated numbers)
Accomack: 984
Albemarle: 269 (+9)
Alleghany: 26
Alexandria: 2,127 (+2)
Amelia: 34
Amherst: 27
Appomattox: 33
Arlington: 2,299 (+19)
Augusta: 139
Bedford: 82 (-1)
Bristol: 4
Botetourt: 44 (+4)
Brunswick: 44 (+1)
Buchanan: 18
Buckingham: 517 (+20)
Buena Vista City: 12 (-1)
Campbell: 22
Caroline: 100 (+1)
Carroll: 158 (+5)
Charles City: 28
Charlotte: 29
Charlottesville: 144 (+2)
Chesapeake: 622 (+5)
Chesterfield: 2,041 (+46)
Clarke: 36 (+1)
Colonial Heights: 106
Covington: 4
Craig: 6
Culpeper: 774 (+1)
Cumberland: 46 (+1)
Danville: 61
Dinwiddie: 101
Emporia: 94 (+1)
Essex: 52 (-1)
Fairfax: 12,812 (+66)
Fairfax City: 68 (-1)
Falls Church: 56
Fauquier: 374 (+4)
Floyd: 8
Fluvanna: 98
Franklin City: 43 (+1)
Franklin County: 42 (+1)
Frederick: 416 (+1)
Fredericksburg: 197 (+3)
Galax: 165 (+11)
Giles: 5
Gloucester: 34 (+1)
Goochland: 109 (+3)
Grayson: 63 (+3)
Greene: 45 (+1)
Greensville: 303 (+3)
Halifax: 32
Hanover: 357 (+3)
Hampton: 233 (+2)
Harrisonburg: 846 (+4)
Henrico: 2,170 (+8)
Henry: 188 (+6)
Highland: 2
Hopewell: 120
Isle of Wight: 150
James City: 225 (+1)
King George: 83
King and Queen: 24
King William: 32
Lancaster: 11 (+1)
Lee: 9
Lexington: 8
Louisa: 95 (+1)
Loudoun: 3,229 (+49)
Lunenburg: 18
Lynchburg: 89
Madison: 41
Manassas City: 1,271 (+9)
Manassas Park: 361 (+1)
Martinsville: 53 (+1)
Mathews: 5
Mecklenburg: 225 (+1)
Middlesex: 14
Montgomery: 96
Nelson: 18 (+1)
New Kent: 45
Newport News: 337 (+9)
Norfolk: 619 (+14)
Northampton: 259 (+2)
Northumberland: 25
Norton: 2
Nottoway: 58 (+7)
Orange: 119
Page: 249 (+2)
Patrick: 29 (+1)
Petersburg: 176 (+2)
Pittsylvania: 54 (+4)
Poquoson: 10 (+1)
Portsmouth: 364 (+10)
Powhatan: 48
Prince Edward: 155 (+2)
Prince George: 158 (+5)
Prince William: 6,396 (+20)
Pulaski: 30
Radford: 7
Rappahannock: 16 (-1)
Richmond City: 1,709 (+23)
Richmond County: 290
Roanoke City: 222 (+15)
Roanoke County: 128 (+3)
Rockbridge: 19
Rockingham: 606 (+4)
Russell: 8
Salem: 42
Scott: 7
Shenandoah: 499 (+7)
Smyth: 15
Spotsylvania: 729 (+6)
Southampton: 155 (+1)
Stafford: 841 (+10)
Staunton: 55 (-3)
Suffolk: 333 (+3)
Surry: 11 (+1)
Sussex: 175 (+1)
Tazewell: 9
Virginia Beach: 832 (+9)
Warren: 225
Washington: 58
Waynesboro: 53 (+2)
Westmoreland: 83
Winchester: 250 (+2)
Williamsburg: 49 (+1)
Wise: 27
Wythe: 42 (+4)
York: 89 (+3)
*NOTE: This data is provided from the Virginia Department of Health daily at 9 a.m. Officials said their cutoff for data is 5 p.m. the previous day. So your local health department may have issued an alert about a case before it is added to the statewide tally released the following day. Get latest charts and updated numbers from VDH here.
NEWS CONFERENCES
COVID-19 LOCAL HEADLINES
Northam announces phased approach for school reopening
Governor Ralph Northam unveiled a phased reopening approach for preK-12 schools in Virginia.
"We know parents want to know what to expect this summer and in the fall, to be clear, all Virginia schools will open for students next year, but the school experience will look very different," said Northam at a Tuesday press conference. Read more here.
Don't miss the Virginia Together Fund virtual concert Friday night
Rayvon Owen, Jay Baxter, Mighty Joshua, Rodney Stith, and others will perform a virtual concert Friday night to help raise money for the Virginia Together Fund. The fund is helping Central Virginia families whose lives have been altered by the COVID-19 pandemic. Read more here.
COVID-19 test numbers are about to jump in Virginia, here's why
If you follow the numbers closely, you may notice an uptick in Virginia's COVID-19 testing numbers in the coming days. While factors like phased reopening, Memorial Day gatherings, and crowded protests may play a role in an increase of positive tests, the Virginia Department of Health has made the community aware of another factor that will result in the number of total test results going up. Read more.
Richmond mayor tests negative for COVID-19; will get retested after marching
Richmond Mayor Levar Stoney has tested negative for COVID-19 Saturday, but that he will get retested because he joined demonstrators in a march for justice Tuesday.
"I'll be getting tested again after marching this week, and I encourage anyone who has participated in the protests to do the same," Stoney said. More here.
RPS staffer tests positive for COVID-19; elementary school will shift to curbside pick-up
After a Richmond Public Schools employee tested positive for COVID-19, food distribution at an elementary school will switch to curbside pick-up next week out of "abundance of caution," school district officials announced Saturday. More here.
Doctor's warning after COVID-19 delays some women's mammograms
"There's no such thing as a socially distant mammogram," Dr. Priti Shah, Director of Breast Imaging at VCU Health, said. More here.
150 more COVID-19 patients discharged from Virginia hospitals
More than 150 COVID-19 patients have been discharged from Virginia hospitals in the last 24 hours, according to data from the Virginia Hospital & Healthcare Association. More here.
New COVID-19 outbreak reported in Virginia
Health officials are investigating 391 outbreaks of COVID-19 in the Commonwealth, according to Virginia Department of Health (VDH) data released Sunday. More here.
Restaurants seat diners indoors during Phase Two: 'Like a game of Tetris'
Friday marked the first time in months since Virginians were served a meal indoors during the COVID-19 pandemic.
Most of the Commonwealth entered Phase Two of Governor Ralph Northam's plan to slowly reopen the state. The City of Richmond and Northern Virginia remained under Phase One due to a rise in coronavirus cases. More here.
Restaurants ready to welcome back customers as Virginia enters second phase of reopening
As most of Virginia readies to enter the second phase of Virginia's reopening Friday, many restaurants, gyms and other businesses are gearing up to welcome customers into their establishments for the first time since March. More here.
Richmond, Henrico Health Departments release safety recommendations for protesters
The Richmond and Henrico Health Departments have released safety recommendations for those partaking in protests during the COVID-19 pandemic.More here.
11th GRTC employee tests positive for COVID-19
Another GRTC employee has tested positive for COVID-19 since March, the transit company announced on Thursday.More here.
Virginia restaurants, businesses unravel Phase 2 guidelines
Most of Virginia will enter Phase Two of reopening on Friday, June 5, the governor announced Tuesday. The City of Richmond will remain in Phase One. More here.
Why thousands of new test results will be added to Virginia's COVID-19 data
The new data will impact 37,362 test results that were previously not assigned a health district designation because incomplete patient address information was reported to VDH. More here.
First phase of reopening begins in Richmond: 'Folks are excited'
After a 14-day delay, business owners in Richmond began seating customers for lunch and filling appointments for services.
Friday marked the River City's day one of Phase One -- Governor Ralph Northam's slow and cautious reopening of establishments during the COVID-19 pandemic. More here.
Restauranteurs hopeful outdoor dining spot will be 'huge' draw for Petersburg's Old Towne
Restaurants are hopeful a portion of Sycamore Street shutdown to create outdoor dining in Petersburg's Old Towne during the COVID-19 crisis could become a permanent. fixture of the historic district. More here.
How you can help your favorite black-owned restaurants during COVID-19
"This is about sustaining black owned businesses and we're inviting everyone to come in and continue to participate. Dine how you can, but also be willing to make a small investment into these business owners, most of them are really struggling right now," Shemicia Bowen said. More here.
Carytown businesses hope sales blossom as Richmond reopens
As the Phase One reopening in Richmond began Friday, some businesses in the Carytown shopping district prepared to open their doors for the first time in weeks. More here.
How Richmond company is helping Virginia businesses reopen
Richmond-based The Shed, a rental marketplace that provides businesses like gyms and restaurant with the tents, equipment and furniture they need to set up shop outdoors, is helping businesses get back up and running. More here.
School reopening options include a virtual start before Labor Day
The Memorial Day weekend marks the unofficial start of summer. But for students and families, the coronavirus pandemic brings unanswered questions as to what the school year will look like in the fall after in-person instruction was canceled this spring.More here.
How to find work during COVID-19 pandemic: 'People are still hiring'
some employers are still hiring during the global health pandemic. Here are some tips for finding works from experts. More here.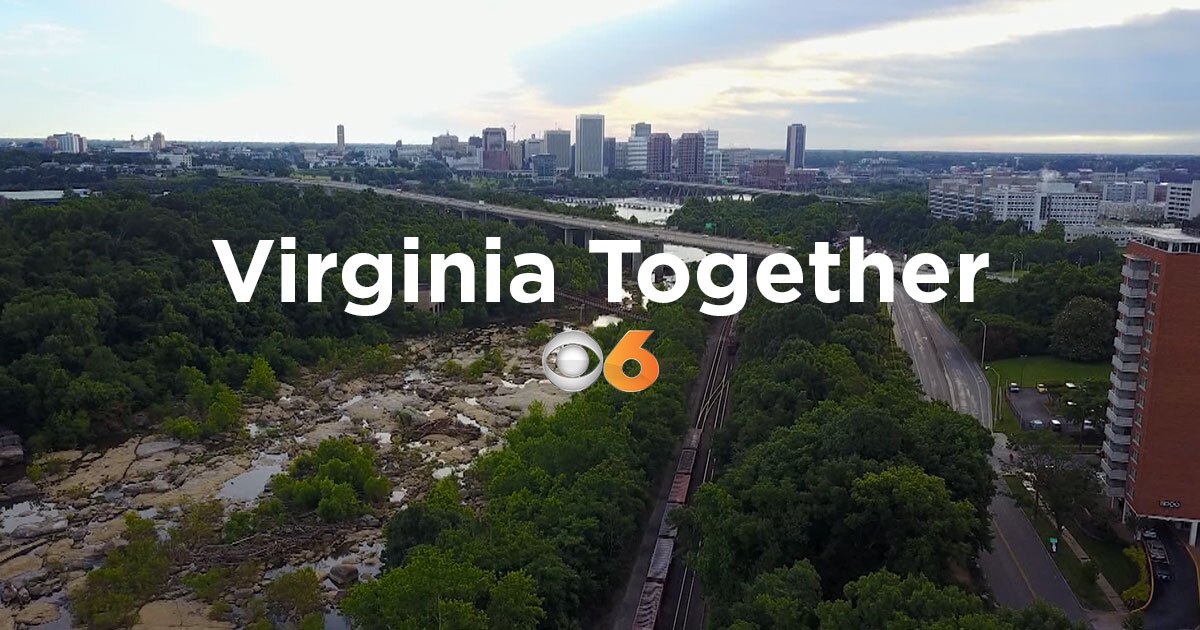 Virginia Together Fund: Help families impacted by COVID-19
CBS 6 is announcing the creation of The Virginia Together Fund -- a partnership with Feed More and Mission From the Heart.
More here.
Dad teaches science lessons by making dinosaurs fly
Dinosaurs are soaring through the air once again! At least, they are at 5-year-old Finn Thomas's house. More here.
'Virginia Graduates Together' will salute class of 2020 with musical performances, speeches
Governor Ralph Northam and First Lady Pamela Northam will celebrate the commonwealth's graduating seniors during a statewide virtual celebration. More here.
'Role model' high schoolers start innovative online education program for younger students
Life is anything but normal for school kids across Virginia. Many have struggled to keep up with distance learning, but four Maggie Walker honors students are helping through Project EngageRVA. More here.
Deep Run robotics team creates PPE
Deep Run High School's Team 1086 Blue Cheese Robotics team had its winning 2020 season cut short because of the coronavirus. However, the group quickly pivoted and found a way to re-channel efforts to help the community. More here.
Free science kits help Richmond students learn at home
An educational nonprofit called Blue Sky Fund is distributing 1,500 free home science learning kits for students at Richmond Public Schools. Those kits are being handed out at Richmond Public Schools' meal distribution sites. More here.
Virginia woman hands out scholarships to high school seniors: 'They're going to make it'
"It's just my way of giving back to the community and helping young people because they need some encouragement. They need motivation," said Tracey McMillon. More here.
Richmond students start Rubik's Cube tourney for COVID-19 relief
A group of Richmond high school students are using Rubik's Cubes raise money to help battle COVID-19. More here.
Church aims to feed 400 families: 'When we see people hurting, we're going to blaze a trail'
A Midlothian church gave away a week's worth of groceries to hundreds of families in need Sunday. More here.
Volunteers hand out 15,000 COVID-19 care kits in Henrico
A large group of volunteers and Henrico County employees distributed care kits to about 15,000 homes in the central and eastern parts of the county Saturday.More here.
100-year-old World War II vet survives COVID-19; released from Henrico hospital
Lloyd Falk, a 100-year-old World War II veteran, was released from Henrico Doctors' Hospital this week after a 58-day battle with COVID-19. Falk was one of the hospital's first COVID-19 patients when he was admitted on March 24. More here.
Richmond DJs host virtual dance parties on Facebook
Looking for a virtual party this Saturday night? Look no further than the DJ duo of DJ Drake and Cedric St James. More here.
Children's book exchange to take place in Mosby Court
A book exchange program in Richmond hopes to help kids throughout the city discover a love for reading. More here.
How to exchange your worn American Flag for a new one in Richmond
A partnership between Woody and Nelsen funeral homes and the Virginia War Memorial is giving Richmonders an opportunity to trade in their old, worn out American flag for new a 3' by 5' flag. More here.
Horse visits Virginia rehab center for window therapy to 'lift spirits'
A horse took part in a Petersburg rehabilitation center's initiative to brighten the day for patients Saturday. Harley the horse visited Encompass Health as part of the facility's "pet therapy through the window" program. More here.
Virginia State Parks opening more beaches for recreation activities
Virginia State Parks' tidal beaches are now open for recreation activities while inland lakefront beaches remain closed. More here.
Inside the Facebook Group guiding thousands of Richmond diners
In these uncertain times, people can take comfort in advice and guidance from others. That includes ideas on where to eat. More here.
New Richmond restaurant owner asks for help: 'We used our life savings'
A new Richmond restaurant is asking for help. Subconscious Cafe, located in the Fan, was forced to close days before its planned Grand Opening. More here.
Virginia Beach reopens, but it will be far from a normal day at the beach
If you're hoping to use the Memorial Day weekend to swim, surf, sunbathe, or fish, you're in luck. The Virginia Beach Oceanfront was set to open -- with restrictions -- on Friday. More here.
Skyline Drive now reopen for recreational use
Shenandoah National Park is increasing recreational access beginning Memorial Day weekend. Beginning Saturday, Shenandoah National Park will reopen access to the following areas for day-use only. More here.
Massanutten Resort announces reopening plan
Massanutten Resort will reopen, in phases, beginning June 12. "Our property is unique in both its size and variety of amenities, and we've taken the development of our new re-opening plans and protocols very seriously." More here.
Richmond Flying Squirrels offer Funnville Foodie Friday
Since the Richmond Flying Squirrels cannot take the field, due to COVID-19, the team is now offering that ballpark food for curbside pickup. More here.
ForwardRVA helping Richmond region small businesses with reopening process
More help is on the way for small businesses in the Richmond region that have reopened or are preparing to do so. More here.
Goodwill stores are reopening in Central Virginia
Goodwill stores in Coastal and Central Virginia are beginning to reopen after closing due to COVID-19. More here.
Henricus Historical Park to reopen with safety changes
Henricus Historical Park in Chesterfield plans to reopen Wednesday, June 3, in accordance with CDC and Chesterfield County guidelines. More here.
Short Pump Town Center reopens; here's a list of open stores
Short Pump Town Center has reopened now that Governor Ralph Northam ordered the Phase One reopening of Virginia on Friday. More here.
The show must go on at the Ashland Theatre
When the crowds disappear and entertainment stops cold the silence inside Ashland Theatre can be deafening.
"It's just making us really sad to have the doors closed again," General Manager Cathy Buckenmaier said. "We definitely have our moments of frustration looking at an empty building all day long." More here.
Mudhouse Coffee setting up shop in Richmond
A mainstay of Charlottesville's downtown mall is heading to Jackson Ward. Mudhouse Coffee Roasters is preparing to open a cafe at 418 W. Broad Street.More here.
Gradual reopening planned for Virginia State Parks amenities
Virginia State Parks plan to gradually reopen some facilities as the state slowly eases restrictions to contain the spread of COVID-19. More here.
Ashland offering grants to help businesses reopen: 'We're all in this together'
Localities across Central Virginia are making plans to get businesses going again. More here.
These Richmond-area malls will reopen Friday
At least a few Richmond-area malls will take the plunge and reopen Friday, the same day the governor will loosen existing restrictions on businesses. More here.
Richmond arts groups shift away from venues and into the digital realm
Even in a time of pandemic, the show must go on. More here.
COMPLETE COVERAGE: COVID-19 HEADLINES (App users, click here for complete list.)
LATEST COVID-19 U.S. AND WORLDWIDE STATS