RICHMOND, Va. -- In an effort to provide accurate, easy-to-read information on the on-going COVID-19 outbreak and its impact on our community, WTVR.com will update this post with the day's local coronavirus headlines and statistics.
COVID-19 IN VIRGINIA (Scroll to bottom for U.S. stats)
Positive COVID-19 Cases: 42,533 (+1,132 from Thursday)
People Hospitalized: 4,529 (+87 from Thursday)
COVID-19-Linked Deaths: 1,358 (+20 from Thursday)
Total Tests: 332,330 (+12,730 from Thursday)
CITY/COUNTY-BY-COUNTY BREAKDOWN OF CASES (updated numbers here)
Accomack: 827 (+20)
Albemarle: 180 (+10)
Alleghany: 19 (+2)
Alexandria: 1,941 (+54)
Amelia: 25 (+2)
Amherst: 27
Appomattox: 31
Arlington: 2,089 (+50)
Augusta: 105
Bedford: 47
Bristol: 4
Botetourt: 32
Brunswick: 25 (+1)
Buchanan: 18
Buckingham: 453 (+20)
Buena Vista City: 13
Campbell: 17 (+1)
Caroline: 58 (+2)
Carroll: 90 (+2)
Charles City: 27
Charlotte: 23
Charlottesville: 105 (+3)
Chesapeake: 494 (+13)
Chesterfield: 1,400 (+69)
Clarke: 24
Colonial Heights: 86
Covington: 3
Craig: 5
Culpeper: 666 (+10)
Cumberland: 35 (+3)
Danville: 51 (+1)
Dinwiddie: 71 (+3)
Emporia: 78 (+2)
Essex: 46
Fairfax: 10,738 (+235)
Fairfax City: 63
Falls Church: 55 (+2)
Fauquier: 308 (+5)
Floyd: 6 (+1)
Fluvanna: 90 (+2)
Franklin City: 42 (+1)
Franklin County: 35
Frederick: 331(+22)
Fredericksburg: 147 (+5)
Galax: 107
Giles: 5
Gloucester: 30
Goochland: 95 (+2)
Grayson: 34 (+2)
Greene: 31 (+3)
Greensville: 69 (+6)
Halifax: 30
Hanover: 320 (+4)
Hampton: 192 (+2)
Harrisonburg: 765 (+8)
Henrico: 1,678 (+54)
Henry: 99 (+4)
Highland: 3
Hopewell: 85 (+4)
Isle of Wight: 127 (+1)
James City: 202
King George: 62
King and Queen: 10
King William: 26
Lancaster: 10
Lee: 9
Lexington: 7
Louisa: 76
Loudoun: 2,429 (+111)
Lunenburg: 12 (+1)
Lynchburg: 80
Madison: 39 (+1)
Manassas City: 1,004 (+33)
Manassas Park: 287 (+6)
Martinsville: 31
Mathews: 5
Mecklenburg: 214
Middlesex: 14
Montgomery: 73 (+1)
Nelson: 16
New Kent: 36
Newport News: 257
Norfolk: 470 (+18)
Northampton: 228 (+1)
Northumberland: 25
Norton: 2
Nottoway: 25 (+1)
Orange: 97 (+5)
Page: 214 (+1)
Patrick: 18
Petersburg: 118 (+6)
Pittsylvania: 39 (+1)
Poquoson: 7
Portsmouth: 294 (+10)
Powhatan: 32 (+2)
Prince Edward: 129
Prince George: 121 (+40)
Prince William: 5,270 (+113)
Pulaski: 19 (+1)
Radford: 6
Rappahannock: 13
Richmond City: 1,202 (+69)
Richmond County: 276 (+1)
Roanoke City: 152 (+5)
Roanoke County: 102 (+5)
Rockbridge: 16
Rockingham: 505 (+15)
Russell: 8
Salem: 32
Scott: 7
Shenandoah: 429 (+15)
Smyth: 15
Spotsylvania: 500 (+13)
Southampton: 146
Stafford: 681 (+9)
Staunton: 36
Suffolk: 311 (+3)
Surry: 10 (+1)
Sussex: 151 (+9)
Tazewell: 7
Virginia Beach: 680 (+18)
Warren: 146 (+5)
Washington: 51
Waynesboro: 41
Westmoreland: 63
Winchester: 176 (+8)
Williamsburg: 44
Wise: 24
Wythe: 21
York: 72
*NOTE: This data is provided from the Virginia Department of Health daily at 9 a.m. Officials said their cutoff for data is 5 p.m. the previous day. So your local health department may have issued an alert about a case before it is added to the statewide tally released the following day.
COVID-19 LOCAL HEADLINES
All of Virginia will be in Phase One Friday; Phase Two could happen next week
Virginia Governor Ralph Northam said Richmond, northern Virginia and Accomack County will join the rest of the Commonwealth in Phase One of reopening this Friday. More here.
How Virginia's mask order will be enforced
Virginia Governor Ralph Northam reminded Virginians that the state-wide mask order takes effect Friday. Under the order, people over 10 years old will have to wear a mask when entering public spaces like stores and restaurants. More here.
Virginia lags in implementing extended unemployment benefits
Tens of thousands of Virginians who are eligible for an expanded unemployment benefit Congress enacted in response to the coronavirus pandemic are waiting for their money because the state hasn't managed to get the program running yet. More here.
Virginians granted extension on expired licenses, identifications, vehicle registrations
Virginians who have driver's licenses, identification cards, and vehicle registrations that expired during the COVID-19 crisis have an additional 90 days to renew their credentials. More here.
UVA hopes to start school on-time in August
The University of Virginia intends to start its Fall semester August 25 with in-person classes ending before Thanksgiving. More here.
Deadline approaches for Virginians who owe taxes
If you owe individual income taxes in Virginia, the deadline to pay is less than a week away. More here.
CVS opens new COVID-19 testing sites in Central Virginia
CVS is opening 39 new COVID-19 test sites at select CVS Pharmacy drive-thru locations across Virginia. More here.
COVID-19 community testing events offered in Richmond and Henrico
Several COVID-19 community testing events have been scheduled for next week in the Richmond and Henrico Health Districts.More here.
GRTC to host on-site COVID-19 testing for employees
GRTC will host its first voluntary, on-site COVID-19 testing event for GRTC and First Transit employees on Monday, June 1. More here.
Tim Kaine, Anne Holton test positive for coronavirus antibodies
Sen. Tim Kaine and his wife, Anne Holton, have tested positive for COVID-19 antibodies, according to a statement from the senator's office Thursday. More here.
2020 Hanover Tomato Festival canceled
Festival organizers announced on Thursday that the festival scheduled for July 10 and 11 has been canceled, citing concerns about large gatherings in the wake of COVID-19. More here.
Richmond to begin 'slow and steady' reopen
Richmond will move into Phase One of reopening Friday, two weeks after surrounding counties entered the same phase. More here.
Richmond business owners prepared as Phase One of reopening nears
As Mayor Levar Stoney announced that the city will begin to cautiously enter into Phase One of reopening Friday, Richmond business owners said they have a plan in place -- and are ready.More here.
Richmond principal diagnosed with COVID-19; families told to self-isolate
Parents and students who picked-up computers or supplies from a Richmond elementary school over the last two weeks have been asked to self-isolate for 14 days. More here.
5,300 COVID-19 patients discharged from Virginia hospitals
One hundred-forty COVID-19 patients have been discharged from Virginia hospitals in the last 24 hours, according to data from the Virginia Hospital & Healthcare Association. More here.
5 new COVID-19 outbreak reported in Virginia
Health officials are investigating 330 outbreaks of COVID-19 in the Commonwealth, according to Virginia Department of Health (VDH) data released Wednesday. More here.
Some Virginia nursing homes still struggling to get PPE: 'It's unacceptable'
Thus far in Virginia, 190 long term care facilities have COVID outbreaks, and 708 residents have died from the coronavirus. They acount for nearly 60 percent of all COVID deaths in the state. Remarkably, the Virginia Hospital and Health Care Association reports a number of elder care communities are still having trouble obtaining personal protective equipment (PPE). More here.
ForwardRVA providing tool kits to help businesses reopen safely, confidently
Over the past month, Chamber RVA has been working with community partners and groups to find ways of helping our small businesses reopen. More here.
Virginia Beach cancels July Fourth fireworks over COVID-19
Officials in Virginia Beach have canceled July Fourth fireworks displays slated for two locations in an effort to keep residents safe and comply with orders issued amid the coronavirus pandemic. More here.
Gov. Northam rejects Mayor Stoney's request for modified Phase One reopening in Richmond
Gov. Ralph Northam has responded to Richmond Mayor Levar Stoney's request for a modified Phase One reopening for the City of Richmond. More here.
Virginians ordered to wear masks inside public buildings. Here are the exceptions.
Everyone in Virginia will need to wear a face cover, or mask, when inside a public building starting on Friday, Virginia Governor Ralph Northam announced Tuesday. More here.
Virginians prepare for potential mandate on wearing masks in public
12Governor Ralph Northam is expected to announce on Tuesday an executive order requiring Virginians to wear face coverings in public spaces where social distancing cannot be guaranteed at all times. More here.
New face mask recommendations for those with asthma
With the weather changing, experts are offering new guidance on face masks for people with respiratory conditions. Asthma U.K. warns that asthma patients should not wear one if they find it makes it more difficult for them to breathe. More here.
How Richmond company is helping Virginia businesses reopen
Richmond-based The Shed, a rental marketplace that provides businesses like gyms and restaurant with the tents, equipment and furniture they need to set up shop outdoors, is helping businesses get back up and running. More here.
School reopening options include a virtual start before Labor Day
The Memorial Day weekend marks the unofficial start of summer. But for students and families, the coronavirus pandemic brings unanswered questions as to what the school year will look like in the fall after in-person instruction was canceled this spring.More here.
How to find work during COVID-19 pandemic: 'People are still hiring'
some employers are still hiring during the global health pandemic. Here are some tips for finding works from experts. More here.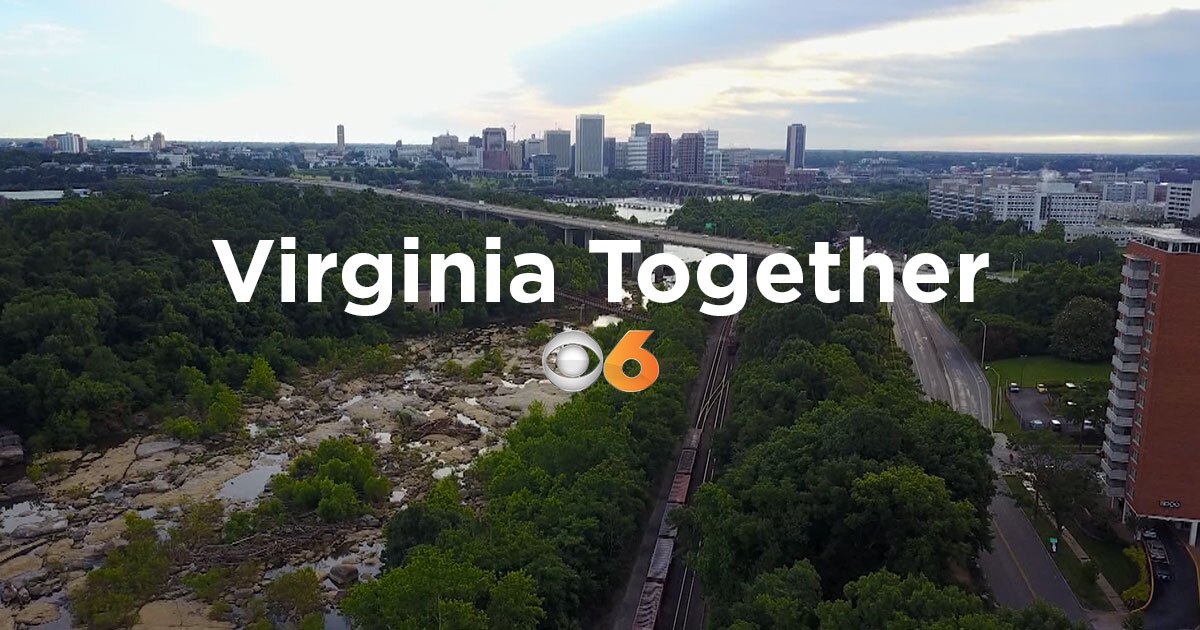 'Virginia Graduates Together' will salute class of 2020 with musical performances, speeches
Governor Ralph Northam and First Lady Pamela Northam will celebrate the commonwealth's graduating seniors during a statewide virtual celebration. More here.
'Role model' high schoolers start innovative online education program for younger students
Life is anything but normal for school kids across Virginia. Many have struggled to keep up with distance learning, but four Maggie Walker honors students are helping through Project EngageRVA. More here.
Deep Run robotics team creates PPE
Deep Run High School's Team 1086 Blue Cheese Robotics team had its winning 2020 season cut short because of the coronavirus. However, the group quickly pivoted and found a way to re-channel efforts to help the community. More here.
Free science kits help Richmond students learn at home
An educational nonprofit called Blue Sky Fund is distributing 1,500 free home science learning kits for students at Richmond Public Schools. Those kits are being handed out at Richmond Public Schools' meal distribution sites. More here.
Virginia woman hands out scholarships to high school seniors: 'They're going to make it'
"It's just my way of giving back to the community and helping young people because they need some encouragement. They need motivation," said Tracey McMillon. More here.
Richmond students start Rubik's Cube tourney for COVID-19 relief
A group of Richmond high school students are using Rubik's Cubes raise money to help battle COVID-19. More here.
Church aims to feed 400 families: 'When we see people hurting, we're going to blaze a trail'
A Midlothian church gave away a week's worth of groceries to hundreds of families in need Sunday. More here.
Volunteers hand out 15,000 COVID-19 care kits in Henrico
A large group of volunteers and Henrico County employees distributed care kits to about 15,000 homes in the central and eastern parts of the county Saturday.More here.
100-year-old World War II vet survives COVID-19; released from Henrico hospital
Lloyd Falk, a 100-year-old World War II veteran, was released from Henrico Doctors' Hospital this week after a 58-day battle with COVID-19. Falk was one of the hospital's first COVID-19 patients when he was admitted on March 24. More here.
Richmond DJs host virtual dance parties on Facebook
Looking for a virtual party this Saturday night? Look no further than the DJ duo of DJ Drake and Cedric St James. More here.
Children's book exchange to take place in Mosby Court
A book exchange program in Richmond hopes to help kids throughout the city discover a love for reading. More here.
How to exchange your worn American Flag for a new one in Richmond
A partnership between Woody and Nelsen funeral homes and the Virginia War Memorial is giving Richmonders an opportunity to trade in their old, worn out American flag for new a 3' by 5' flag. More here.
Horse visits Virginia rehab center for window therapy to 'lift spirits'
A horse took part in a Petersburg rehabilitation center's initiative to brighten the day for patients Saturday. Harley the horse visited Encompass Health as part of the facility's "pet therapy through the window" program. More here.
Inside the Facebook Group guiding thousands of Richmond diners
In these uncertain times, people can take comfort in advice and guidance from others. That includes ideas on where to eat. More here.
New Richmond restaurant owner asks for help: 'We used our life savings'
A new Richmond restaurant is asking for help. Subconscious Cafe, located in the Fan, was forced to close days before its planned Grand Opening. More here.
Virginia Beach reopens, but it will be far from a normal day at the beach
If you're hoping to use the Memorial Day weekend to swim, surf, sunbathe, or fish, you're in luck. The Virginia Beach Oceanfront was set to open -- with restrictions -- on Friday. More here.
Skyline Drive now reopen for recreational use
Shenandoah National Park is increasing recreational access beginning Memorial Day weekend. Beginning Saturday, Shenandoah National Park will reopen access to the following areas for day-use only. More here.
Massanutten Resort announces reopening plan
Massanutten Resort will reopen, in phases, beginning June 12. "Our property is unique in both its size and variety of amenities, and we've taken the development of our new re-opening plans and protocols very seriously." More here.
Richmond Flying Squirrels offer Funnville Foodie Friday
Since the Richmond Flying Squirrels cannot take the field, due to COVID-19, the team is now offering that ballpark food for curbside pickup. More here.
ForwardRVA helping Richmond region small businesses with reopening process
More help is on the way for small businesses in the Richmond region that have reopened or are preparing to do so. More here.
Goodwill stores are reopening in Central Virginia
Goodwill stores in Coastal and Central Virginia are beginning to reopen after closing due to COVID-19. More here.
Henricus Historical Park to reopen with safety changes
Henricus Historical Park in Chesterfield plans to reopen Wednesday, June 3, in accordance with CDC and Chesterfield County guidelines. More here.
Short Pump Town Center reopens; here's a list of open stores
Short Pump Town Center has reopened now that Governor Ralph Northam ordered the Phase One reopening of Virginia on Friday. More here.
The show must go on at the Ashland Theatre
When the crowds disappear and entertainment stops cold the silence inside Ashland Theatre can be deafening.
"It's just making us really sad to have the doors closed again," General Manager Cathy Buckenmaier said. "We definitely have our moments of frustration looking at an empty building all day long." More here.
Mudhouse Coffee setting up shop in Richmond
A mainstay of Charlottesville's downtown mall is heading to Jackson Ward. Mudhouse Coffee Roasters is preparing to open a cafe at 418 W. Broad Street.More here.
Gradual reopening planned for Virginia State Parks amenities
Virginia State Parks plan to gradually reopen some facilities as the state slowly eases restrictions to contain the spread of COVID-19. More here.
Ashland offering grants to help businesses reopen: 'We're all in this together'
Localities across Central Virginia are making plans to get businesses going again. More here.
These Richmond-area malls will reopen Friday
At least a few Richmond-area malls will take the plunge and reopen Friday, the same day the governor will loosen existing restrictions on businesses. More here.
Richmond arts groups shift away from venues and into the digital realm
Even in a time of pandemic, the show must go on. More here.
COMPLETE COVERAGE: COVID-19 HEADLINES (App users, click here for complete list.)
LATEST COVID-19 U.S. AND WORLDWIDE STATS