RICHMOND, Va. -- In an effort to provide accurate, easy-to-read information on the on-going COVID-19 outbreak and its impact on our community, WTVR.com will update this post with the day's local coronavirus headlines and statistics.
COVID-19 IN VIRGINIA (Scroll to bottom for U.S. stats)
Positive COVID-19 Cases: 26,746 (+946 from Tuesday)
People Hospitalized: 3,520 (+125 from Tuesday)
COVID-19-Linked Deaths: 927 (+36 from Tuesday)
Total Tests: 180,084 (+8,845 from Tuesday)
Unique People Tested: 160,077 (+5,947 from Tuesday)
CITY/COUNTY-BY-COUNTY BREAKDOWN OF CASES
Accomack: 545 (+15)
Albemarle: 126 (+2)
Alleghany: 6
Alexandria: 1,305 (+65)
Appomattox: 22
Arlington: 1,460 (+44)
Amelia: 17
Amherst: 20 (+3)
Augusta: 66 (+2)
Bedford: 40 (+2)
Bristol: 3
Botetourt: 30
Brunswick: 20
Buchanan: 16
Buckingham: 347 (+46)
Buena Vista City: 8
Campbell: 13
Caroline: 39 (+1)
Carroll: 39 (+5)
Charles City: 21
Charlotte: 11
Charlottesville: 68
Chesapeake: 354 (+11)
Chesterfield: 862 (+25)
Clarke: 16
Colonial Heights: 71 (+4)
Covington: 1
Craig: 4
Culpeper: 320 (+29)
Cumberland: 18 (+2)
Danville: 41
Dinwiddie: 30
Emporia: 50 (+1)
Essex: 29 (+3)
Fairfax: 6,666 (+196)
Fairfax City: 43 (+3)
Falls Church: 39 (+2)
Fauquier: 190 (+10)
Floyd: 4 (+1)
Fluvanna: 79 (+1)
Franklin City: 25 (-1)
Franklin County: 30 (+2)
Frederick: 182 (+7)
Fredericksburg: 72 (+6)
Galax: 64 (+8)
Giles: 5 (-3)
Gloucester: 28 (+1)
Goochland: 82
Grayson: 18 (+2)
Greene: 16
Greensville: 49 (+1)
Halifax: 25 (+1)
Hanover: 183 (+9)
Hampton: 148 (+1)
Harrisonburg: 607 (+23)
Henrico: 1,146 (+40)
Henry: 28 (+1)
Highland: 2
Hopewell: 45 (+1)
Isle of Wight: 113
James City: 174
King George: 44
King and Queen: 6
King William: 12
Lancaster: 7
Lee: 10
Lexington: 5
Louisa: 59 (+3)
Loudoun: 1,283 (+73)
Lunenburg: 6
Lynchburg: 72 (+2)
Madison: 22 (+1)
Manassas City: 459 (+29)
Manassas Park: 152 (+13)
Martinsville: 2
Mathews: 5
Mecklenburg: 138
Middlesex: 10
Montgomery: 66
Nelson: 12
New Kent: 28 (+2)
Newport News: 171 (+5)
Norfolk: 327 (+18)
Northampton: 174 (+3)
Northumberland: 11 (+1)
Norton: 2
Nottoway: 14
Orange: 50 (+2)
Page: 140 (+11)
Patrick: 6 (+1)
Petersburg: 53
Pittsylvania: 17
Poquoson: 7
Portsmouth: 213 (+3)
Powhatan: 22 (+1)
Prince Edward: 69 (+1)
Prince George: 46 (+1)
Prince William: 3,181 (+103)
Pulaski: 9
Radford: 3
Rappahannock: 10
Richmond City: 592 (+27)
Richmond County: 200
Roanoke City: 116 (+8)
Roanoke County: 80 (+1)
Rockbridge: 11 (+2)
Rockingham: 373 (+9)
Russell: 6
Salem: 32
Scott: 7
Shenandoah: 271 (+11)
Smyth: 15 (+2)
Spotsylvania: 270 (+9)
Southampton: 132 (+1)
Stafford: 413 (+17)
Staunton: 21 (+3)
Suffolk: 221 (+2)
Surry: 6
Sussex: 38
Tazewell: 6 (-1)
Virginia Beach: 519 (+10)
Warren: 88 (+1)
Washington: 49
Waynesboro: 21
Westmoreland: 42 (+1)
Winchester: 73 (+4)
Williamsburg: 42
Wise: 23 (+1)
Wythe: 15 (+1)
York: 60 (+1)
*NOTE: This data is provided from the Virginia Department of Health daily at 9 a.m. Officials said their cutoff for data is 5 p.m. the previous day. So your local health department may have issued an alert about a case before it is added to the statewide tally released the following day.
NEWS CONFERENCES
Gov. Northams COVID-19 briefing (2 p.m.)
COVID-19 LOCAL HEADLINES
Why do Virginia's COVID-19 testing rates remain so low?
Virginia Governor Ralph Northam declared a state of emergency in response to the coronavirus on March 12. Within two weeks, schools were closed, as were gyms, beauty salons, and restaurant dining rooms. More here.
More than 3,500 COVID-19 patients discharged from Virginia hospitals
More than 150 COVID-19 patients have been discharged from Virginia hospitals in the last 24 hours, according to data from the Virginia Hospital & Healthcare Association. More here.
3 new COVID-19 outbreaks reported in Virginia
Health officials are investigating 278 outbreaks of COVID-19 in the Commonwealth, according to Virginia Department of Health (VDH) data released Wednesday. That is an increase of one outbreak since yesterday's report. More here.
Firefighters, volunteers deliver masks, hand sanitizer to low-income communities
How t pick up a free N-95 mask in Richmond this week
Free N-95 masks will be distributed to several Richmond communities and available for pickup for the general public this week thanks to a donation made by local business owners and community members. More here.
COVID-19 impacts Richmond raises, city programs, and spending
The budget for the City of Richmond passed Monday night by Richmond City Council felt the impact of COVID-19.
Gone were two-percent raises for city employees, an increase in base pay for police recruits, and a Doula program run through the Richmond City Health District, among other things. More here.
Virginia attorney general calls for more protections for poultry plant workers
Virginia Attorney General Mark Herring is calling for additional protections for poultry plant workers.
"These are people. They're not machines," Herring said Tuesday. More here.
Kroger employees urge grocer to extend 'hero pay'
Grocery store employees have been considered essential workers during the COVID-19 pandemic - joining healthcare workers, first responders, and other frontline employees. More here.
How local hospitals are protecting patients from COVID-19 when they go to the doctor
Have you been putting off going to the doctor because you are afraid of COVID-19? Doctors, medical experts, and even the governor say you shouldn't. More here.
Northam delays northern Virginia reopening
Governor Ralph Northam has officially delayed Phase One of Virginia's reopening plan for some Northern Virginia localities. More here.
Health commissioner orders water service restored in Petersburg
The Virginia State Health Commissioner sent a letter to Petersburg officials Sunday ordering water service restored to all occupied residences currently without it. Additionally, the commissioner said officials may not disconnect any water service until Gov. Ralph Northam's State of Emergency expires. More here.
Northam outlines 'dimmer switch' phase one of Virginia's reopening
Virginia Governor Ralph Northam provided detailed guidance on the restrictions and guidelines for the phased reopening of the Commonwealth and the lifting of COVID-19 restrictions. More here.
Henrico church celebrates 200th anniversary, plans for reopening
A Henrico church celebrated its bicentennial Saturday while maintaining social distancing and planning for possible services next weekend amid the COVID-19 global health pandemic.More here.
Northern Virginia county says it's not ready to reopen yet
At least one northern Virginia county says it is not yet ready to move ahead with plans to re-open the economy in the face of the coronavirus pandemic. More here.
4 GRTC employees test positive for COVID-19
Four GRTC employees have tested positive for COVID-19, the transit company announced on Friday. More here.
2020 spring race weekend at Richmond Raceway officially canceled
Richmond Raceway's spring race weekend, originally scheduled for April 17-19, has officially been canceled as part of the revised NASCAR schedule. More here.
When Chesterfield County libraries, parks plan to reopen
Outdoor park amenities and libraries in Chesterfield County may be opening soon in a tiered approach to reopening county facilities, county officials announced Friday. More here.
Why Southside farmers market is moving to Northside park
Thousands of people fill the popular outh of the James market on a typical Saturday. But, when the pandemic hit market organizers were forced to get creative to continue serving their customers and vendors. More here.
Mayor: Richmond's reopening 'should be slow and steady'
Richmond Mayor Levar Stoney said that he wants to see a "slow and steady" approach to the lifting of COVID-19 restrictions and beginning phase one of the reopening process. More here.
60K more file for unemployment in Virginia amid debate over reopening
New federal data show about 60,000 additional Virginia workers applied for unemployment benefits last week.
That figure has declined for four straight weeks but is still far higher than before the coronavirus led to widespread business closures. More here.
Health district offering drive-thru and walk-up COVID-19 testing in Petersburg
The Crater Health District has announced they will offer drive-thru and walk-up COVID-19 testing in Petersburg beginning Thursday, May 7. More here.
Century-old 'institution' shutting down in Henrico County
Margaret Thompson founded the Richmond Family Magazine in August 2009. Since then, nearly every edition of her popular monthly has been printed in one location.
"It was very shocking that this pandemic is taking down a 125 year old Richmond institution," Thompson said. More here.
How COVID-19 is posing 'so many challenges' for forgotten frontline workers
When life ends, work begins for the forgotten frontline workers at funeral homes as they care for the remains of people who lost their lives battling the coronavirus. More here.
Northam: Parts of state may keep restrictions longer
he governor said Wednesday that areas of the state hard hit by the virus, like northern Virginia and the Eastern Shore, may extend bans on certain business openings and public gatherings that are expected to expire May 15. More here.
Governor's message to honking Reopen protesters
Protesters circled the Virginia State Capitol Wednesday urging Gov. Ralph Northam to lift COVID-19 restrictions nearly two months after the state's first positive case of the virus was diagnosed.More here.
'This job is breaking me,' Virginia nurse says amid COVID-19 pandemic
A nurse at Henrico Doctors' Hospital said what she has witnessed during the COVID-19 pandemic has left her broken and emotionally drained. More here.
How to find work during COVID-19 pandemic: 'People are still hiring'
some employers are still hiring during the global health pandemic. Here are some tips for finding works from experts. More here.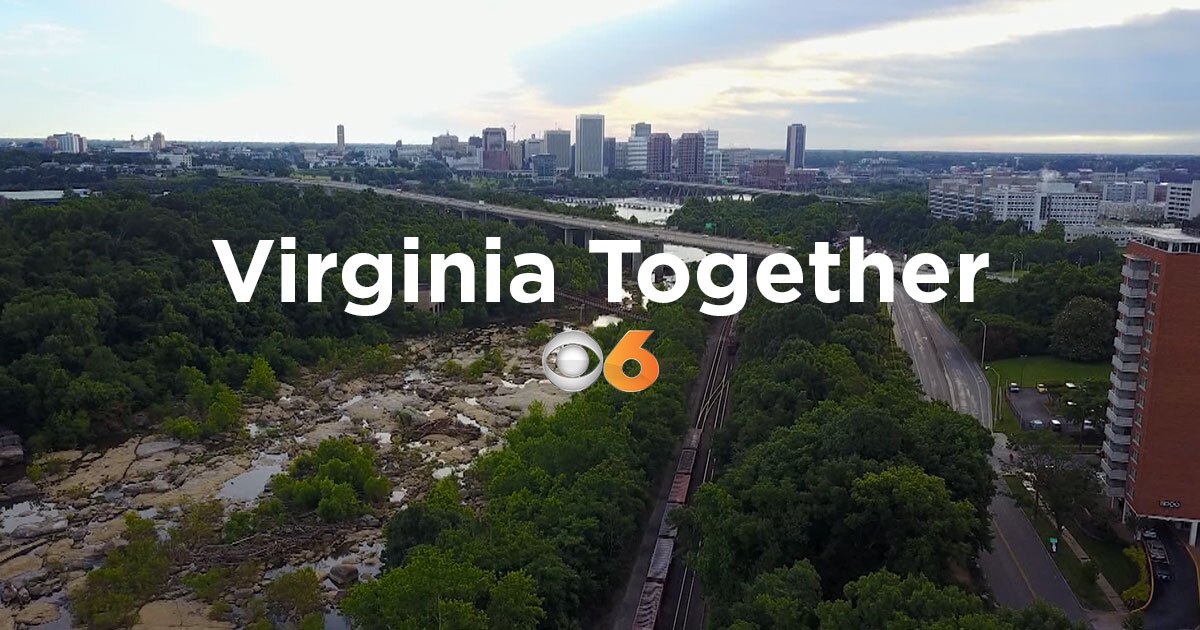 Chesterfield teacher focuses on maintaining relationships with her students: 'It's really important"
It's storytime for 1st-grade students who attended Bellwood Elementary School in North Chesterfield. This morning, it's on Zoom. More here.
Firefighters, volunteers deliver masks, hand sanitizer to low-income communities
Gregory Gaskins lives just off Cool Lane in Richmond's East End and getting hand sanitizer and a face mask since the COVID-19 pandemic began has been nearly "impossible." More here.
Petersburg teacher raps motivational message to students ahead of exams
Terri T. Smith says she always has music playing in her Petersburg High School classroom, usually of the R&B variety. More here.
Watch this big National Nurses Week thank you to these heroes
National Nurses Week continues and with the coronavirus pandemic, these frontline workers deserve encouragement now more than ever. As a way to say thank you, senior reporter Wayne Covil surprised a group of nurses at Southside Regional Medical Center in this week's CBS 6 Gives. More here.
Metropolitan Business League helping Richmond business owners
For over 50 years, the The Metropolitan Business League (MBL) has been a resource for small businesses, female-owned businesses, and minority-owned businesses in Central Virginia. That has not changed in light of COVID-19. More here.
Chesterfield man raises more than 4K to buy meals, WiFi hotspots
A Chesterfield man's bike riding initiative raised more than $4,000 to help buy meals and provide WiFi hotspots to children in need. More here.
Musicians unite in Richmond neighborhood to thank hero workers
"I've been here in this neighborhood for 50 years," Plunky Branch said. "These days, I have been just doing my part, to try to spread some good cheer… usually, it takes 10 minutes."More here.
Children use lemonade stand to raise money for food pantry: 'She just knocked my socks off'
In Colonial Heights, three young entrepreneurs have made quite an impact at the Colonial Heights Food Pantry. More here.
'Heartsick' ICU nurse finds innovative way to reconnect COVID-19 patients with families
When coronavirus patients end up in intensive care, they're isolated from their family members. Loved ones can't hold their hands or be there to say, "I love you."
Registered Nurse Michelle Vaughan has been working in the ICU for seven years, but she's never had to face a situation like this before. More here.
YMCA of Greater Richmond 'Fill the Bus' challenge donates groceries to families
The YMCA of Greater Richmond is partnering with local food banks to help families in need. More here.
Photographers give graduating seniors a chance to smile: 'It hits pretty close to home'
Callie Fabrie counts herself among the graduating seniors upset and disappointed during the COVID-19 pandemic.More here.
Goochland High School class of 2020 to graduate at drive-in theater
Goochland County Public Schools announced the class of 2020 will graduate at the Goochland Drive In on Tuesday June 16 at 8:30 p.m. More here.
Virtual Walkathon raises money for special needs program
A group of young adults are getting outside and pounding the pavement to raise money for a new special needs program in Richmond. More here.
Firefighters, police hold parade birthday party for Petersburg boy
A Petersburg boy celebrated his birthday Monday afternoon with a little help from Petersburg Police and Fire. More here.
Breweries, distilleries making, donating sanitizer to frontline workers
The Virginia Wineries Association announced they would be teaming up with breweries, distilleries, beer distributors, and cideries across the state to produce thousands of bottles of sanitizer, in response to the coronavirus pandemic. More here.
World War II-era planes fly over Virginia hospital in tribute to health care workers
Two World War II-era planes performed a flyover above Riverside Walter Reed Hospital in Gloucester as a tribute to health care workers Sunday. More here.
Dominion Riverrock festival announces virtual experience
While the annual Dominion Riverrock Festival has been cancelled due to the COVID-19 outbreak, the event organizers are bringing the experience online with virtual trail events, live streamed music, and other digital content. More here.
Nutty Buttery owner: 'I've always loved every kind of nut'
The owner of Nutty Buttery, a restaurant in Richmond's historic Carver District, is doing what she can to keep her doors open during the COVID-19 pandemic. More here.
Salt & Forge donating 1,400 biscuits to celebrate National Nurses Week
Salt & Forge, a popular Richmond-based breakfast and lunch spot, is known for its delicious sandwiches and biscuits — and now they're in the spotlight for their service to the community. More here.
Richmond artist creates Frowny Face Dolls to help process sad emotions
As many of us have recently experienced, life isn't always "all smiles." One local business owner took that idea and created a tool for teaching that lesson to her child. The unique idea caught on, and now she sells the dolls to the masses. More here.
As many of us have recently experienced, life isn't always "all smiles." One local business owner took that idea and created a tool for teaching that lesson to her child. The unique idea caught on, and now she sells the dolls to the masses. More here.
Shrimps dishes out soul food in Richmond
Shrimps Restaurant, on W. Brookland Park Boulevard, continues to safely serve customers in Richmond's Northside. More here.
Shrimps Restaurant, on W. Brookland Park Boulevard, continues to safely serve customers in Richmond's Northside. More here.
Richmond startup takes on restaurant takeout
Just as to-go has become the go-to for getting restaurant food, a Richmond startup has launched an app intended to make takeout easier. More here.
Just as to-go has become the go-to for getting restaurant food, a Richmond startup has launched an app intended to make takeout easier. More here.
A brewery-anchored project on the Southside is eyeing a summer finish line, the same time many Richmonders are hopeful for an ending of social distancing guidelines. More here.
How COVID-19 is impacting The Veil, Charm School, and Stella's south Richmond plans
A brewery-anchored project on the Southside is eyeing a summer finish line, the same time many Richmonders are hopeful for an ending of social distancing guidelines. More here.
The bookstore may be closed, but the books are still open. To celebrate "Independent Bookstore Day" on April 25, Richmond-based Fountain Bookstore will offer a special virtual event complete with free audio downloads, giveaways and other surprises. More here.
Fountain Bookstore celebrates 'Independent Bookstore Day' with virtual bookstore party
Richmond International Film Festival moves online for live discussion series
While The Richmond International Film Festival (RIFF) has been postponed due to COVID-19, the producers of the yearly event have been working to create an online experience to highlight the festivals film makers, musicians, and special guest speakers. More here.
Richmond International Film Festival moves online for live discussion series
COMPLETE COVERAGE: COVID-19 HEADLINES (App users, click here for complete list.)
COMPLETE COVERAGE: COVID-19 HEADLINES (App users, click here for complete list.)
LATEST COVID-19 U.S. AND WORLDWIDE STATS