RICHMOND, Va. -- In an effort to provide accurate, easy-to-read information on the on-going COVID-19 outbreak and its impact on our community, WTVR.com will update this post with the day's local coronavirus headlines and statistics.
COVID-19 IN VIRGINIA (Scroll to bottom for U.S. stats)
Positive COVID-19 Cases: 74,431 (+904 from Wednesday)
People Hospitalized: 7,020 (+115 from Wednesday)
COVID-19-Linked Deaths: 2,007 (+15 from Wednesday)
Total Tests: 946,617 (17,749 from Wednesday)
CITY/COUNTY-BY-COUNTY BREAKDOWN OF CASES
Accomack: 1,045
Albemarle: 583
Alleghany: 54 (+1)
Alexandria: 2,507 (+21)
Amelia: 56 (+1)
Amherst: 43 (+1)
Appomattox: 48
Arlington: 2,691 (+14)
Augusta: 219 (+1)
Bath: 2 (+1)
Bedford: 176 (+2)
Bland: 5 (+3)
Bristol: 15 (+1)
Botetourt: 164 (+2)
Brunswick: 143
Buchanan: 51 (+3)
Buckingham: 578 (+1)
Buena Vista City: 25
Campbell: 70 (-1)
Caroline: 151 (+4)
Carroll: 267 (+4)
Charles City: 42
Charlotte: 39 (+1)
Charlottesville: 318
Chesapeake: 1,509 (+68)
Chesterfield: 3,359 (+35)
Clarke: 61
Colonial Heights: 163
Covington: 5
Craig: 10 (+1)
Culpeper: 873 (+1)
Cumberland: 60 (-1)
Danville: 151 (+3)
Dickenson: 8 (+1)
Dinwiddie: 163 (+1)
Emporia: 148 (+2)
Essex: 68 (+2)
Fairfax: 14,687 (+34)
Fairfax City: 74
Falls Church: 54
Fauquier: 505 (+7)
Floyd: 25
Fluvanna: 139
Franklin City: 83 (+3)
Franklin County: 117 (+2)
Frederick: 570 (+5)
Fredericksburg: 288
Galax: 296 (+4)
Giles: 18
Gloucester: 80 (+1)
Goochland: 135
Grayson: 97 (+2)
Greene: 88
Greensville: 386 (+2)
Halifax: 97 (+8)
Hanover: 504 (+13)
Hampton: 607 (+15)
Harrisonburg: 999 (+3)
Henrico: 2,964 (+17)
Henry: 387 (+6)
Highland: 3
Hopewell: 216 (+4)
Isle of Wight: 245 (+5)
James City: 390 (+2)
King George: 106 (+1)
King and Queen: 31
King William: 61 (+2)
Lancaster: 22
Lee: 26
Lexington: 20 (-1)
Louisa: 143
Loudoun: 4,557 (+38)
Lunenburg: 43 (+1)
Lynchburg: 205 (+5)
Madison: 49 (+1)
Manassas City: 1,499 (+2)
Manassas Park: 464 (+1)
Martinsville: 128 (+5)
Mathews: 7
Mecklenburg: 269 (+2)
Middlesex: 18
Montgomery: 204 (+3)
Nelson: 27
New Kent: 76
Newport News: 940 (+40)
Norfolk: 1,888 (+146)
Northampton: 276 (+1)
Northumberland: 47
Norton: 4
Nottoway: 136 (+1)
Orange: 168 (+1)
Page: 309 (-1)
Patrick: 53 (+1)
Petersburg: 352 (+4)
Pittsylvania: 190 (+3)
Poquoson: 23
Portsmouth: 827 (+33)
Powhatan: 100
Prince Edward: 238
Prince George: 277 (+1)
Prince William: 7,978 (+31)
Pulaski: 56 (+1)
Radford: 19 (+1)
Rappahannock: 33
Richmond City: 2,498 (+25)
Richmond County: 309
Roanoke City: 617 (+5)
Roanoke County: 349 (+7)
Rockbridge: 41
Rockingham: 808 (+5)
Russell: 27 (+1)
Salem: 107 (+7)
Scott: 20 (+3)
Shenandoah: 633 (+14)
Smyth: 49 (+3)
Spotsylvania: 1,108 (+14)
Southampton: 193 (+7)
Stafford: 1,096 (+11)
Staunton: 108 (+2)
Suffolk: 647 (+14)
Surry: 21
Sussex: 227 (+8)
Tazewell: 35 (+1)
Virginia Beach: 2,272 (+135)
Warren: 318 (+1)
Washington: 95 (+5)
Waynesboro: 133 (+4)
Westmoreland: 186
Winchester: 361
Williamsburg: 88 (+1)
Wise: 49 (+1)
Wythe: 64 (+2)
York: 181 (+1)
*NOTE: This data is provided from the Virginia Department of Health daily at 9 a.m. Officials said their cutoff for data is 5 p.m. the previous day. So your local health department may have issued an alert about a case before it is added to the statewide tally released the following day. Get the latest charts and updated numbers from VDH here.
COVID-19 LOCAL HEADLINES
5 new COVID-19 outbreaks reported Thursday
Data show 280 (+4 from yesterday's report) outbreaks at long-term care facilities with a total of 7,409 COVID-19 cases and 1,184 deaths. That is up 61 cases and 4 additional deaths from the previous day's report. Read more.
100-plus more COVID-19 patients discharged
More than 100 COVID-19 patients have been discharged from Virginia hospitals in the last 24 hours, according to data from the Virginia Hospital & Healthcare Association (VHHA). Read more.
CDC Director: US could get COVID-19 under control in 1 to 2 months if everyone wears masks
The head of the Centers for Disease Control and Prevention says the United States could get the coronavirus pandemic under control in one to two months if all Americans wear face coverings in public spaces. Read more.
These retailers will start requiring face masks in their stores nationwide
Several of America's largest retailers have announced that they will begin requiring all customers to wear masks or face coverings when entering their stores. Read more.
Affordable housing residents fear eviction due to COVID-19
Richmond Mayor Levar Stoney was the moderator for panel series called "Color of COVID," which discussed the impact COVID-19 has had on people of color in affordable housing. Read more.
Fauci calls attacks from fellow White House staffers 'bizarre,' urges end to partisan fighting
Dr. Anthony Fauci said Wednesday that he thought that a fellow White House staffer's attempt to discredit him in a USA Today op-ed was "bizarre" and urged others in the administration to stop public partisan bickering about the pandemic. Read more.
Fed survey says the economy has picked up but outlook cloudy
The Federal Reserve says economic activity has picked up in most regions of the country but still remains well below pre-pandemic levels with the country facing high levels of uncertainty. Read more.
New England Journal of Medicine reports 'encouraging' findings for COVID-19 vaccine candidate
One of the leading COVID-19 vaccine candidates produced virus antibodies in every patient tested in a trial conducted earlier this year, according to a report in the New England Journal of Medicine. Read more.
Northam: Virginia will ramp up enforcement of COVID-19 regulations
In an effort to address a recent rise of COVID-19 cases in Virginia, Governor Ralph Northam announced the state will increase enforcement of COVID-19 regulations, particularly at Hampton Roads businesses. Read more.
Virginia COVID-19 survivor recalls 'paralyzing' pain, 'feeling of suffocating'
"Incredible physical pain. Just huge amounts of unbelievable blinding, paralyzing back pain. It just hurt a lot," Thomas Bryan said. "And that combined with a really high fever... The feeling of suffocating -- someone standing on your chest not being able to breathe. I think people don't understand that they are risking being as sick as that." Read more.
Florida reports largest, single-day increase in COVID cases
Florida on Sunday reported the largest single-day increase in positive coronavirus cases in any one state since the beginning of the pandemic. Read more.
COVID case uptick in Virginia prompts warning from the governor: 'I won't hesitate to impose restrictions'
The state of Virginia reported more than 940 positive COVID-19 cases Thursday. That marked the largest single-day jump since June 7. Read more.
Former Monacan standout Megan Walker tests positive for COVID-19Former Monacan High School standout Megan Walker has tested positive for COVID-19, the New York Liberty announced Friday. Read more.
Coronavirus impact to Virginia budget not as bad as feared
The coronavirus pandemic's impact on Virginia's state budget hasn't been as bad as previously feared. Read more.
CDC director: Agency is not changing guidance for reopening schools
Dr. Robert Redfield, the director of the Centers for Disease Control and Prevention, insisted Thursday that his agency would not be issuing new guidelines for reopening schools. Read more.
CIAA suspends sports for fall 2020 amid COVID-19 concerns
Officials say the decision was made after a thorough analysis of the pandemic and the reality that several CIAA schools are located in states experiencing dramatic increases in new COVID-19 cases. Read more.
Richmond law firms, private schools, medical practices receive millions in stimulus loans
The Small Business Administration on Monday released the names of entities that received at least $150,000 in funds. Read more.
President Trump says he will pressure governors to reopen schools this fall
President Donald Trump said he will pressure governors to reopen schools this fall, claiming that governors could make "political statements" by refusing to reopen schools. Read more.
COVID-19 cases spike dramatically among young adults in Virginia Beach
The Virginia Beach Department of Public Health says they are reporting an increase in the number of positive tests for coronavirus among residents in ages younger than 30 years. Read more.
Red Cross urging blood donations, testing for antibodies
The Red Cross is urging Central Virginians to donate blood during the COVID-19 crisis and will test blood, platelet, and plasma donations for COVID-19 antibodies for a limited time. Read more.
Northam announces phased approach for school reopening
Governor Ralph Northam unveiled a phased reopening approach for preK-12 schools in Virginia.
"We know parents want to know what to expect this summer and in the fall, to be clear, all Virginia schools will open for students next year, but the school experience will look very different," said Northam at a Tuesday press conference. Read more here.
How to find work during COVID-19 pandemic: 'People are still hiring'
some employers are still hiring during the global health pandemic. Here are some tips for finding works from experts. More here.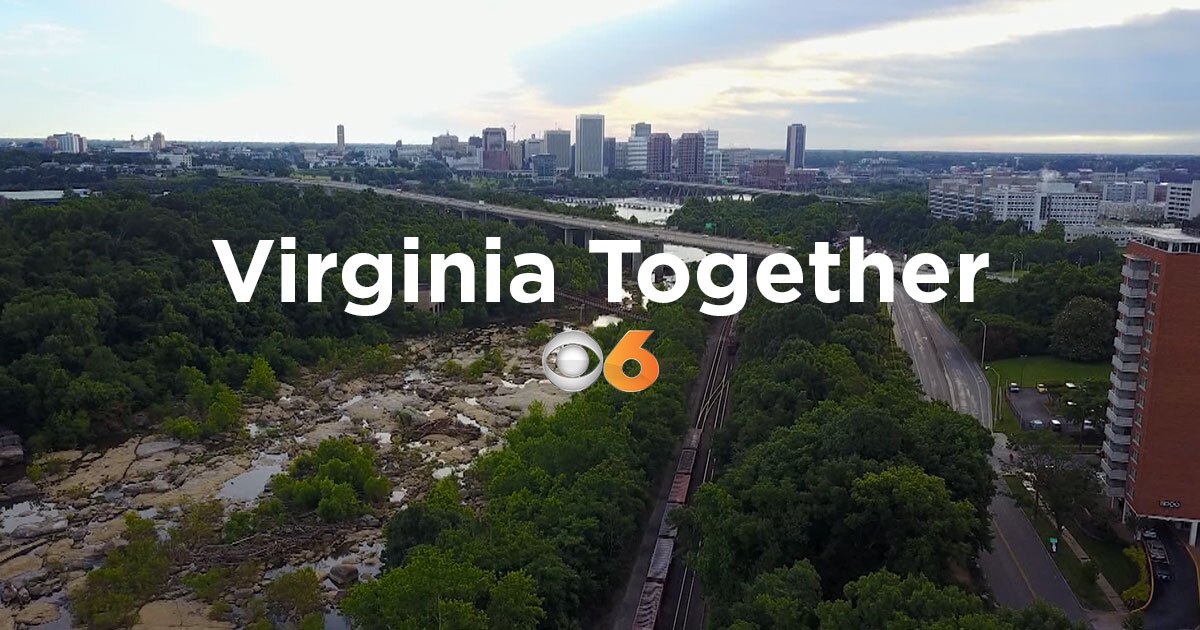 Community helps dentistry damaged in Richmond riots
For three decades, Richmond Dentistry for Children on West Broad Street in downtown Richmond has been a staple of the community, helping children and families from under-served communities. More here.
Virginia Together Fund: Help families impacted by COVID-19
CBS 6 is announcing the creation of The Virginia Together Fund -- a partnership with Feed More and Mission From the Heart.
More here.
Pharrell makes music video to honor Virginia's frontline workers
Grammy-winning musician and Virginia Beach native Pharrell Williams released a video Saturday honoring Virginia's frontline workers in the COVID-19 crisis. More here.
Watch replay of Virginia Together Fund virtual concert
Rayvon Owen, Jay Baxter, Mighty Joshua, Rodney Stith and others performed in a virtual concert Friday night to help raise money for the Virginia Together Fund. More here.
'Role model' high schoolers start innovative online education program for younger students
Life is anything but normal for school kids across Virginia. Many have struggled to keep up with distance learning, but four Maggie Walker honors students are helping through Project EngageRVA. More here.
Deep Run robotics team creates PPE
Deep Run High School's Team 1086 Blue Cheese Robotics team had its winning 2020 season cut short because of the coronavirus. However, the group quickly pivoted and found a way to re-channel efforts to help the community. More here.
Click here for a complete list of businesses featured on "We're Open."
COMPLETE COVERAGE: COVID-19 HEADLINES (App users, click here for a complete list.)
LATEST COVID-19 U.S. AND WORLDWIDE STATS