RICHMOND, Va. -- In an effort to provide accurate, easy-to-read information on the on-going COVID-19 outbreak and its impact on our community, WTVR.com will update this post with the day's local coronavirus headlines and statistics.
COVID-19 IN VIRGINIA (Scroll to bottom for U.S. stats)
Positive COVID-19 Cases: 20,256 (+764 from Monday)
People Hospitalized: 2,773 (+73 from Monday)
COVID-19-Linked Deaths: 713 (+29 from Monday)
Total People Tested: 127,938 (+5,150 from Monday)
Unique People Tested: 112,809 (+1,368 from Monday)
CITY/COUNTY-BY-COUNTY BREAKDOWN OF CASES (Coming soon)
*NOTE: This data is provided from the Virginia Department of Healthdaily at 9 a.m. Officials said their cutoff for data is 5 p.m. the previous day. So your local health department may have issued an alert about a case before it is added to the statewide tally released the following day.
COVID-19 LOCAL HEADLINES
Northam: Virginia business reopening could happen May 15
Virginia Gov. Ralph Northam says the commonwelath is close, but not quite ready to begin the reopening process. So, he is extending an executive order mandating that some nonessential businesses close for another week, until May 15. His executive order, which forces closed some businesses and severely restricts how others operate, was set to expire May 8. More here.
Trump says he expects vaccine to be developed by year's end
Many health experts, including some in his own administration, believe that economic recovery won't be possible until a vaccine for the virus has been developed. Many experts optimistically believe it could be between 18 and 24 months before a vaccine is widely available, but Trump said Sunday that he's confident one will be developed by the end of the year. More here.
4 new COVID-19 outbreaks reported Sunday in Virginia
Additionally, data shows 136 (+4 from yesterday's report) outbreaks at long-term care facilities with a total of 2,609 COVID-19 cases and 363 deaths as of Sunday. That is up 126 cases and 28 deaths from Saturday's update. More here.
COVID-19 hospitalizations drop, discharges near 2,500 in Virginia
Nearly 2,500 COVID-19 patients have been discharged from Virginia hospitals, according to data from the Virginia Hospital & Healthcare Association (VHHA). More here.
Small businesses owners look forward to possible May 8 reopening
Virginia Governor Ralph Northam is set to outline guidelines for phase one of the Blueprint for Virginia to begin reopening during a news briefing Monday.
Many struggling small businesses are anxiously waiting to see if they get to reopen in the wake of the state's stay-at-home order, which forced the closure of many non-essential businesses. More here.
Virginia Beach mayor urges Northam to reopen beaches
As hope of reopening the economy continues to build across Hampton Roads, Virginia Beach Mayor, Bobby Dyer, is asking Governor Northam to include opening beaches in phase one Virginia's reopening plan. More here.
Virginia to get decontamination systems for protective gear
Virginia is set to receive three decontamination systems that can collectively sterilize up to 240,000 units of personal protective equipment each day during the coronavirus outbreak. More here.
Virginia Tech president hopes to resume on-campus classes this fall
The president of Virginia Tech says he is hopeful the school will be able to hold classes on campus this fall, but said no final decision will be made until next month. More here.
Northam to detail phase 1 guidelines for reopening Virginia Monday
Virginia Governor Ralph Northam will outline guidelines for phase one of the plan to reopen the Commonwealth during a new briefing Monday. More here.
FDA grants emergency use authorization for experimental COVID-19 drug
The Food and Drug Administration granted emergency use authorization on Friday for the drug remdesivir to treat the coronavirus. More here.
Doctors concerned that patients in need are avoiding hospitals in fear of COVID-19
While non-emergency surgeries and dental procedures resumed Friday in Virginia, some VCU Health doctors believe people are scared to come to the hospital in fear of getting the COVID-19 virus. More here.
Virginia crisis manager returns home to NYC to set up morgues
John Scrivani retired from his work in disaster response management in New York City about a decade ago.
He moved to Spotsylvania County seeking a calmer life, but the COVID-19 pandemic has brought him back home. Read more.
Police close Capitol Square amid Reopen rally
Virginia State Capitol Police shutdown Capitol Square in Richmond for approximately two hours Friday afternoon.More here.
Mental health service providers see a massive increase in patient demand
Gov. Ralph Northam announced a $2 million grant to aid those experiencing mental and behavioral health crises in the wake of COVID-19. Read more.
Northam creates COVID-19 Business Task Force to guide strategy for easing restrictions
The task force consists of representatives from a variety of Virginia industries, including restaurants, breweries, wineries, small and large retailers, fitness centers, hair salons, barber shops, spas and estheticians, museums, hospitality groups, campgrounds, and entertainment venues. More here.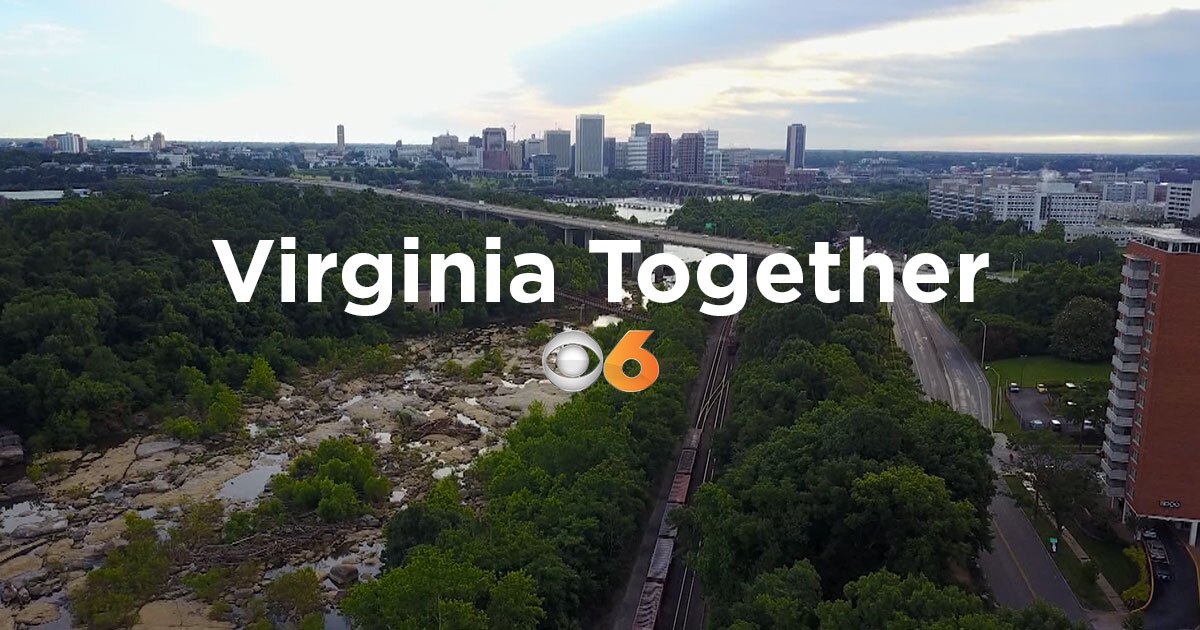 Virginia jazz singer's 'cool' porch performance will make you smile
A Richmond jazz vocalist lifted spirits while performing from her porch all while practicing social distancing Saturday. More here.
Drive-by parade celebrates Virginia WWII vet's 100th birthday
World War II veteran Walter Shevock's birthday celebration took place as a social distancing-style parade because of the COVID-19 pandemic. It was a milestone Shevock said he did not think he would see.
"Oh no, no, never," Shevock said. "For all I've been through, I never thought I'd reach 100." More here.
Rent party Facebook LIVE aims to raise money for renters
Some area property managers who formed a homeless intervention program are working to help keep families in their homes during the COVID-19 pandemic. More here.
Virginia teen flies around the state delivering food to communities in need
"He said, 'I'd like to bring food.' I was like, 'Wait? What? What?," Linda Hudgens said. More here.
How you can brighten the day of residents at Canterbury
A new effort is underway to brighten the day of residents who have been on lockdown at nursing homes during the COVID-19 pandemic. More here.
Plunky jams on his Richmond front porch every night
Since we can no longer go see Richmond saxophonist James 'Plunky' Branch in concert, the musician is bringing the concert to us. Read more.
Richmond students create virtual program to engage elementary school children
When coronavirus closed down schools and stopped the world in its tracks, four honors students from Maggie Walker Governors School created an organization to help elementary school students adjust to their new normal. More here.
Organization teams up with Richmond restaurants to feed hospital staff
A national grassroots organization working with restaurants and other medical facilities to feed healthcare workers on the frontline of the COVID-19 crisis has launched a Richmond chapter. More here.
Henrico bakery donates 16,000 masks for first responders
The owner of a Henrico bakery donated thousands of face masks and hundreds of pastries to first responders. More here.
Feed More hires Richmond restaurant cooks
Seven Richmond cooks from kitchens like Lemaire, Acacia Midtown, Shagbark, and West Coast Provisions are now cooking meals for Feed More. A Community Foundation grant helped Feed More hire the out-of-work cooks for the Bayard Community Kitchen. More here.
Shrimps dishes out soul food in Richmond
Shrimps Restaurant, on W. Brookland Park Boulevard, continues to safely serve customers in Richmond's Northside. More here.
Richmond startup takes on restaurant takeout
Just as to-go has become the go-to for getting restaurant food, a Richmond startup has launched an app intended to make takeout easier. More here.
How COVID-19 is impacting The Veil, Charm School, and Stella's south Richmond plans
A brewery-anchored project on the Southside is eyeing a summer finish line, the same time many Richmonders are hopeful for an ending of social distancing guidelines. More here.
Fountain Bookstore celebrates 'Independent Bookstore Day' with virtual bookstore party
The bookstore may be closed, but the books are still open. To celebrate "Independent Bookstore Day" on April 25, Richmond-based Fountain Bookstore will offer a special virtual event complete with free audio downloads, giveaways and other surprises. More here.
Richmond Symphony hosts 9-hour virtual music marathon fundraiser
Despite social distancing, the music plays on! The Richmond Symphony is hosting a nine-hour music marathon fundraiser on Saturday, April 25 from 10 a.m. to 7 p.m. This marathon will stream live on the Richmond Symphony's Facebook page and will feature performances by symphony musicians, youth program participants, staff and board members. More here.
Anthony's on the Hill reopens amid pandemic
A neighborhood restaurant opened its doors in the midst of the coronavirus and the community came to its aid. Antoinette Essa chatted with Anthony's on the Hill owner Michael Calogerakis and his daughter Madison about operating during the coronavirus crisis.More here.
King's Barbecue adapts to keep doors open during COVID-19
For more than seven decades, King's Barbecue has dominated Petersburg's taste for smoked pork. And for more than 70 years, little has changed about the restaurant and the food it serves. More here.
How Richmond Fleet Management keeps the city rolling
It's an essential city service you rarely get to see. Richmond Fleet Management crews are responsible for keeping Richmond's first responders and city services rolling. More here.
Saucy's BBQ offers drive thru pork, ribs, and beer
Saucy's Walk Up and Saucy's Sit Down have transformed into Saucy's Drive Thru and Saucy's Takeout. Tom McCormack , the owner of Saucy's BBQ in Petersburg and Hopewell, spoke with Eat It, Virginia co-host Scott Wise about keeping the Tri-Cities feed with ribs and pulled pork.More here.
Richmond International Film Festival moves online for live discussion series
While The Richmond International Film Festival (RIFF) has been postponed due to COVID-19, the producers of the yearly event have been working to create an online experience to highlight the festivals film makers, musicians, and special guest speakers. More here.
COMPLETE COVERAGE: COVID-19 HEADLINES (App users, click here for complete list.)
LATEST COVID-19 U.S. AND WORLDWIDE STATS