RICHMOND, Va. -- In an effort to provide accurate, easy-to-read information on the on-going COVID-19 outbreak and its impact on our community, WTVR.com will update this post with the day's local coronavirus headlines and statistics.
COVID-19 IN VIRGINIA (Scroll to bottom for U.S. stats)
Positive Tests: 17,731 (+830 from Friday)
People Hospitalized: 2,519 (+103 from Friday)
COVID-19-Linked Deaths: 616 (+35 from Friday)
Total People Tested: 112,450 (+6,792 from Friday)
Reporters had ask officials yesterday if they could split up the total/people tested and add the total tests to their respective dates so that we could get an accurate idea of that percentage of positive tests trend, versus having this one day data dump skew the numbers.

— Cam Thompson (@CamThompsonCBS6) May 2, 2020
CITY/COUNTY-BY-COUNTY BREAKDOWN OF CASES
Accomack: 353 (+50)
Albemarle: 105 (+2)
Alleghany: 6
Alexandria: 848 (+46)
Appomattox: 21 (+1)
Arlington: 1,044 (+40)
Amelia: 16
Amherst: 12 (-1)
Augusta: 45 (+1)
Bedford: 34 (+1)
Bristol: 1
Botetourt: 28
Brunswick: 15 (+1)
Buchanan: 16
Buckingham: 137(+43)
Buena Vista City: 6
Campbell: 13 (+1)
Caroline: 29 (-3)
Carroll: 13 (+1)
Charles City: 13
Charlotte: 9 (+1)
Charlottesville: 58
Chesapeake: 263 (+6)
Chesterfield: 593 (+36)
Clarke: 10 (+1)
Colonial Heights: 57 (+3)
Craig: 3
Culpeper: 177 (+15)
Cumberland: 12 (-1)
Danville: 37 (+2)
Dinwiddie: 18 (+2)
Emporia: 23
Essex: 8
Fairfax: 4,046 (+149)
Fairfax City: 29
Falls Church: 26
Fauquier: 128
Floyd: 3
Fluvanna: 76 (+2)
Franklin City: 23
Franklin County: 22 (+1)
Frederick: 115
Fredericksburg: 37 (+3)
Galax: 10 (+1)
Giles: 4
Gloucester: 24
Goochland: 78
Grayson: 2
Greene: 10
Greensville: 39
Halifax: 19 (+1)
Hanover: 133 (+1)
Hampton: 122 (+3)
Harrisonburg: 470 (+14)
Henrico: 926 (+28)
Henry: 19 (+3)
Highland: 2
Hopewell: 27 (+2)
Isle of Wight: 99
James City: 161 (-3)
King George: 33 (-1)
King and Queen: 3 (+1)
King William: 9 (+4)
Lancaster: 3
Lee: 10
Lexington: 5 (+1)
Louisa: 46 (+1)
Loudoun: 881(+49)
Lunenburg: 4
Lynchburg: 62 (+9)
Madison: 15 (+1)
Manassas City: 258 (+36)
Manassas Park: 76 (+8)
Martinsville: 2
Mathews: 4
Mecklenburg: 104 (+1)
Middlesex: 7
Montgomery: 56
Nelson: 8
New Kent: 23
Newport News: 123 (+3)
Norfolk: 211 (+7)
Northampton: 94 (+12)
Northumberland: 9
Norton: 2
Nottoway: 13
Orange: 37 (+1)
Page: 107 (+3)
Patrick: 2
Petersburg: 35 (+2)
Pittsylvania: 14 (+1)
Poquoson: 6
Portsmouth: 173 (+3)
Powhatan: 14
Prince Edward: 55 (+4)
Prince George: 35 (+1)
Prince William: 1,900 (+119)
Pulaski: 9
Radford: 3
Rappahannock: 6 (+1)
Richmond City: 382 (+18)
Richmond County: 143 (+1)
Roanoke City: 80
Roanoke County: 54 (+1)
Rockbridge: 7
Rockingham: 259 (+10)
Russell: 5 (+1)
Salem: 26
Scott: 7
Shenandoah: 134 (+14)
Smyth: 13
Spotsylvania: 174 (+19)
Southampton: 125
Stafford: 262 (+11)
Staunton: 13 (+1)
Suffolk: 178 (+3)
Surry: 4
Sussex: 31
Tazewell: 6
Virginia Beach: 413 (+17)
Warren: 61 (+4)
Washington: 39 (+1)
Waynesboro: 14 (+1)
Westmoreland: 25 (+2)
Winchester: 46 (+5)
Williamsburg: 21 (+1)
Wise: 22
Wythe: 11
York: 46
*NOTE: This data is provided from the Virginia Department of Health daily at 9 a.m. Officials said their cutoff for data is 5 p.m. the previous day. So your local health department may have issued an alert about a case before it is added to the statewide tally released the following day.
COVID-19 LOCAL HEADLINES
Northam to detail phase 1 guidelines for reopening Virginia Monday
Virginia Governor Ralph Northam will outline guidelines for phase one of the plan to reopen the Commonwealth during a new briefing Monday. More here.
COVID-19 hospitalizations down, discharges top 2,300 in Virginia
More than 2,300 COVID-19 patients have been discharged from Virginia hospitals, according to data from the Virginia Hospital & Healthcare Association (VHHA). More here.
FDA grants emergency use authorization for experimental COVID-19 drug
The Food and Drug Administration granted emergency use authorization on Friday for the drug remdesivir to treat the coronavirus. More here.
Doctors concerned that patients in need are avoiding hospitals in fear of COVID-19
While non-emergency surgeries and dental procedures resumed Friday in Virginia, some VCU Health doctors believe people are scared to come to the hospital in fear of getting the COVID-19 virus. More here.
Virginia crisis manager returns home to NYC to set up morgues
John Scrivani retired from his work in disaster response management in New York City about a decade ago.
He moved to Spotsylvania County seeking a calmer life, but the COVID-19 pandemic has brought him back home. Read more.
Police close Capitol Square amid Reopen rally
Virginia State Capitol Police shutdown Capitol Square in Richmond for approximately two hours Friday afternoon.More here.
Mental health service providers see a massive increase in patient demand
Gov. Ralph Northam announced a $2 million grant to aid those experiencing mental and behavioral health crises in the wake of COVID-19. Read more.
NYC hospital doctor dies by suicide in Virginia
A New York City hospital doctor took her own life Sunday, police said. Dr. Lorna Breen succumbed to self-inflicted injuries at UVA Hospital, according to the Charlottesville Police Department. Police Chief RaShall Brackney mourned her loss. Read more.
CEO: Bus drivers who don't return to work could be fired
After a mass "call-out" by GRTC operators that caused "significant delays" for some riders Monday, the transit company's CEO sent a letter to local union leaders saying operators who don't return to work could be fired. Read more.
Richmond researcher develops COVID-19 antibody test
Researcher at Granger Genetics said the COVID-19-plagued Henrico nursing home was crucial in the lab's work to develop an antibody blood test to determine if someone has had the coronavirus. More here.
Medical school students join virus fight with child care
Dozens of students from a Virginia medical school are doing their part in the fight against coronavirus by volunteering to care for the children of health care workers. More here.
Northam creates COVID-19 Business Task Force to guide strategy for easing restrictions
The task force consists of representatives from a variety of Virginia industries, including restaurants, breweries, wineries, small and large retailers, fitness centers, hair salons, barber shops, spas and estheticians, museums, hospitality groups, campgrounds, and entertainment venues. More here.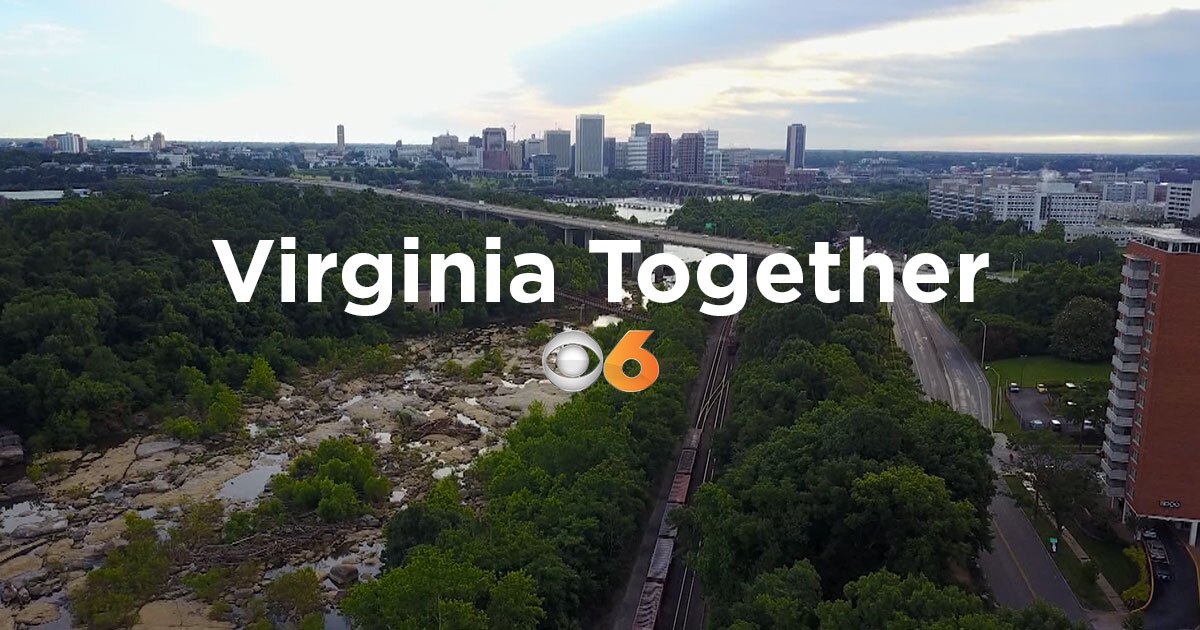 Virginia teen flies around the state delivering food to communities in need
"He said, 'I'd like to bring food.' I was like, 'Wait? What? What?," Linda Hudgens said. More here.
How you can brighten the day of residents at Canterbury
A new effort is underway to brighten the day of residents who have been on lockdown at nursing homes during the COVID-19 pandemic. More here.
Plunky jams on his Richmond front porch every night
Since we can no longer go see Richmond saxophonist James 'Plunky' Branch in concert, the musician is bringing the concert to us. Read more.
Richmond students create virtual program to engage elementary school children
When coronavirus closed down schools and stopped the world in its tracks, four honors students from Maggie Walker Governors School created an organization to help elementary school students adjust to their new normal. More here.
Organization teams up with Richmond restaurants to feed hospital staff
A national grassroots organization working with restaurants and other medical facilities to feed healthcare workers on the frontline of the COVID-19 crisis has launched a Richmond chapter. More here.
Henrico bakery donates 16,000 masks for first responders
The owner of a Henrico bakery donated thousands of face masks and hundreds of pastries to first responders. More here.
Feed More hires Richmond restaurant cooks
Seven Richmond cooks from kitchens like Lemaire, Acacia Midtown, Shagbark, and West Coast Provisions are now cooking meals for Feed More. A Community Foundation grant helped Feed More hire the out-of-work cooks for the Bayard Community Kitchen. More here.
Hopewell: 27 (+2)
Henrico 'free masks for seniors' giveaway aims to ease anxiety
Isle of Wight: 99
James City: 161 (-3)
A Central Virginia woman ran 60 miles Saturday to raise money for Kids Run RVA, a groups that encourages kids to get active.
King George: 33 (-1)
King and Queen: 3 (+1)
King William: 9 (+4)
Laura Hill is a familiar face in Virginia standing front and center during the pandemic, delivering potentially life-saving information without ever uttering a word.More here.
Lancaster: 3
Lee: 10
Lexington: 5 (+1)
Louisa: 46 (+1)
Loudoun: 881(+49)
Lunenburg: 4
Lynchburg: 62 (+9)
Chesterfield auto shop giving back to first responders: 'They're risking their lives'
Madison: 15 (+1)
Manassas City: 258 (+36)
Manassas Park: 76 (+8)
Martinsville: 2
Mathews: 4
Mecklenburg: 104 (+1)
Middlesex: 7
Montgomery: 56
While many families are spending much more time at home during the COVID-19 pandemic, a local contractor is donating their services to a family in need.More here.
Nelson: 8
New Kent: 23
Newport News: 123 (+3)
Norfolk: 211 (+7)
Northampton: 94 (+12)
Northumberland: 9
Norton: 2
Nottoway: 13
"I thought if I was a nurse, I'd like to be tipped," Blake Saunders explained. "I'd like somebody to give me a chunk of change, even if it's just to get a tank of gas or a steak dinner or whatever." More here.
Orange: 37 (+1)
Page: 107 (+3)
Patrick: 2
Petersburg: 35 (+2)
Pittsylvania: 14 (+1)
Poquoson: 6
Portsmouth: 173 (+3)
Powhatan: 14
Prince Edward: 55 (+4)
Prince George: 35 (+1)
Prince William: 1,900 (+119)
Pulaski: 9
The bookstore may be closed, but the books are still open. To celebrate "Independent Bookstore Day" on April 25, Richmond-based Fountain Bookstore will offer a special virtual event complete with free audio downloads, giveaways and other surprises. More here.
Radford: 3
Rappahannock: 6 (+1)
Richmond City: 382 (+18)
Richmond County: 143 (+1)
Roanoke City: 80
Roanoke County: 54 (+1)
Rockbridge: 7
Rockingham: 259 (+10)
Russell: 5 (+1)
Salem: 26
Scott: 7
Shenandoah: 134 (+14)
Smyth: 13
Spotsylvania: 174 (+19)
Southampton: 125
Stafford: 262 (+11)
Staunton: 13 (+1)
Suffolk: 178 (+3)
Surry: 4
Sussex: 31
Tazewell: 6
"It's just a different world," Michelle Leshok said. "Like it's just like a ghost town. Thursday to Sunday it is usually packed." More here.
Virginia Beach: 413 (+17)
COMPLETE COVERAGE: COVID-19 HEADLINES (App users, click here for complete list.)
Warren: 61 (+4)
Washington: 39 (+1)
Westmoreland: 25 (+2)
Winchester: 46 (+5)
Wise: 22