RICHMOND, Va. -- In an effort to provide accurate, easy-to-read information on the on-going COVID-19 outbreak and its impact on our community, WTVR.com will update this post with the day's local coronavirus headlines and statistics.
COVID-19 IN VIRGINIA (Scroll to bottom for U.S. stats)
Positive Tests: 13,535 (+565 from Sunday)
People Hospitalized: 2,066 (+52 from Sunday)
COVID-19-Linked Deaths: 458 (+10 from Sunday)
People Tested: 80,180 (+4,062 from Sunday)
Learn about The Lilly Pad, Richmond's hottest waterfront restaurant
CITY/COUNTY-BY-COUNTY BREAKDOWN OF CASES
Click here for updated county-by-county numbers
Accomack: 195 (+11)
Albemarle: 77 (+1)
Alleghany: 5
Alexandria: 627 (+36)
Appomattox: 17
Arlington: 836 (+46)
Amelia: 15
Amherst: 9
Augusta: 36
Bedford: 25 (+1)
Bristol: 1
Botetourt: 27
Brunswick: 14
Buchanan: 14 (+1)
Buckingham: 45 (+10)
Buena Vista City: 5
Campbell: 11
Caroline: 21
Carroll: 4 (+1)
Charles City: 13
Charlotte: 7
Charlottesville: 50 (+1)
Chesapeake: 214 (+6)
Chesterfield: 457
Clarke: 7
Colonial Heights: 45
Covington: 1
Craig: 2
Culpeper: 113 (+10)
Cumberland: 10
Danville: 33
Dinwiddie: 15 (+1)
Emporia: 20 (+2)
Essex: 6
Fairfax: 3,002 (+113)
Fairfax City: 27 (+1)
Falls Church: 26
Fauquier: 96 (+9)
Floyd: 1
Fluvanna: 73 (+1)
Franklin City: 16
Franklin County: 19
Frederick: 95 (+2)
Fredericksburg: 24 (+1)
Galax: 3 (-1)
Giles: 4
Gloucester: 22
Goochland: 72 (+2)
Greene: 10
Greensville: 36 (+6)
Halifax: 17
Hanover: 108 (+3)
Hampton: 108 (+4)
Harrisonburg: 383 (+12)
Henrico: 817 (+25)
Henry: 15 (+1)
Highland: 1
Hopewell: 24 (+2)
Isle of Wight: 93
James City: 154 (+1)
King George: 28 (+1)
King and Queen: 2
King William: 5
Lancaster: 1
Lee: 8
Lexington: 3
Louisa: 41 (+1)
Loudoun: 628 (+32)
Lunenburg: 4
Lynchburg: 51 (+1)
Madison: 14
Manassas City: 165 (+7)
Manassas Park: 50 (+5)
Mathews: 4
Mecklenburg: 98 (+4)
Middlesex: 4
Montgomery: 54 (+3)
Nelson: 7
New Kent: 20
Newport News: 112 (+1)
Norfolk: 184 (+5)
Northampton: 28 (+4)
Northumberland: 8
Norton: 2
Nottoway: 11
Orange: 26
Page: 87 (+3)
Patrick: 2
Petersburg: 30 (+3)
Pittsylvania: 11
Poquoson: 6
Portsmouth: 114 (+6)
Powhatan: 11
Prince Edward: 41
Prince George: 31 (+1)
Prince William: 1,353 (+88)
Pulaski: 9 (-1)
Radford: 3
Rappahannock: 1 (-1)
Richmond City: 304 (+3)
Richmond County: 132 (+43)
Roanoke City: 33
Roanoke County: 41 (+2)
Rockbridge: 5
Rockingham: 193 (+9)
Russell: 3
Salem: 11 (+2)
Scott: 6
Shenandoah: 78 (+4)
Smyth: 13
Spotsylvania: 119 (+12)
Southampton: 115
Stafford: 218 (+5)
Staunton: 10
Suffolk: 147
Surry: 4
Sussex: 30 (+2)
Tazewell: 5 (+1)
Virginia Beach: 355 (+10)
Warren: 44 (+1)
Washington: 34
Waynesboro: 11
Westmoreland: 20
Winchester: 33
Williamsburg: 15
Wise: 21 (+1)
Wythe: 11
York: 44
*NOTE: This data is provided from the Virginia Department of Health daily at 9 a.m. Officials said their cutoff for data is 5 p.m. the previous day. So your local health department may have issued an alert about a case before it is added to the statewide tally released the following day.
COVID-19 LOCAL HEADLINES
Richmond researcher develops COVID-19 antibody test
Researcher at Granger Genetics said the COVID-19-plagued Henrico nursing home was crucial in the lab's work to develop an antibody blood test to determine if someone has had the coronavirus. More here.
Medical school students join virus fight with child care
Dozens of students from a Virginia medical school are doing their part in the fight against coronavirus by volunteering to care for the children of health care workers. More here.
10 new COVID-19 outbreaks reported Sunday
Health officials are investigating 198 outbreaks of COVID-19 in the Commonwealth, according to Virginia Department of Health (VDH) data released Sunday. More here.
COVID-19 hospitalizations, discharges up in Virginia
More than 1,800 COVID-19 patients have been discharged from Virginia hospitals, according to data from the Virginia Hospital & Healthcare Association (VHHA). More here.
Chesterfield church responds to warning from police about Sunday service
Leaders at a Chesterfield church disputed claims the house of worship was violating Executive Order 55 that prohibited gatherings of more than 10 people last Sunday. More here.
Gov. Northam: Virginia could begin to reopen on May 8
Virginia Governor Ralph Northam laid out what he called the blueprint for Virginia to begin reopening during his Friday afternoon press conference. The earliest he said that process could begin was May 8.More here.
Northam creates COVID-19 Business Task Force to guide strategy for easing restrictions
The task force consists of representatives from a variety of Virginia industries, including restaurants, breweries, wineries, small and large retailers, fitness centers, hair salons, barber shops, spas and estheticians, museums, hospitality groups, campgrounds, and entertainment venues. More here.
Feds reviewing investigation into COVID-19-plagued Henrico nursing home
An investigation into the COVID-19-plagued nursing home will examine if anything should have been done differently as the virus was spreading through the West End facility that has become the epicenter of the health crisis in Central Virginia. Read more.
Northam delays May special elections two weeks, urges absentee voting
Days after the Virginia Senate voted not to move special local elections to November, Governor Ralph Northam announced he is using his executive powers to move the elections back two weeks. More here.
Virginia DOC to release some offenders early during COVID-19 pandemic
The Virginia General Assembly approved a proposed budget amendment from Governor Ralph Northam that gives the Department of Corrections (DOC) the authority to release some inmates with less than a year remaining on their sentences during the COVID-19 pandemic. More here.
Gig workers frustrated with lack of unemployment benefits
Millions of Americans are desperate to get back to work, and gig workers are among the demographics that have been hit the hardest by the covid-19 pandemic; out of work and unable to receive unemployment. More here.
How the pandemic may contribute to problem gambling
Many families are now spending more time behind computer screens during this pandemic. Experts said that may lead to more individuals engaging in risky gambling behaviors.More here.
'Very simple' COVID-19 self-testing site opens in Central Virginia
A COVID-19 self-testing site opened Thursday at a Central Virginia Rite Aid in partnership with the U.S. Department of Health and Human Services (HHS). More here.
New COVID-19 scam targets students
The Better Business Bureau has a warning for students during this COVID-19 pandemic, scammers are working around the clock trying to take your money. The latest scam comes in the form of a student loan forgiveness email. More here.
How some uninsured Richmonders can get tested for COVID-19 for free
Uninsured residents of three Richmond communities will be to be able to receive a free COVID-19 test at three walk up testing centers next week. More here.
Rep. Spanberger outlines support for small businesses and nursing homes in new relief package
As Virginians navigate dramatic changes due to COVID-19, many have questions about relief money, unemployment and the safety of loved ones, especially at nursing homes. More here.
Fewer crashes, improved air quality in Richmond during shutdown
New data compiled by researchers during the COVID-19 pandemic revealed fewer car crashes and improved air quality in the River City.More here.
Program helps people fighting addiction while quarantined
Being quarantined has taken a toll on many people, but it can be particularly difficult for those fighting alcoholism and substance abuse. More here.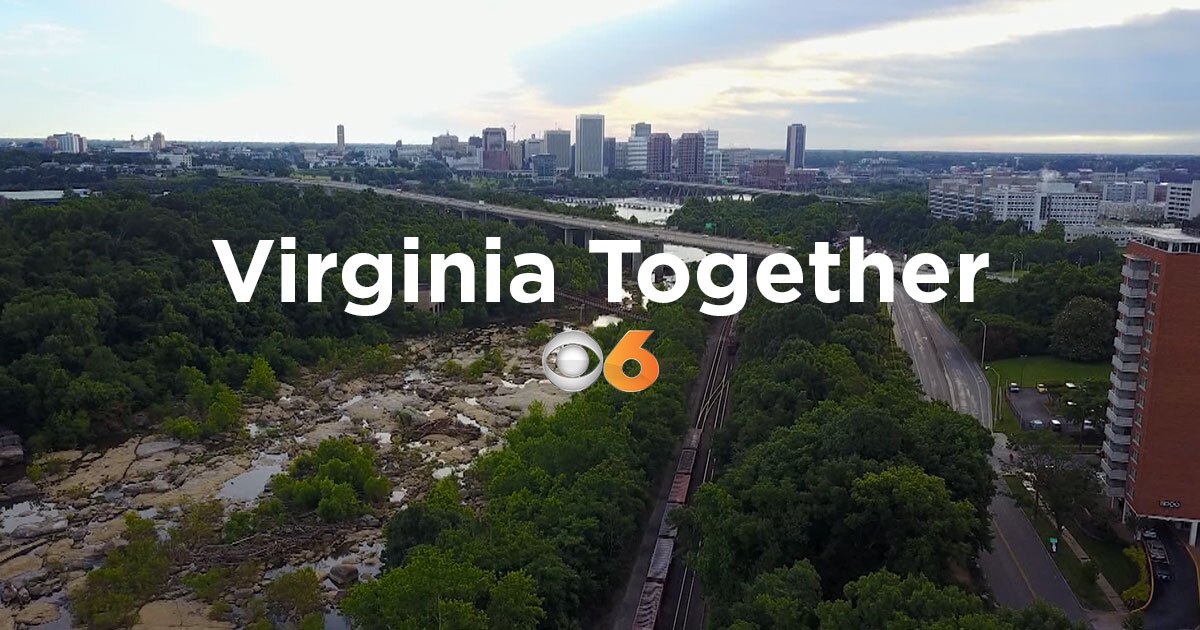 Henrico 'free masks for seniors' giveaway aims to ease anxiety
A West End insurance company distributed more than 1,000 free masks to help ease the minds of senior citizens Saturday. More here.
Woman runs 60 miles in 24 hours: 'Her motivation is to motivate'
A Central Virginia woman ran 60 miles Saturday to raise money for Kids Run RVA, a groups that encourages kids to get active.
"I'm a runner, but this is something I've never done before," Kristen Eichert laughed. "I just decided to do something a little wild and try to raise some money."More here.
Sign language interpreter translates life-saving information without saying a word
Laura Hill is a familiar face in Virginia standing front and center during the pandemic, delivering potentially life-saving information without ever uttering a word.More here.
Richmond Food Lions offers groceries, gift cards to families in need
Richmond families struggling during the COVID-19 crisis can pick up Food Lion food bags and gift cards from area schools on a weekly basis.More here.
Hanover County offering 12,500 free meals
Hanover County will offer thousands of free meals to their residents Friday. The food program is different from the program offering meals to students of Hanover County Public Schools. More here.
Chesterfield auto shop giving back to first responders: 'They're risking their lives'
A Chesterfield car repair shop is giving back to the first responders and healthcare workers who are on the frontlines of the COVID-19 pandemic. More here.
RVA YouTube stars spread positivity during pandemic
A Richmond-based YouTube star couple is not letting the COVID-19 pandemic keep them from making big moves and spreading positivity.More here.
Contractor offers to donate crawlspace installation to family in need
While many families are spending much more time at home during the COVID-19 pandemic, a local contractor is donating their services to a family in need.More here.
Chesterfield law enforcement delivers donuts to hospital workers
A motorcade of Chesterfield law enforcement officers showed their gratitude to health care workers at Johnston-Willis Hospital Friday morning. More here.
Petersburg church distributes weekly meal boxes
A Petersburg Church is helping serve the community through distributing 'Hope Boxes' to those in need during the COVID-19 pandemic. More here.
Property managers raise funds for struggling families
Local property manager Jean Johnson knows the angst many families are feeling. She started taking distress calls weeks ago when layoffs began and tenants started losing income. More here.
'ARTsolation' -- Families' stay-at-home art projects bring 'warmth and love'
"We had been talking over conference calls how a lot of us have seen different art installations in people's yards, and thought it would be kind of cool idea to create a virtual exhibit where we could document these things and put them on a website for people to enjoy from their own homes," Rob Steele said. More here.
Parole worker hopes to raise $50K for Canterbury nurses
"I thought if I was a nurse, I'd like to be tipped," Blake Saunders explained. "I'd like somebody to give me a chunk of change, even if it's just to get a tank of gas or a steak dinner or whatever." More here.
Anthony's on the Hill reopens amid pandemic
A neighborhood restaurant opened its doors in the midst of the coronavirus and the community came to its aid. Antoinette Essa chatted with Anthony's on the Hill owner Michael Calogerakis and his daughter Madison about operating during the coronavirus crisis.More here.
King's Barbecue adapts to keep doors open during COVID-19
For more than seven decades, King's Barbecue has dominated Petersburg's taste for smoked pork. And for more than 70 years, little has changed about the restaurant and the food it serves. More here.
How Richmond Fleet Management keeps the city rolling
It's an essential city service you rarely get to see. Richmond Fleet Management crews are responsible for keeping Richmond's first responders and city services rolling. More here.
Saucy's BBQ offers drive thru pork, ribs, and beer
Saucy's Walk Up and Saucy's Sit Down have transformed into Saucy's Drive Thru and Saucy's Takeout. Tom McCormack , the owner of Saucy's BBQ in Petersburg and Hopewell, spoke with Eat It, Virginia co-host Scott Wise about keeping the Tri-Cities feed with ribs and pulled pork.More here.
Richmond International Film Festival moves online for live discussion series
While The Richmond International Film Festival (RIFF) has been postponed due to COVID-19, the producers of the yearly event have been working to create an online experience to highlight the festivals film makers, musicians, and special guest speakers. More here.
Landlord chooses not to collect rent: 'A blessing from God'
Thrift store owners in Colonial Heights say they were struggling to keep their operation going when they received an unexpected and appreciated surprise from their landlord. More here.
Lazy Daisy saved her life, she won't let the virus kill it
"It's just a different world," Michelle Leshok said. "Like it's just like a ghost town. Thursday to Sunday it is usually packed." More here.
Richmond restaurants cope with COVID to stay open
On this week's "Eat It, Virginia!" podcast, Robey and Scott continue to focus on the people keeping their restaurants open amid COVID-19 uncertainty. More here.
Explore Virginia's museums, zoos, and historical sites through these virtual experiences
As Virginians adjusts to social-distancing measures and businesses and institutions close their doors, online learning experiences are growing in importance. And in the Commonwealth, there's no shortage of online, interactive learning experiences. From exploring the Virginia Museum of Fine Arts collections to interacting with animals at the Virginia zoo to an online stroll through Lewis Ginter Botanical gardens, kids and adults alike can explore the state's treasures from the comfort of their own homes. More here.
COMPLETE COVERAGE: COVID-19 HEADLINES (App users, click here for complete list.)
LATEST COVID-19 U.S. AND WORLDWIDE STATS