RICHMOND, Va. -- In an effort to provide accurate, easy-to-read information on the on-going COVID-19 outbreak and its impact on our community, WTVR.com will update this post with the day's local coronavirus headlines and statistics.
COVID-19 IN VIRGINIA (Scroll to bottom for U.S. stats)
Positive Tests: 10,266 (+636 from Tuesday)
People Hospitalized: 1,659 (+78 from Tuesday)
COVID-19-Linked Deaths: 349 (+25 from Tuesday)
People Tested: 60,778 (+2,434 from Tuesday)
CITY/COUNTY-BY-COUNTY BREAKDOWN OF CASES
Accomack: 59 (+7)
Albemarle: 68 (+2)
Alleghany: 5
Alexandria: 474 (+12)
Appomattox: 10 (+3)
Arlington: 663 (+38)
Amelia: 15
Amherst: 10
Augusta: 30 (+2)
Bedford: 20 (+1)
Bristol: 1
Botetourt: 26 (+1)
Brunswick: 13 (+1)
Buchanan: 12
Buckingham: 27
Buena Vista City: 5
Campbell: 10
Caroline: 20 (+3)
Carroll: 3
Charles City: 11
Charlotte: 8
Charlottesville: 44 (+3)
Chesapeake: 180 (+4)
Chesterfield: 356 (+10)
Clarke: 6
Colonial Heights: 37 (+1)
Covington: 1
Craig: 2
Culpeper: 73 (+8)
Cumberland: 10
Danville: 29
Dinwiddie: 8
Emporia: 12
Essex: 2
Fairfax: 2,256 (179)
Fairfax City: 25 (+3)
Falls Church: 25 (+1)
Fauquier: 56 (+7)
Floyd: 1
Fluvanna: 69 (+1)
Franklin City: 14 (+2)
Franklin County: 17 (+1)
Frederick: 86 (+3)
Fredericksburg: 17
Galax: 1
Giles: 4
Gloucester: 21
Goochland: 63 (+1)
Greene: 9 +(1)
Greensville: 24 (+1)
Halifax: 12
Hanover: 97 (+4)
Hampton: 97 (+5)
Harrisonburg: 318 (+54)
Henrico: 684 (+63)
Henry: 10
Highland: 1 (new)
Hopewell: 16
Isle of Wight: 90 (+2)
James City: 147 (+1)
King George: 20 (+1)
King and Queen: 2
King William: 2
Lancaster: 1
Lexington: 3
Lee: 7
Louisa: 37 (+2)
Loudoun: 475 (+7)
Lunenburg: 3
Lynchburg: 43
Madison: 12
Manassas City: 117 (+7)
Manassas Park: 34 (+3)
Mathews: 3
Mecklenburg: 69 (+1)
Middlesex: 3
Montgomery: 50 (+2)
Nelson: 7 (+1)
New Kent: 20
Newport News: 101
Norfolk: 126 (+8)
Northampton: 8 (+1)
Northumberland: 5
Norton: 2
Nottoway: 8
Orange: 22 (+1)
Page: 16 (+2)
Patrick: 1
Petersburg: 24
Pittsylvania: 9 (+2)
Poquoson: 6
Portsmouth: 93 (+11)
Powhatan: 9 (+1)
Prince Edward: 19
Prince George: 28
Prince William: 924 (+57)
Pulaski: 9 (+1)
Radford: 2 (+1)
Rappahannock: 1
Richmond City: 250 (+4)
Richmond County: 53
Roanoke City: 27 (+2)
Roanoke County: 31 (+6)
Rockbridge: 5
Rockingham: 145 (+23)
Russell: 2
Salem: 8 (+2)
Scott: 5
Shenandoah: 53 (+8)
Smyth: 13
Spotsylvania: 83 (+4)
Southampton: 19 (+1)
Stafford: 170 (+6)
Staunton: 10
Suffolk: 126 (+15)
Surry: 4
Sussex: 23
Tazewell: 4
Virginia Beach: 313 (+25)
Warren: 27 (+1)
Washington: 29
Waynesboro: 8
Westmoreland: 12 (+2)
Winchester: 29 (+2)
Williamsburg: 14 (-1)
Wise: 18
Wythe: 11 (+1)
York: 43
*NOTE: This data is provided from the Virginia Department of Health daily at 9 a.m. Officials said their cutoff for data is 5 p.m. the previous day. So your local health department may have issued an alert about a case before it is added to the statewide tally released the following day.
NEWS CONFERENCES
President Donald Trumps's coronavirus task force briefing (slated for 5 p.m.)
COVID-19 LOCAL HEADLINES
Therapy helps save Midlothian man with COVID-19
Joe Rodriguez survived his battle with COVID-19. "This disease is evil," the Midlothian man said. "I was in fear of my life. I just didn't know what was going on. You feel so weak it's like you're helpless." Read more.
Nearly 1,500 COVID-19 patients discharged from Virginia hospitals
Nearly 1,500 COVID-19 patients have been discharged from Virginia hospitals, according to data from the Virginia Hospital & Healthcare Association (VHHA). Read more.
90-year-old COVID-19 patient recovers in Henrico nursing home
Anne Maliff is finding some peace knowing her 90-year-old mother is now recovering from COVID-19. Pauline Mitchell was diagnosed with COVID-19 three weeks ago while a patient at Beth Sholom Rehabilitation Center in western Henrico County. Read more.
COVID-19 testing is coming to these Henrico neighborhoods
COVID-19 testing will be available this week in two neighborhoods -- Woodman West and Henrico Arms. Read more.
Health director's blunt advice for families with loved ones in nursing homes
A health director offered frank advice for families with loved ones in long-term care facilities amid the COVID-19 global health pandemic: consider bringing them home. More here.
5 new outbreaks reported Sunday; 36 additional deaths at long-term care facilities disclosed
Health officials are investigating 134 outbreaks of COVID-19 in the Commonwealth, according to Virginia Department of Health (VDH) data released Sunday. Read more.
COVID-19 hospitalizations, discharges up in Virginia
As COVID-19 cases in Virginia continue to rise, hospitalizations have decreased while hospital discharges have increased over the last 24 hours, according to data from the Virginia Hospital & Healthcare Association (VHHA). More here.
Walk-up COVID-19 testing to begin in minority communities
Pop-up COVID-19 testing is set to begin next week in predominately African-American communities throughout Richmond and Henrico County. More here.
25 youth at Bon Air Juvenile Correctional Center have COVID-19
Officials say the youth who have tested positive have received around-the-clock medical care from the Virginia Department of Juvenile Justice's chief physician, nurse practitioner, and a team of licensed nurses in a separate area of the facility. More here.
Virginia Del. Delores McQuinn, family test positive for COVID-19
A Virginia delegate issued a warning to the public after she and her family were diagnosed with the novel coronavirus.
"I want people to understand this is a serious disease, serious virus," McQuinn explained. "This the flu magnified by 10." More here.
GRTC adjusts bus service due to COVID-19
GRTC will be reducing services to routes with low ridership so they can redirect those buses to busier routes during the COVID-19 outbreak to help promote social distancing on buses. More here.
Families wait in mile-long line for food bank in Chesterfield
Drone video showed the line for food from the Chesterfield Food Bank stretched a mile down Iron Bridge Road at one point Friday evening. More here.
Northam calling for volunteers to join fight against COVID-19
Governor Ralph Northam is calling for additional medical and non-medical volunteers to join the Virginia Medical Reserve Corps (MRC) in the fight against COVID-19. More here.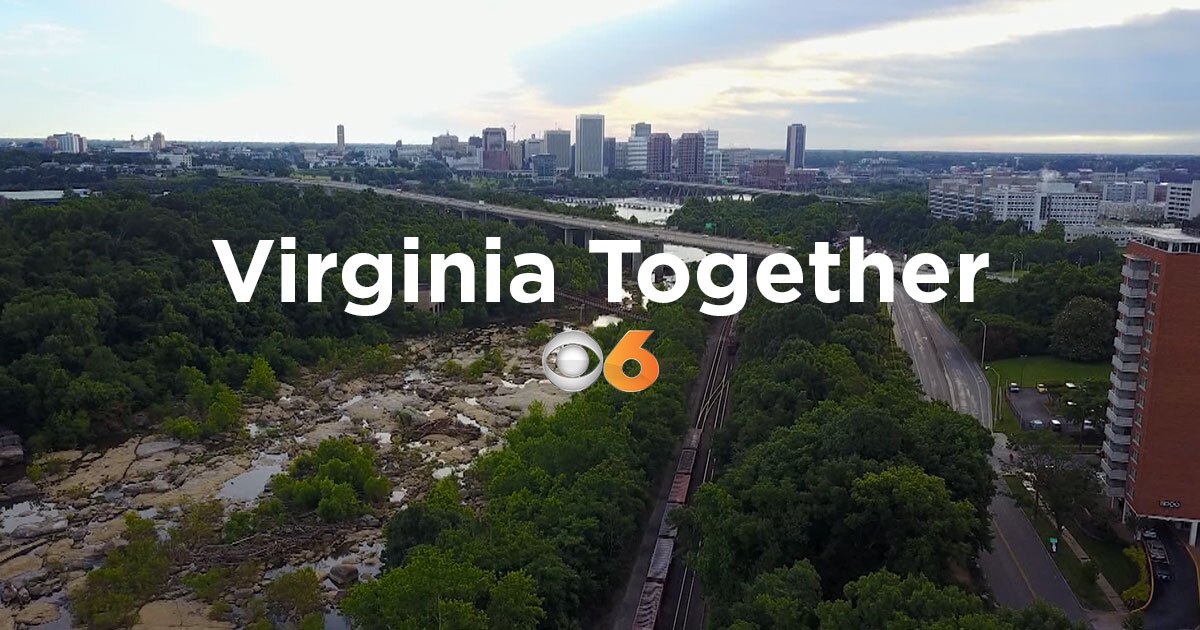 Property managers raise funds for struggling families
Local property manager Jean Johnson knows the angst many families are feeling. She started taking distress calls weeks ago when layoffs began and tenants started losing income. More here.
'ARTsolation' -- Families' stay-at-home art projects bring 'warmth and love'
"We had been talking over conference calls how a lot of us have seen different art installations in people's yards, and thought it would be kind of cool idea to create a virtual exhibit where we could document these things and put them on a website for people to enjoy from their own homes," Rob Steele said. More here.
Parole worker hopes to raise $50K for Canterbury nurses
"I thought if I was a nurse, I'd like to be tipped," Blake Saunders explained. "I'd like somebody to give me a chunk of change, even if it's just to get a tank of gas or a steak dinner or whatever." More here.
Fraternity brothers fill backpacks with essentials for homeless
The Richmond chapter of the Alpha Phi Alpha Fraternity is collecting donations to help the homeless.More here.
'Heartfelt effort' delivers food to families in need
Central Virginia's Muslim community is stepping up to help feed hundreds of families in need. WTVR CBS 6 photojournalist Curtis Ackers tagged along with a group of volunteers preparing for Sunday's deliveries. More here.
Chesterfield kids create 'World's Largest Hopscotch Game'
Staying at home and homeschooling amid the COVID-19 outbreak has challenged parents to figure out how to teach their kids in fun and creative ways. More here.
Thousands of volunteers mobilize to help Richmond families, students
Over the past month, more than 2,300 volunteers have mobilized to help Richmond families and Richmond Public School (RPS) students facing economic difficulties, especially as a result of the COVID-19 pandemic. More here.
Restaurant finds unique way to thank customers: 'We're all in this together'
As thousands of small businesses across Virginia struggle to stay afloat during the COVID-19 pandemic, one family-owned restaurant in Charles City has come up with a unique way to thank folks supporting their business. More here.
Landlord chooses not to collect rent: 'A blessing from God'
Thrift store owners in Colonial Heights say they were struggling to keep their operation going when they received an unexpected and appreciated surprise from their landlord. More here.
Lazy Daisy saved her life, she won't let the virus kill it
"It's just a different world," Michelle Leshok said. "Like it's just like a ghost town. Thursday to Sunday it is usually packed." More here.
Some businesses surviving while Virginia unemployment increases
"What's going on now is really extraordinary and something that I don't think anybody ever foresaw," ACME Co-President Ron Attman said. More here.
Richmond restaurants cope with COVID to stay open
On this week's "Eat It, Virginia!" podcast, Robey and Scott continue to focus on the people keeping their restaurants open amid COVID-19 uncertainty. More here.
We're Open and socially distant: Richmond restaurants navigate COVID-19
As Virginia restaurants either close or adapt to social distancing, Robey and Scott focused this week's Eat It, Virginia podcast on the people who continued to run their restaurants with the hope of providing for both their restaurant families and the communities in which they serve. More here.
Explore Virginia's museums, zoos, and historical sites through these virtual experiences
As Virginians adjusts to social-distancing measures and businesses and institutions close their doors, online learning experiences are growing in importance. And in the Commonwealth, there's no shortage of online, interactive learning experiences. From exploring the Virginia Museum of Fine Arts collections to interacting with animals at the Virginia zoo to an online stroll through Lewis Ginter Botanical gardens, kids and adults alike can explore the state's treasures from the comfort of their own homes. More here.
COMPLETE COVERAGE: COVID-19 HEADLINES (App users, click here for complete list.)
LATEST COVID-19 U.S. AND WORLDWIDE STATS