CHESTERFIELD COUNTY, Va. -- As public defenders in Chesterfield County grapple with overwhelming caseloads, staffing challenges and pay gaps, the office has requested relief from the court in order to work through a backlog of cases.
"Oh my gosh! Our attorneys in this office, our defense team members, everyone in this office is so passionate about what we do," said My'chael Jefferson-Reese.
As Chesterfield's Chief Public Defender, Jefferson-Reese considers herself and the rest of her staff "guardians of the constitution."
"Day by day, case by case, we guard that," she said.
The Chesterfield Public Defender's Office is made up of attorneys who legally represent people accused of committing crimes but do not have the means to hire a lawyer.
To Jefferson-Reese, the profession carries extra significance this year as the country marks the 60th anniversary of Gideon Vs. Wainwright, in which the U.S. Supreme Court made a landmark decision, ruling that criminal defendants who cannot afford a lawyer are guaranteed legal representation.
"It's a hard thing to fight all the government by yourself without representation, and if someone with means can afford to hire a lawyer, you shouldn't be denied that because you're not wealthy," Jefferson-Reese said.
The Virginia Indigent Defense Commission has 28 public defender offices and two satellite locations across the Commonwealth that are each established and funded by the General Assembly.
The Chesterfield office, created in 2021, is fairly new. Before its establishment, most defendants who could not afford legal representation would rely on private attorneys who accept court-appointed cases, despite being compensated poorly.
Jefferson-Reese said opening the Chesterfield office was a game changer, because her team commits to "counsel at first appearance," meaning attorneys are present throughout the entire process even before a defendant goes before a judge for the first time.
However, her office is dealing with some challenges.
She currently has a staffing shortage with 20 out of 27 attorney positions currently filled, and some attorneys are actively handling 200 cases at a time.
They're in court several hours a day while also reviewing police body camera footage, visiting clients in jail and preparing dockets.
"On average, we were getting about 600 cases a month, and that's in the General District Court, the Circuit Court and Juvenile and Domestic Relations combined. Some months were almost as high as 700 cases," Jefferson-Reese said. "They get it done, but it's hard. It's difficult, and it's only so long you can keep that pace."
So, Jefferson-Reese sent a letter to Chesterfield General District Court's Chief Judge James O'Connell requesting that the court not appoint any new cases to her office on Mondays, Wednesdays or Fridays for a 60-day period so that her attorneys could catch up on the cases they were already assigned.
"I realize this request will inconvenience the Court, but I believe this request is necessary to allow us time to effectively represent our current clients," Jefferson-Reese wrote in the letter.
Judge O'Connell responded that the Court would accept her proposal to temporarily assign cases to the private bar, writing, "since your office is severely understaffed."
The temporary relief began in late March and will expire later in May.
Jefferson-Reese said she is in the process of hiring and could potentially have five new attorneys working in August. However, if the office is still not caught up once the relief ends in May, she may make another request to the judges.
"We do great work here, but we don't want to take more cases than we're able to represent effectively. That's a disservice to everyone," she said.
Looking at long-term solutions, she noted that pay is a problem. Public defenders don't make as much money as prosecutors.
"On average, my attorneys who are starting out make about 25% less than the Commonwealth's attorneys," Jefferson-Reese said.
She said according to salaries from 2022, public defenders in Chesterfield County started at about $58,000 whereas the lowest paid Commonwealth's attorneys made about $75,000.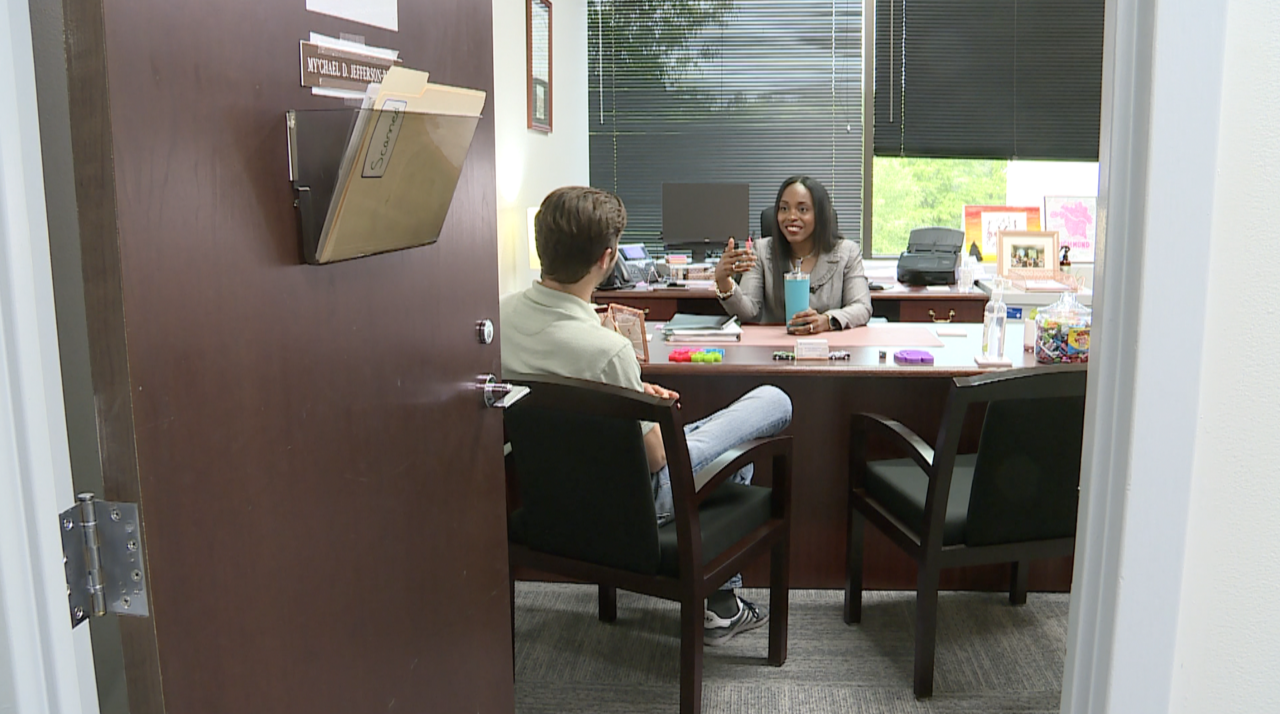 For both prosecutors and public defenders, the base pay is set by the state. The Virginia Indigent Defense Commission said state funding has not resulted in "gross disparities" but that prosecutors are still funded at a higher starting salary of $62,000 versus public defenders' $58,000.
However, local governments can supplement salaries with their own dollars.
For example, the City of Richmond's budget provides $1.1 million in funding for the Richmond Public Defender's Office to supplement salaries.
A city spokesperson said the decision was made as part of Richmond's "equity agenda approach" to compensate public defenders equally to Commonwealth's attorneys.
In Chesterfield, the county supplements salaries for Commonwealth's attorneys with $3.4 million in funding. But, like many other localities in Virginia, the county does not provide any dollars to the public defender's office.
"In interviewing, I've had people that have basically told me if they had an offer from Richmond, they were going to go there because they would get paid more," Jefferson-Reese said.
CBS 6 reached out to Kevin Carroll, Chairman of the Chesterfield Board of Supervisors, asking if the board has considered supplementing salaries for public defenders.
A county spokesperson answered on Carroll's behalf saying, "Chesterfield County does not provide funding to the Public Defender Office."
However, Jefferson-Reese said she hopes those discussions are forthcoming.
"When we're talking about just making sure that our communities are safe, we're part of that conversation as public defenders because we have contacts with our clients, and if they need those services, we can make sure that's done," she said. "We are contributing in all ways to Chesterfield County and just want to be included in the public safety conversation."
Depend on CBS 6 News and WTVR.com for in-depth coverage of this important local story. Anyone with more information can email newstips@wtvr.com to send a tip.