RICHMOND, Va. -- Governor Glenn Youngkin (R - Virginia) responded to problems with the Virginia Learning Acceleration Grants that some families said have made it nearly impossible for them to utilize the money they were awarded by the state.
Cari Barrett, whose six-year-old son will be entering the first grade with Henrico County Public Schools, was the latest of many parents who reached out to CBS 6 expressing their frustration about the grant.
Governor Youngkin announced the program in March, touting that the state would give out $30 million in grants directly to parents so that they could use the funds for private tutoring services and, for special needs students, assistive technologies. Youngkin said parents could also use the money for summer enrichment programming and support services, with the goal of combating pandemic learning loss.
In June, the Virginia Department of Education (VDOE) approved Barrett for a $1,500 grant.
She immediately began enrolling her son Liam in classes with Outschool Tutoring, which initially was a state-approved vendor with the program.
"I really thought I was setting him up for success, awesome," Barrett said. "And being able to have money handed to you, 'Here, let your kid learn for free' is great."
Barrett said she spent six hours registering Liam in sessions.
But last week, she received a string of rejection emails, alerting her that Liam had been unenrolled in all 12 of his upcoming classes.
"He would be in a class right now if it wasn't for this grant," Barrett said Thursday. "He would be sitting on the couch doing class with so many other kids, learning about first-grade math and writing."
Midway through launching the program, VDOE switched the program's payment structure and suddenly required vendors to provide services before getting paid.
On June 28, VDOE Superintendent Dr. Lisa Coons sent a message to families that the grants would now only work on a reimbursement basis after services have already been provided by the vendor.
That caused Outschool to be removed as a vendor.
A spokesperson for Outschool told CBS 6 Wednesday that the company was unaware it was supposed to be accepting payments on a reimbursement basis "until it became an issue."
Barrett then reached out to other local tutoring providers, but none of them were comfortable with not getting paid upfront, she said.
"There's a couple of local places that I've contacted that don't want to do his tutoring first and then apply for reimbursement to the Department of Education because they're not guaranteed they're going to get the money back," Barrett said.
Barrett isn't alone in her struggles.
Many parents have also reached out to CBS 6 saying they cannot use their grant money.
"I think the execution has been flawed," Henrico father Melvin Bolden said.
"I feel like they set parents up, in a sense, to fail," Richmond mother Gabrielle Cevallos said.
"I want to know what happened, and I want to know why they're not telling us," Barrett said.
So, reporter Tyler Layne took parents' concerns to Governor Youngkin as he made a public appearance Thursday afternoon.
GOVERNOR YOUNGKIN RESPONDS
"Governor, we have been hearing a lot of concerns from parents about the Learning Acceleration Grants. Basically, they say that they can't use their grant money, all their orders are being rejected, their tutoring classes are being abruptly canceled, and providers have been pulled from the program. Basically, they have this money that they can't put to use. Why are parents having so many problems with this program right now? And do you believe the VDOE's execution of the program is failing parents?" Layne asked Youngkin.
"So, thank you for raising this. I guess I'll start with I know there's a handful. I'm not sure there are so many. I know there's a handful of folks that have had some challenges accessing the system with the funds that are available. To put it in context, there are over 34,000 Virginia kids who are accessing the system. We started out thinking this would be a $30 million program. We were able to find more funds and double it to a $60 million program," Youngkin said.
"Did funds run out? I mean, did people get money that actually isn't available to them?" Layne asked.
"No, I mean the funds have now been exhausted, but the funds that were set into people's wallets are available to be used. The system does require, and based on federal law and state law, a process for using them and so we have to follow that system. And I do know that some of the families have found that frustrating, and that's why the Department of Education has reached out to them directly because it's a number that we can manage directly," Youngkin responded.
"And that process you mentioned wasn't in place when the program first started?" Layne asked.
"Well, I think there were a number of tutoring providers that were looking for advanced payments from the families, and that's not the way the system works now. We've gone back and have been correcting that with them. [ClassWallet] will pay the provider directly and the users, the families don't have to go out of pocket for money," Youngkin said.
Local News
More parents reach out to CBS 6 frustrated over Governor's learning grants
5:49 PM, Jul 05, 2023
VDOE RESPONDS
After receiving no responses from the VDOE on Monday and Wednesday, the agency's Chief of Staff Jeremy Raley called the CBS 6 newsroom on Thursday to answer questions about the program over the phone.
When asked why VDOE switched to a reimbursement model midway through launching the program, Raley acknowledged that the agency was not following federal and state regulations when it initially began the program.
"Ultimately, we are utilizing federal dollars to support this program. And utilizing federal resources, there are requirements for this program. And those requirements include the fact that you can only pay for services after they are rendered. And so ultimately, we want to ensure that we have a process that protects our families," Raley said.
"And so, when did you discover that you were doing payments the wrong way?" Layne asked.
"I mean, there was a transition that was made within the past several weeks as you referenced. And so ultimately, we wanted to ensure that we were aligned with the parameters of the grant and doing things in compliance with the grant," Raley responded.
"How did it come to your attention?" Layne asked.
"I think it was, you know, not initially set up on the front end with the appropriate parameters," Raley said.
"I spoke to the governor today, and he mentioned that state law and federal law sets up the way that the payment structure is supposed to operate. Essentially, was VDOE in violation of the law in how the payment was set up initially?" Layne asked.
"I would not say that we were in violation. I mean, when we were aware of the change that needed to be made, we made that change immediately," Raley said.
Raley said there are two major vendors that are now complying with the VDOE's expectations, which he called a "very positive development."
"We're aware of a few other vendors that are requiring prepayment. We are working directly with them to make sure that they comply with the expectations," Raley said.
He added that "modifications" went into place as of Thursday which should lead to "significant improvements" in parents' interaction with ClassWallet within the next 24-48 hours.
Those modifications, he said, include providing clarity about which vendors are providing payments the appropriate way and which assistive technologies and services are available to children with disabilities.
Local News
She thought education grants would help her kids. Turns out, she can't use them.
4:59 PM, Jul 03, 2023
"If parents have money sitting right now in their accounts, is it guaranteed 100% that if they were allotted that money, they will absolutely be able to use it?" Layne asked.
Raley answered that "funds will not be clawed back if they are not used" in the "short-term."
However, VDOE is still requiring parents to use $750 of their grants by August 15 despite concern from parents that current setbacks and restrictions will make it difficult for the money to be used by that deadline.
VDOE doubled the amount of money for the program about four to six weeks ago, according to Raley, due to demand, which made it a $60 million program as Youngkin mentioned.
The money was pulled from federal dollars included in the Governor's Emergency Education Relief Fund.
"There are a lot of restrictions and some red tape on what can be approved, what cannot be approved," Layne said. "Are you confident that parents will be able to easily navigate their way around the restrictions and seamlessly and easily be able to find ways to use their grants?"
"Yeah, we are together with our families, and ultimately, we want this to be a positive experience for our families, that they can easily access the resources that are available through this grant, so that they can provide support for their children," Raley said.
Parents like Barrett hope that's true.
On Thursday, she sent a letter to the VDOE demanding "clear and transparent explanations regarding the restrictions and limitations" that have been causing headaches for families.
"It upsets me. It upsets me that there's this huge grant, and knowing there are other parents in my predicament. We're literally holding free money for our kids to learn, and there's nothing we can do about it," Barrett said.
Depend on CBS 6 News and WTVR.com for in-depth coverage of this important local story. Anyone with more information can email newstips@wtvr.com to send a tip.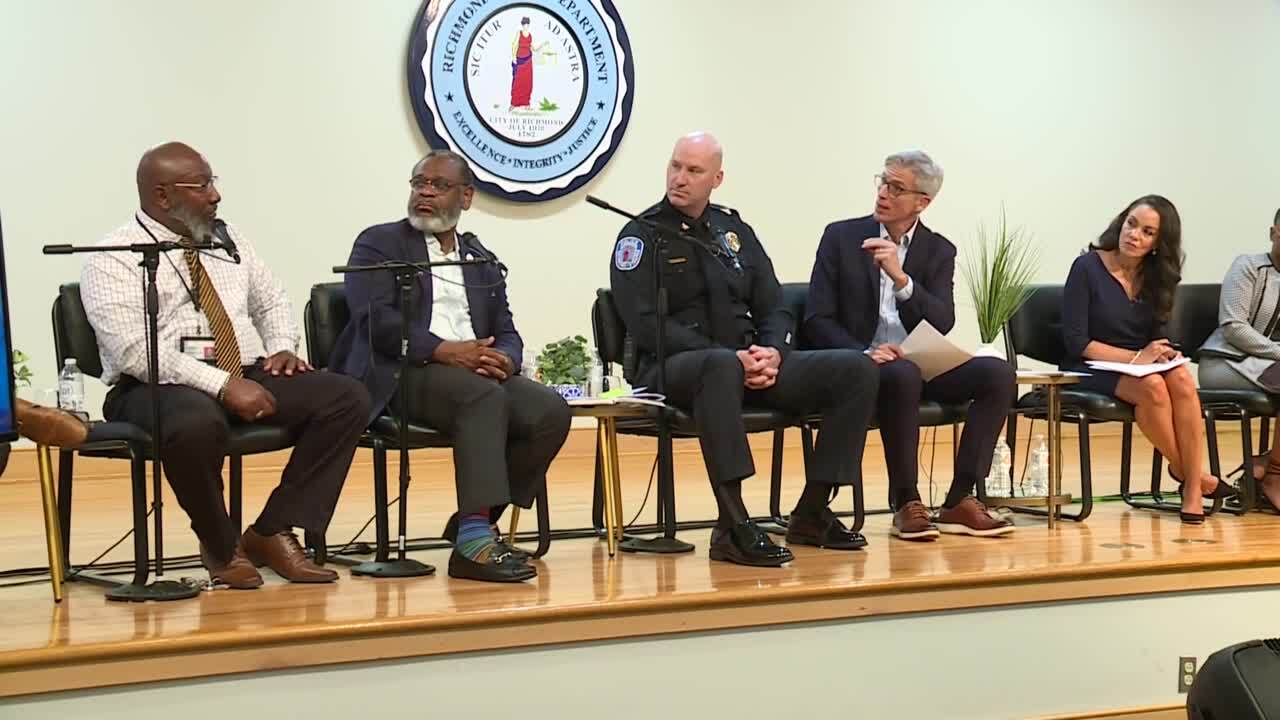 Local News
Watch replay of STOP the Violence Town Hall
2:37 PM, Jul 07, 2023