HENRICO COUNTY Va. -- Wildcat Stadium at Deep Run High School in far western Henrico is too quiet these days, if you ask Wildcats head coach Chad Hornik.
"Honestly, when I wake up in the morning it feels weird because in the fall you just have that feeling every morning, especially on Friday mornings," Hornik said. "Now I wake up on Friday mornings and it's just another regular day."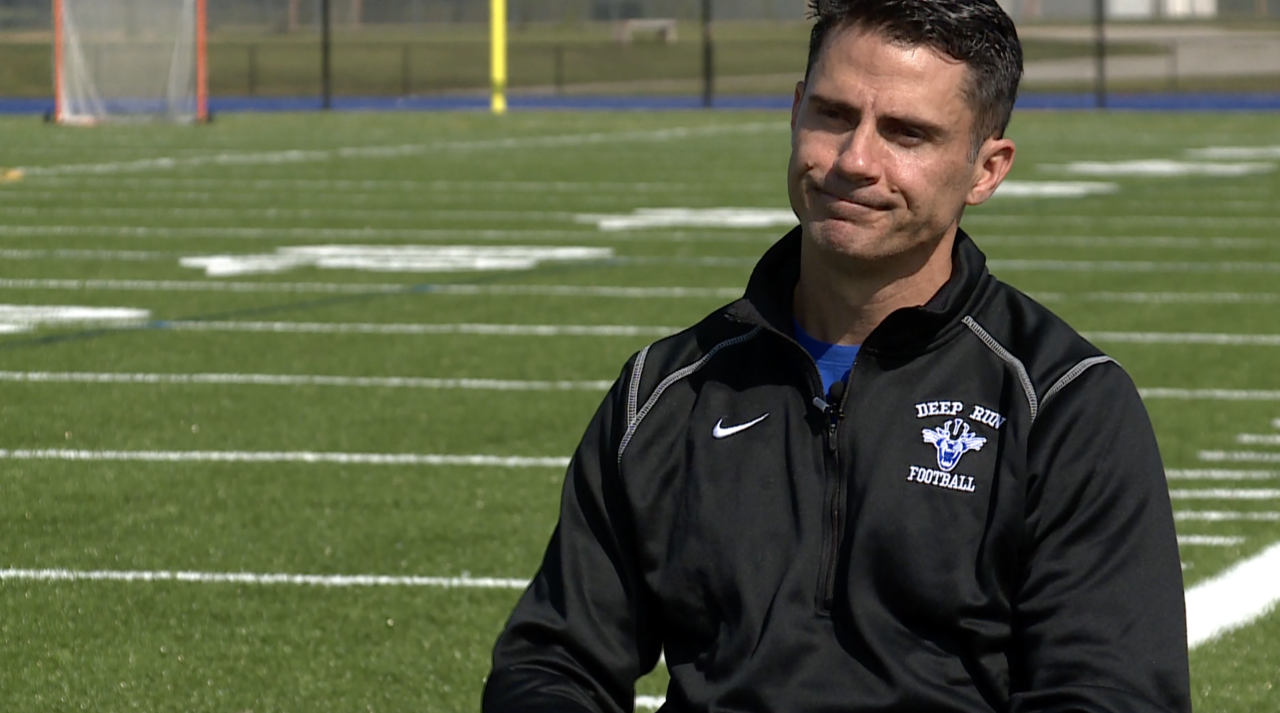 COVID-19 has pushed everyone's season into 20201 and for just about everyone involved it's the first fall without football since they were toddlers.
"It's really weird," Deep Run senior quarterback Bo Kite said. "It's like I have way too much time on my hands."
Last season, Kite led the Wildcats to one of the most successful seasons in Deep Run High School history -- an undefeated regular season.
Team expectations for this season were high as the Wildcats weren't hit especially hard by graduation, losing only four senior starters to graduation.
But a fifth starter was lost in a much more tragic way.
"Not having Gabe in our program has been a challenge already," Hornik said. "Gabe shows up a lot in our film. On offense, defense, and special teams. We're watching countless film clips of Gabe. He's almost on every single play. He didn't come off the field very much at all last year. "
Gabe Henderson was a rising senior who played both offense and defense for Deep Run.
He died after a boating accident on Lake Anna in April.
Kite, Gabe's best friend, was also on the boat.
"I didn't really know what was going on. I didn't totally comprehend what had happened," Kite said. "I was in complete shock."
A memorial immediately sprung up on the fence outside the football field. It remains there today.
But not being in classes and practices together made dealing with the loss that much tougher.
"When we were alone is when we really struggled," Kite said. "So we always made sure that we were in smaller groups or bigger groups, but just doing something together."
"His face is what lights up the night for me on Fridays," Hornik added. "I'm never going to see that again. Our players are never going to see that again, his mom is never going to see that again and it's just such a mind-boggling scenario to even contemplate that."
Henderson's impact stretched beyond the Deep Run campus.
Players from other teams considered him not only a competitor but also a friend.
Damond Harmon played for Highland Springs High School and recently committed to play football at the University of Oklahoma. Henderson had an impact on that decision months after his passing, almost without Harmon realizing it.
"A lot of guys had a connection with him that others didn't," Kite said.
"The amount of messages I got from people I've never met before and don't even know," Hornik added. "People that were outside of this zip code, that's for sure. It's amazing."
Before his junior season, which would end up being his last, Hornik had a very frank talk with Gabe and his mother about his focus on football. His production and effort had slipped and Hornik wanted to make sure he wasn't wasting his talents.
"Which way are you going to go on this?" Hornik recalled. "Which path are you going to take? That's what makes all this really hard because Gabe took the right path and he was going in the right direction."
Now the Wildcats will have to maintain that direction without Henderson.
But he's still in their thoughts every day and his words still resonate in their minds.
"Gabe was always like, 'Coach we need to have fun out here,'" Hornik added. "I think he's in my ear saying coach let's have fun."
When the season begins in February 2021, Deep Run High School will remember and honor Henderson in multiple ways. They are retiring the number 10 in the program. Every helmet will have a number 10 sticker on it and the 10-yard lines on the field will also have a memory.
Watch for Lane Casadonte's "Beyond the Roster" features Thursdays on CBS 6 News at 11 p.m. and WTVR.com. If you know someone Lane should feature, email him at beyondtheroster@wtvr.com
Find unique, award-winning stories every day on CBS 6 News:
Mondays:
CBS 6 Gives
Tuesdays:
CBS 6 Problem Solvers Investigations
Wednesdays:
Wayne's World
🙋‍♀️ Thursdays:
Heroes Among Us
Thursdays:
Beyond the Roster
Fridays:
I Have a Story