HANOVER COUNTY, Va. -- Viorel Popescu trains Olympic hopefuls at Above The Bar gym in Hanover County, Virginia.
While not all of the 300 to 400 children he trains each year are Olympic caliber, he said their interest in the sport does his heart good.
"It is gratifying to see there is a popularity in the sport itself. I didn't make it popular, I just made it interesting," he said.
Popescu is from Brasov, Romania. It is a town about 60 miles north of the capital city of Bucharest.
It was there he followed his sister to a gymnastics class one day, but the coaches there had a strict girls' only policy.
"I remember running back to my mom crying, they don't want me here!" he said.
A few months later, the gym began allowing boys to train and Viorel outperformed them all.
"There's never a point in my entire career where I said I want to quit. I want to stop," he said. "Any time I failed, and I've failed more times than I've succeeded, the next thing was I'm going to be better, I'm going to get up and I'm going to beat everybody. That was my attitude."
Popescu was good enough to make it onto the Romanian National Team. He competed all around Europe and even in the United States and Mexico.
This was as his homeland was transitioning out of Communism.
For some in Romania, including many of his coaches, old habits died very hard.
"The same old people are the same coaches, the same old generation like my parents. Same mentality. They can't get away from Communism," he said.
Attitudes toward the athletes were also slow to change, especially when it came to injuries.
Popescu saw teammates with broken bones and torn ligaments denied medical attention and treatment.
The national team finally got a meeting with the Romanian Gymnastics Federation where they thought their grievances would be at least heard, if not taken seriously.
"The moment I tried to say something personally, I was shut down. Don't say anything, you need to sit down. Ok, why did you need me at the meeting then?" he said.
That was enough to have him seriously make plans to leave Romania for the only place he wanted to go.
A warm-up event for the 1999 World Championships in the U.S. gave him the perfect opportunity to defect.
Then, when he came to the United States, a stroke of fate helped his cause.
"My passport was stamped for six months. Everyone else in that line got three months," he said. "When one of the immigration lawyers looked at my passport he said, 'You're good, you have six months. I have time to work on that.' He looked at my friend's passport and said, 'Yours expires next week. There's hardly anything I can do.'"
Popescu and a teammate made their way to Florida where a Romanian housekeeper at an Orlando motel helped them avoid their former coaches and the FBI, all of whom were looking for the runaways.
That little taste of freedom in the Western world would help undo years of oppression of which they weren't fully aware.
"All my life I was told this is right, and this is left. In the real world, it was completely opposite. When you try to open their eyes, and this is Communism, you can't think for yourself, they're going to tell you what you want to know, what you should know, what you should do, and how it is," he said. "The moment anybody tries to get away from that, you're in jail. Your family will never see you again and it's unfortunate that our world still has that."
Beyond the Roster
He left Romania to train future champions in Virginia
3:03 PM, May 04, 2023
These days, Popescu counts his blessings as often as he counts backflips and somersaults. Most of the young people he trains have no idea what their coach has been through.
He shares his journey with anyone interested and would go through it all over again if given the same decision.
He said he has always believed that a higher power has watched over him and has had this future in store for him.
"You brought me here. I know you did not bring me here to let me down. I know there is something else more than this when you get to that desperation point. Would I do it again? Absolutely, because I know there is a God above. And I have no fear," he said.
You might be wondering what led Popescu to settle here in the Richmond area. That gymnastics meet from which he and his teammates defected was the Pontiac Team Championships and it was held in the old Richmond Coliseum.
With the help of some people he met during that meet, Viorel eventually relocated back to the Richmond area, and his gym is celebrating theri 10th anniversary this year.
Watch for Lane Casadonte's features on CBS 6 News and WTVR.com. If you know someone Lane should profile, email him beyondtheroster@wtvr.com.
Find unique, award-winning stories every day on CBS 6 News.
Do you know about a good news story happening in your community? Click hereto email WTVR.com and the CBS 6 News team.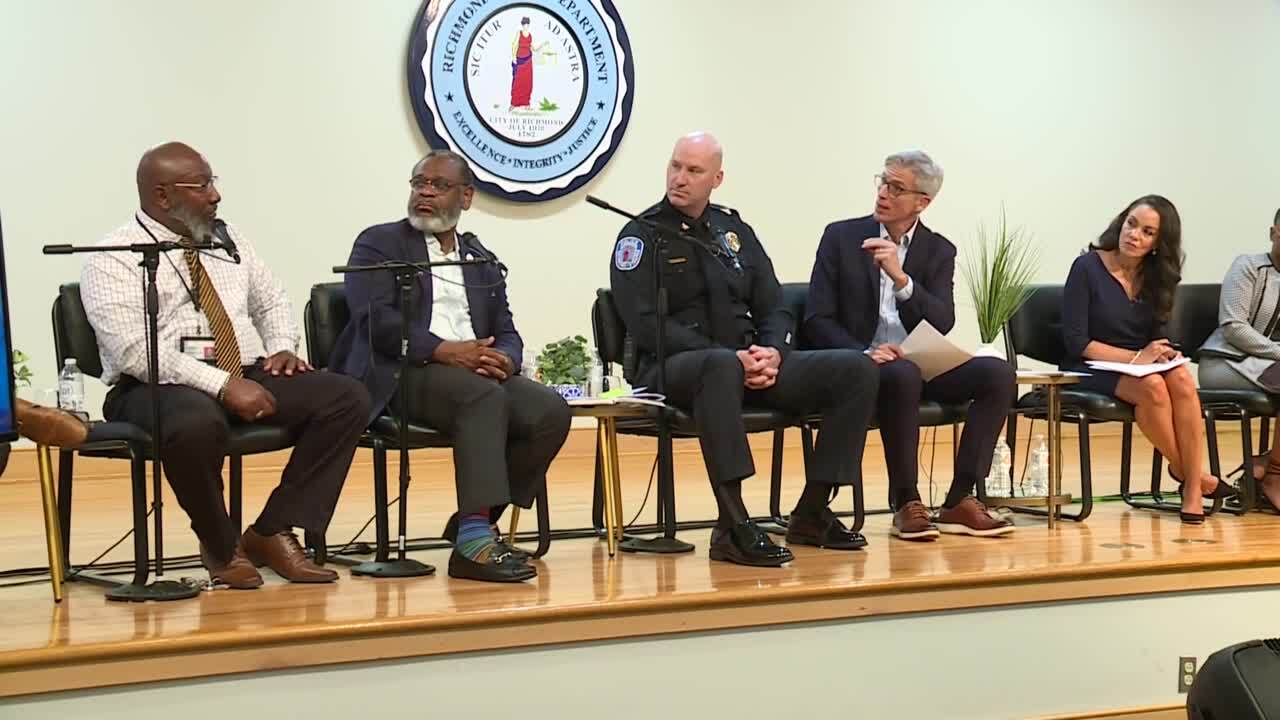 Local News
Watch replay of STOP the Violence Town Hall
2:37 PM, Jul 07, 2023
EAT IT, VIRGINIA restaurant news and interviews