RICHMOND, Va. -- Attorney General Jason Miyares claimed his Operation Ceasefire plan has resulted in 98 criminal cases since it was implemented across the Commonwealth six months ago.
In the fall, his office released the strategy which was implemented in 12 select cities across the state. Richmond and Petersburg were two cities selected in Central Virginia. 29 of those 98 cases are from Richmond and Petersburg.
Miyares said the cases deal with possessions of glock switches, machine guns or the illegal use of firearms during the commission of violent crimes.
Operation Ceasefire focuses on prosecuting repeat offenders, implementing community policing models, investing in witness protection and investing in community prevention efforts, according to Miyares.
Sometimes federal agents are making the arrests for gun crimes, while other times Richmond Police makes the arrests and transfer the case to the US attorney office where they have cease fire attorneys embedded, according to Miyares.
"Any crime you are thinking of doing with gun, don't do," he said to a room full of community members at Signs and Wonders Ministries for their Richmond Public Safety Forum.
Richmond and Petersburg also got a portion of the $5 million allocated from the General Assembly for community prevention efforts under Operation Ceasefire.
Miyares said the funds are for investing in gun prevention, working with community service boards, getting young people engaged and rehabilitation. He said funds are distributed from the Department of Criminal Justice in coordination with his office.
In Richmond specifically, he said it's gone to prison reentry, mentorships, life training and the Richmond Rehabilitation Housing Authority.
"We want people with a proven track record of actually investing in young people and putting them on the right path," Miyares said.
The AG's office is also currently working with vendors to roll out messaging in the coming months that could be pushed out to kids phones if there is chatter of gun violence online, according to Miyares. It comes as he said a major point of crime seen across Virginia is coming from teens.
"We're going to have specific messaging to targeted cities in our Ceasefire area down to the neighborhood level of don't use guns in commission of crime because there is going to be serious consequences," he said.
In addition to the updates on Operation Ceasefire, Miyares rolled out a public service campaign from his office called "Ceasefire Virginia" aimed at the public to understand "gun crimes mean more time," and that targeting innocent Virginians with guns will not be tolerated.
At the forum, Miyares and other community leaders answered questions from the public on combating crime.
A common theme was the importance of the community investing in the youth to help break the cycle of crime.
One dad was already implementing that message, by bringing his teenage son to the forum.
"A lot of our violence right now is from our youth. And I wanted him to understand there are resources out here we are working hard to prevent it," said Hopewell dad Tavorise Marks.
His son, 13-year-old Asiris Marks, said his takeaways from the forum were how violence was not the answer, and that there are other things you can do other than violence.
"Some kids don't have mentors in their life but I do .. but some kids don't. I have the chance to be great, but even though you may not have a father figure or a mom, you can still be great," Asiris added.
Miyares plans to give an end of year update on how the program did overall in January. He also hopes to secure more funding from the general assembly to add more cities next year.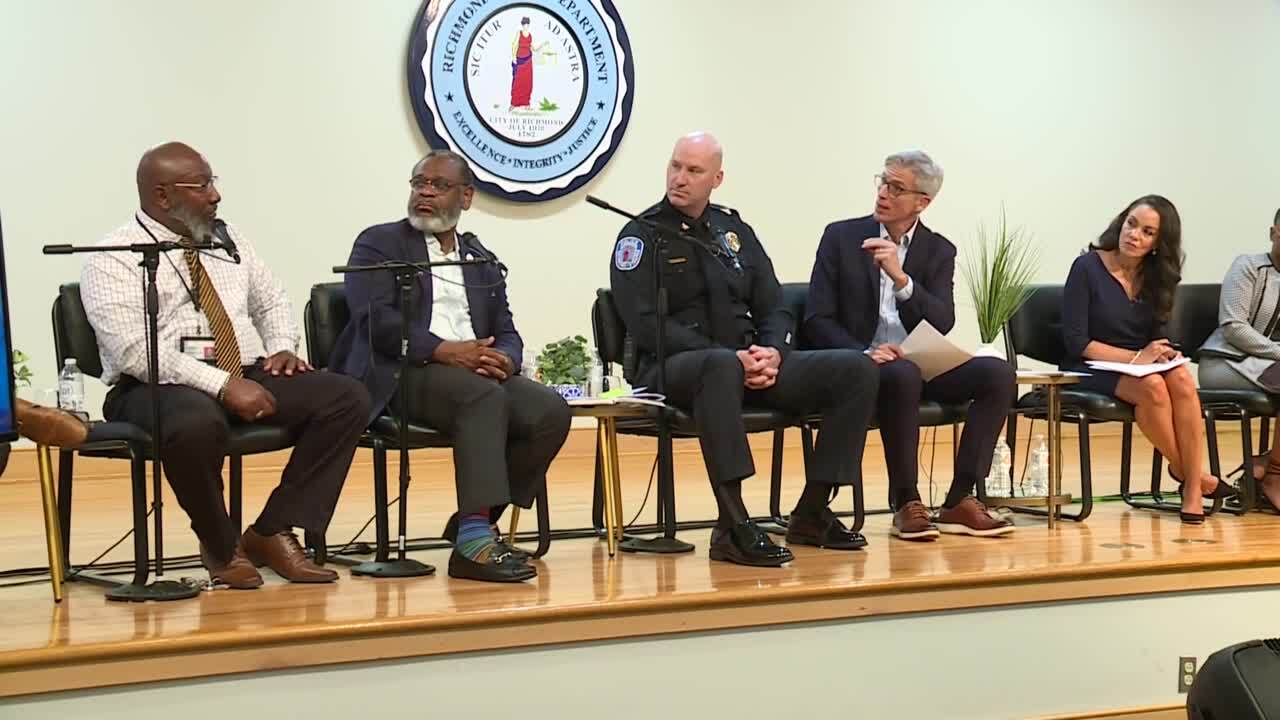 Local News
Watch replay of STOP the Violence Town Hall
2:37 PM, Jul 07, 2023
EAT IT, VIRGINIA restaurant news and interviews