RICHMOND, Va. -- All COVID-19 social distancing and capacity limits in Virginia are expected to be rolled back in mid June, Gov. Ralph Northam announced during a news briefing Thursday.
"This is good news and it's thanks to the millions of Virginians who have done the right thing for so long, and I say thank you," Northam said.
The governor plans to lift the distancing and capacity limits on June 15, but noted that health officials are still "evaluating mask guidance." The lifting of restrictions is dependent on the continuation of favorable trends in Virginia, according to Northam.
"As I've said before, can we look at the numbers every day and they certainly are a trending favorably," he said. "I think it's... really up to Virginians the way we move forward now."
Northam also said additional measures will be relaxed next week on Saturday, May 15.
For example, 100 people (up from 50) will at permitted at indoor social gathering and 250 people (up from 100) will be allowed at outdoor social gatherings.
Indoor entertainment venues can increase to 50% capacity (up from 30%) for up to 1,000 people. Previously it was capped at up to 500 people. For outdoor venues, the number also increased to 50% capacity (up from 30%) with no cap.
"Restaurants will be able to return to selling alcohol after midnight," Northam said. "And dining rooms can stay open later. This is possible because everyone has been working so hard and so many people have been getting shots."
The news comes as COVID-19 case counts and hospitalizations continue to improveand more people have been vaccinated in the Commonwealth.
In fact, nearly 60% of Virginians who are eligible have received their first COVID-19 shot, according to Northam.
More than 3.9 million Virginians have received at least one dose and more than 2.8 million are fully vaccinated as of Thursday, according to health department data.
"We are not at the finish line yet and we all need to take the precautions that we know work," Northam said. "But we're approaching a time we can think differently about how we interact, especially people who are vaccinated."
The governor noted the state's community mass vaccination centers as well as many pharmacies are now accepting walk-ins for vaccinations.
"And of course, they will continue to be available at your local health department and in hospitals across Virginia," Northam said.
Dr. Danny Avula, Virginia's vaccine coordinator, said the state is in the process of negotiating contracts with seven vendors for mobile vaccination clinics.
"Largely this will be helpful in rural communities where these vans will be set up to go out on 14 day excursion somewhere between 50 and 250 doses a day," Avula explained. "We're kind of working out the details on will that... [It will] primarily be Johnson & Johnson, which does make sense given the kind of rural nature of a lot of these mobile clinics and not being able to guarantee we'll be able to come back. But in some cases, we may be offering other doses."
For those hesitant to get vaccinated, Northam urged them to talk to their doctor.
"They can tell you that while these vaccines may be new, they are built on years worth of testing, research and experience," Northam said. "We're going to keep reaching out to all of these folks. The bottom line is when you get vaccinated, you protect yourself, you protect your family and everyone around you."
Northam said that while doctors and scientists have learned a lot about COVID-19 over the last 14 months, there are many unknowns, especially for long-haulers. Those are the people who still have lasting impacts from the virus.
"As you all know, I had COVID myself last October, and seven months later, I still can't smell or taste anything. Many long-lasting side effects are much worse," Northam said.
The governor reminded those who have not yet been vaccinated that COVID can "make you truly sick for months" and that virus variants "raise the risk of getting sick."
"It is an unpredictable disease. It can put anyone in the hospital, including young people. It can cause long-lasting, debilitating side effects," Northam said. "So please protect yourself from going through that and protect the people around you, too. I've had COVID and I've had the vaccine. And between the two is the easy choice: I'll take the vaccine any day."
Northam lauded those who have chosen to get vaccinated for "being part of the solution."
"I'm grateful to everyone who has gotten their vaccine already," he said. "So many health workers, doctors, nurses and first responders have given their time over these many months at vaccination clinics, and we are especially grateful to you."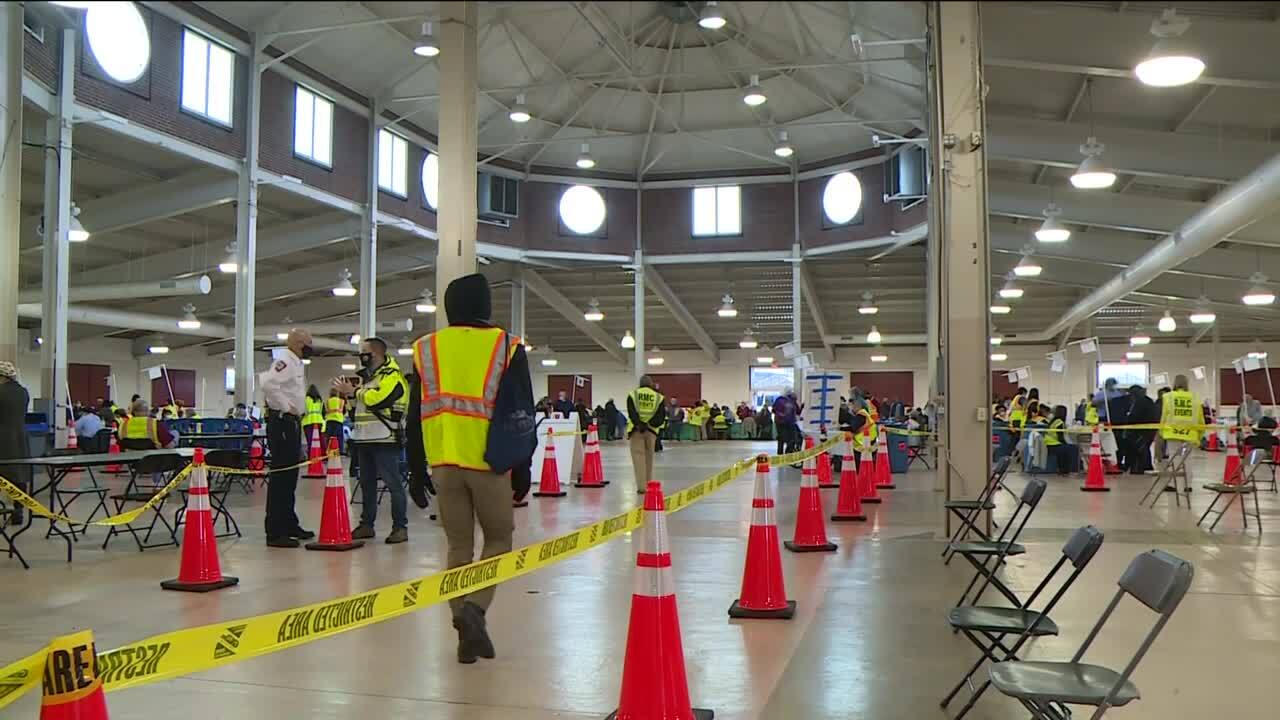 Virginians age 16+ now eligible for COVID-19 vaccine. Register on the Vaccinate Virginia website or call 877-VAX-IN-VA (877-275-8343). You can search for specific vaccines as well as which are available near you via the Vaccine Finder website.
Have You Been Fully Vaccinated?
People are considered fully vaccinated:
2 weeks after their second dose in a 2-dose series, such as the Pfizer or Moderna vaccines, or
2 weeks after a single-dose vaccine, such as Johnson & Johnson's Janssen vaccine
How to Protect Yourself and Others When You've Been Fully Vaccinated
COVID-19 vaccines are effective at protecting you from getting sick. Based on what we know about COVID-19 vaccines, people who have been fully vaccinated can start to do some things that they had stopped doing because of the pandemic.
We're still learning how vaccines will affect the spread of COVID-19. After you've been fully vaccinated against COVID-19, you should keep taking precautions—like wearing a mask, staying 6 feet apart from others, and avoiding crowds and poorly ventilated spaces—in public places until we know more.
These recommendations can help you make decisions about daily activities after you are fully vaccinated. They are not intended for healthcare settings.
Click here for more information from the Virginia Department of Health.