HENRICO COUNTY, Va. — The superintendent of Henrico County Public Schools said the district would begin testing metal detectors at multiple school next month while making an "urgent plea" about the "critical issue of school safety."
In a lengthy email Sunday evening to parents, staffers and community partners, Dr. Amy Cashwell said she was angry and saddened about the discovery of a student with a loaded gun at Holman Middle School last week.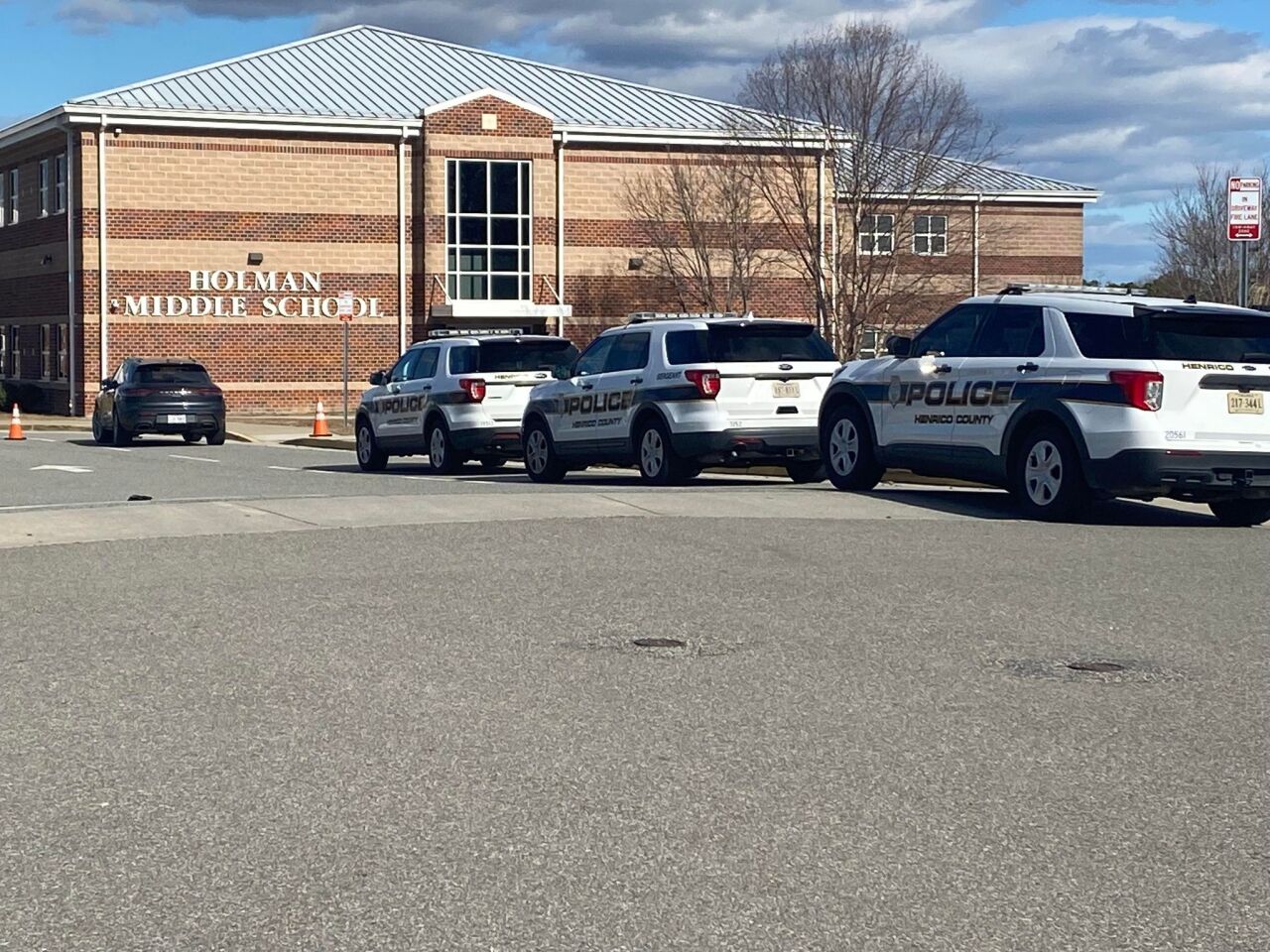 IN-DEPTH: Scroll down for Cashwell's full School Safety Message email
Officers credited an anonymous tip for leading them to that boy Friday morning. When the school resource officer and administrators confronted the student about the gun, "a struggle ensued," Henrico Police Lt. Matt Pecka said.
That prompted the school resource officer to hit a mayday button for backup.
"We have the ability to call for additional assistance by hitting that [button] on our radios," Pecka explained. "It's a safety feature for officers and it was activated."
Crime Insider sources told Jon Burkett that the loaded handgun was found in the seventh-grade student's belongings.
"In most cases where weapons were found at school, they were recovered because someone spoke up or used the division's Anonymous Alert system to do the right thing," Cashwell said.
However, Holman was the latest in a string of gun-related incidents happening in and outside of schools in the district. Three times in November, a student brought a weapon to Highland Springs High School. Two of those incidents, while separate, happened on the same day.
As a result, Cashwell said that the school system would begin field testing metal detectors at multiple schools by mid-February.
"Trained staff will lead students, employees and visitors through free-standing detectors and/or screen them with hand-held metal detecting wands," Cashwell said. "We will also test new weapon detection technology currently being used at some professional sports stadiums and other venues."
Cashwell noted that the detectors would change arrival procedures, but she said administrators are "working to minimize delays to the greatest extent possible."
Principals at the schools that will test the devices will soon share details with staff, students and families, she said.
"The metal detectors supplement the increased K-9 sweeps, security cameras, access control systems, buzz-in vestibule entryways, threat assessment and crisis response teams, school resources officers (SROs), HCPS safety officers, Anonymous Alert systems and other security layers HCPS has in place," Cashwell said. "We continue to educate students about safety and practice drills for all types of emergencies, including an act of violence at school."
RELATED: Henrico considers installing metal detectors at schools to keep guns out
County leaders previously said the school's emergency management team would be leading the efforts for the metal detectors and wands.
Additionally, Cashwell said the "surge in youth crime and violence is not just a school issue but a community issue."
Cashwell urged everyone, families, neighbors and community members, to be a "critical part of the solution" by working together.
"You may ask yourself, 'What can I do?' Have conversations with your children about their concerns and how to share suspicious activity through the Anonymous Alert system," Cashwell wrote. "Know what they post on social media and what they carry to school in their backpacks and pockets. Reinforce that there are very real and serious consequences for bringing weapons on campus, whether they intend to use them or not. Finally, please ensure any weapons in your home are safely stored."
Cashwell concluded the email with a plea to "help us help our students."
"Be present, engaged, and involved in our students' lives, and leverage your personal and professional resources to reduce youth violence and trauma in our community," she wrote. "We cannot do this work alone, and it is too important to ignore. The very lives of our students and school employees depend on it."
Depend on CBS 6 News and WTVR.com for in-depth coverage of this important local story. Anyone with more information can email newstips@wtvr.com to send a tip.
Superintendent's full School Safety Message email — sent Jan. 22, 2023 around 6 p.m.
HCPS families and staff:

I'm writing this evening about the critical issue of school safety. I apologize for the length of this message, but the topic deserves our full attention and thorough consideration.

By now, you've likely heard the troubling news that a loaded gun was recovered from a student at a Henrico County middle school last Friday. An anonymous tip led administrators and the school resource officer to search the student's backpack. This is just the latest significant safety-related incident involving weapons and threats being made to schools across Henrico County this school year.

I am saddened to live in a time when these incidents happen, and like many in our community, I am also angry. Students should not have anxiety about going to school, and teachers should not have to worry about putting themselves in harm's way to protect their students. Enough is enough. As a community, we must stand together and take action to reduce youth violence. Every student and adult has a critical role in keeping our schools and our community safe.

As Superintendent, I am committed to the necessary and ongoing work to strengthen school security measures and support all of our students and staff. It is a shared priority and commitment for the entire HCPS administration and the School Board. Safety and wellness are a cornerstone of the school division's strategic plan, and comprehensive and multi-layered security plans are in place for each school building and campus.

By mid-February, we will begin a field test of metal detectors at multiple schools at all levels across the County. Trained staff will lead students, employees and visitors through free-standing detectors and/or screen them with hand-held metal detecting wands. We will also test new weapon detection technology currently being used at some professional sports stadiums and other venues. The detectors will change arrival procedures, but we are working to minimize delays to the greatest extent possible. Principals at field test schools will share details with impacted staff, students and families soon.

The metal detectors supplement the increased K-9 sweeps, security cameras, access control systems, buzz-in vestibule entryways, threat assessment and crisis response teams, school resources officers (SROs), HCPS safety officers, Anonymous Alert [track.spe.schoolmessenger.com]systems and other security layers HCPS has in place. We continue to educate students about safety and practice drills for all types of emergencies, including an act of violence at school.

This summer, I brought together a team of safety experts to look at security measures and how the division can better support first responders in an emergency. The division is currently funding and implementing many of the Blue Ribbon Safety Panel's recommendations [track.spe.schoolmessenger.com]. HCPS is also investing in essential human resources through a multi-year commitment to add more school-based mental health professionals, school counselors and school resource officers.

We work daily to build relationships and a strong school culture of trust and support in every school where staff, students and families understand our shared responsibility for school safety. That work is making an impact. In most cases where weapons were found at school, they were recovered because someone spoke up or used the division's Anonymous Alert system to do the right thing.

We must acknowledge, however, that the surge in youth crime and violence is not just a school issue but a community issue. We must work together to address the problem, as families, neighbors and community members. You are each a critical part of the solution.

Last year, the County Manager, Police Chief, and I established a joint task force on youth crime and violence. Our focus is on streamlining school, general government and community resources to combat youth crime & violence. As a result, a "Handle with Care" program is now in place to help schools identify and serve students impacted by violence and trauma in their homes and community.

The task force co-hosted a Community town hall last spring where organizations provided resources and made connections. For example, the Henrico Police Division was there to speak with families about crime prevention, safe gun storage and more. As a next step, the task force will host a Regional Youth Summit this spring focusing on topics and issues identified by students for students.

To further engage families, the school division's Department of Family and Community Engagement offers services and workshops on various topics, including mental health resources, social media awareness, academic support and more. HCPS and our community partners also recently opened The Oak, the region's first full-service community school [track.spe.schoolmessenger.com] to provide academic and wrap-around services to students and families.

You may ask yourself, "What can I do?" Have conversations with your children about their concerns and how to share suspicious activity through the Anonymous Alert system. Know what they post on social media and what they carry to school in their backpacks and pockets. Reinforce that there are very real and serious consequences for bringing weapons on campus, whether they intend to use them or not. Finally, please ensure any weapons in your home are safely stored.

We are making an urgent plea to our families, caregivers, faith leaders and community partners: help us help our students. Be present, engaged, and involved in our students' lives, and leverage your personal and professional resources to reduce youth violence and trauma in our community. We cannot do this work alone, and it is too important to ignore. The very lives of our students and school employees depend on it.

Thank you for being part of the solution.

Sincerely,

Dr. Amy E. Cashwell