RICHMOND, Va. -- A Richmond high school's robotics team is gearing up to compete on an international stage.
The Mech Tech Dragons of Maggie Walker Governor's School are one of 20 different robotics teams selected to compete in the FIRST Championship in Houston, after performing successfully in several different state-wide competitions over the last few months.
"It's really exciting," said Lydia Woodall, a junior on the team. "I got into robotics back in middle school. I wanted to get into STEM and there weren't a lot of opportunities. That's one of the reasons why I came to this school, because I was interested in getting into robotics and just getting into the field."
The team, comprised of students of all grade levels at the school, practice nearly every day, using their self-built robot, named "Toothless."
"There are some points where, for the past three weeks, we've been working on it, basically every single day, Monday to Monday," said Aaron Wang, a senior who managers the team.
The goal of the robotic game is getting cubes and cones onto various poles and platforms as fast as possible, using special cameras and computer codes to move the robot.
The team's success has not gone without a series of setbacks.
Supply shortage issues has been at top of mind.
"Shipping costs still haven't gone down from pre-pandemic levels, so that in itself is there and some other supply stuff is higher costs, so trying to balance all of that out is a big thing," said Mark Sailer, who coaches the team.
But there was one shortage that scared the team the most: A bus driver shortage.
On Friday, April 14, the charter bus company they booked their trip with called parents, saying they had to cancel the trip, due to a bus driver shortage.
Parents then reached out to 22 different bus companies, and bought several refundable plane tickets to make sure some students would be able to travel. However, the issue of carrying equipment was still at hand.
After speaking with two Virginia-based different companies, Venture Tours and AGOFF Bus, the group was able to find two bus drivers available to take them to Houston.
"Definitely would've been a disappointment for the community, as well as the students who wouldn't have been able to attend," Sailer said.
"It's a once-in-a-lifetime opportunity," Wang said. "The last time we went to World's was in 2018 and being able to bring all the freshman, sophomore, juniors with us is definitely going to be a good experience for everybody on the team. And on top of that, we promised the last leadership who went to World's that we wouldn't disassemble their robot until we made it to World's. So now we get to free up some space in the shop."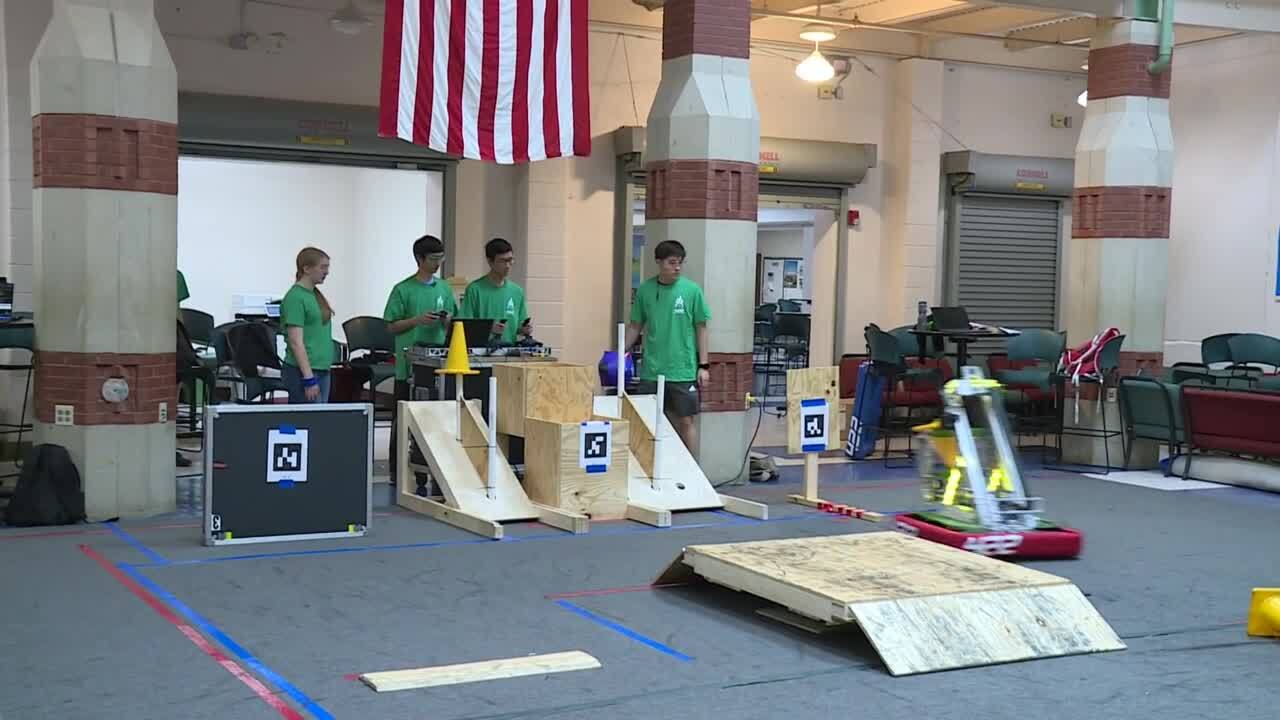 Parents say there are still challenges, like additional, unexpected costs with the travel changes. Another bus driver is also being requested.
Despite the setbacks, the team is excited for the challenge ahead.
"The last couple of years, or at least from last year to this year, we've been on the upswing with our technical performance," Hudson Pitchford, a senior on the team. "It makes me proud of my team members, to see them work so hard."
More information on the team and how to support its travel expenses can be found here.
This is a developing story, so anyone with more information can email newstips@wtvr.com to send a tip.