CHESTERFIELD COUNTY, Va. -- Each morning at Chesterfield County Jail, members of its Helping Addicts Recover Progressively program, also known as HARP, sit in a circle facing each other as they begin group therapy.
On Thursday, Kerri Rhodes led the group as they started "tapping."
"I want everyone to start tapping on the side of your hand this morning," Rhodes said as she started tapping the side of her left hand against her right.
"As you tap, I want you to lean into any worries or stresses that you brought with you today, that you woke up with."
She told the group to start tapping on their brow bone, just between the eyebrows. She then moved her hands to her temples. The group followed.
Rhodes, who's worked as a therapist for 30 years, said tapping is transformative.
"It's evidence-based. It's been around for a long time. There are hundreds of peer-reviewed studies that show how well it works for things like anxiety, pain, trauma, and PTSD. Eating disorders. It's used for all these different things," she said.
"What tapping does is, it relaxes the body while we activate the event. So, we're basically kind of pairing two signals. An alarm signal in the brain, like a dog barking, sweating, and a calming signal at the same time," Rhodes explained. "And what happens is, the brain goes, 'Uh, what are you doing?' And it rewires how that signal is held. So, it really like, turns the emotional volume down on what's happening for people."
Rhodes said she first got turned onto tapping after she lost her own son to addiction.
"When my son was 15 years old, he had a shoulder injury playing tennis. He was an honor student, freshman in high school and we used opioids to manage his pain," Rhodes said. "And as a mom, I gave him probably one of the most addicting drugs on the planet that the doctors were urging, that's what we were given. And I lit his brain on fire and he began to struggle with addiction. We lost him when he was 20 years old."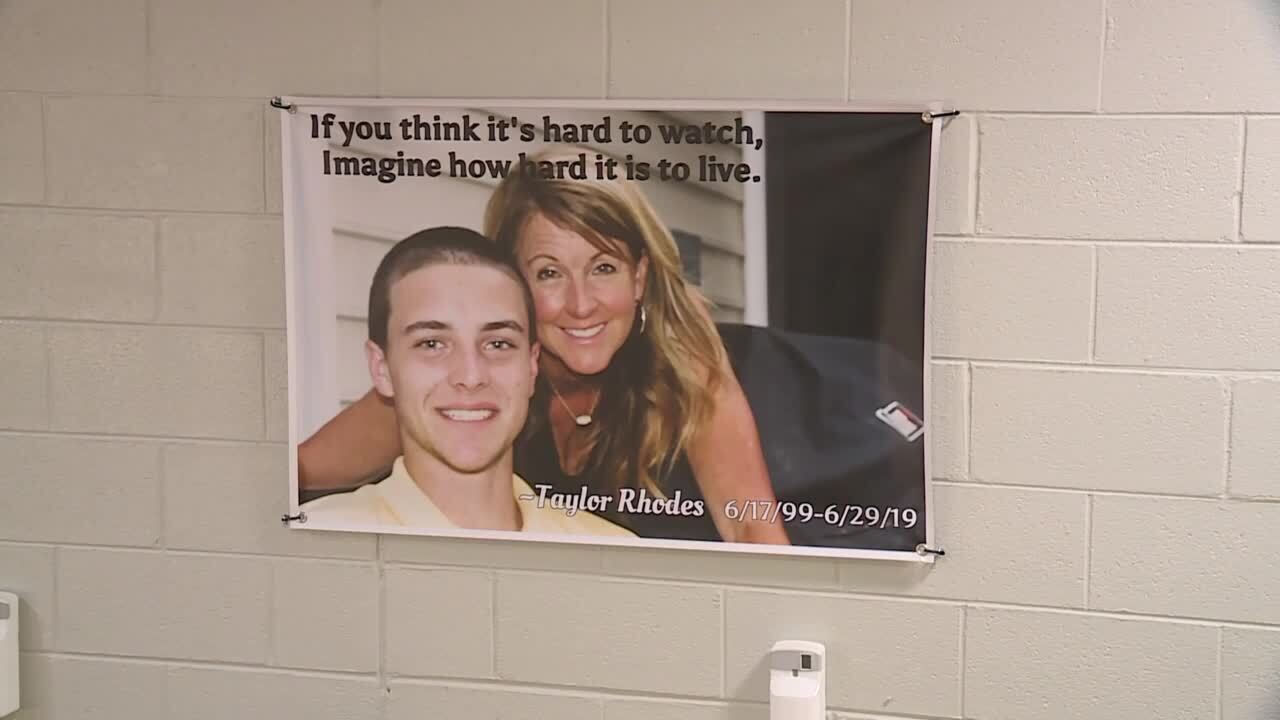 After seeing the success of tapping while dealing with her own trauma, Rhodes wanted to start a tapping program with members of HARP.
"Trying to convince 15 people who spent majority of their life locked up, that when you tap on energy points, it's going to help them? It was a bit of a reach," she said. "Now, it's not."
Maurice Neenan, now certified in trauma tapping therapy, was one of those people.
"She got me to tap with her one day, it was just her and I. And I thought it was crazy. But not wanting to seem defiant anymore, I just followed through the motions. We weren't halfway through the first round, and I've got tears rolling down my face," Neenan said.
"I felt relieved, I felt less weight on me. I felt like I could cope, as soon as I walked out of that room with her, tapping for the first time. And it's not something I've been able to do my entire life," he said.
Allen Keeton, another HARP member, said he ran from the program at first, not understanding how it could help him through his recovery.
"Trauma to me was someone who was coming back from war. Or somebody who had been sexually assaulted or something of that nature. And I didn't have any of those significant events. But what I did find out is that having prolonged stress, and 25 years of addiction and 17 years behind bars was traumatic for me," Keeton said.
"It opened Pandora's Box. I got some insight. I understand some of the things of my childhood, with my father and stuff like that, where my addiction started. And I'd just been stuck in the loop, in a merry-go-round," he explained.
Rhodes and Bailey Hilliard, a program manager of HARP, decided to turn to TikTok, posting weekly videos called "Tapping Tuesdays," showing program participants walking through a tapping session.
Several of the videos went viral, garnering millions of views.
"We've had so many amazing responses. Kids are tapping with us in elementary schools and high schools," Rhodes said. "We had someone the other day message us and say, 'I had one more day clean because of you. You don't know how much I needed this.' And for me, as a mom, and I see how hard and brutal addiction is, I mean, I lost my son. To have somebody say, 'Hey, you gave me one more day clean.' That's what we're here for. It matters."
"If putting one video out a week helps somebody get into a recovery program or helps someone to stay clean for one day more, or reduce stigma for incarcerated people, I'm happy to be a part of that," Hilliard said.
Sometimes through tears, tapping turns down the anxiety and stress that comes with addiction or entering the incarceration system.
Neenan and Keeton said they've seen new members, first hesitant about the program, catch on quickly after their first tapping session.
"We watch people come in. They're real guarded, they're real adverse," Keeton said. "They just don't get it. But somewhere along the way, they pick up on something and you see them. They start coming to the other side. The light bulb turns on for them. It gives you chills."
"The aggression is gone. The madness is gone," Neenan said. "The hurt, the sadness of waking up in these walls is gone momentarily. It gives you time, because it's gone momentarily, to think of other things, and maybe be receptive to maybe what another brother is talking about with addiction."
Several members of the HARP program said they've shared the tapping technique with their families through video chats, hoping to spread awareness about the trauma-therapy tool that changed their lives.
"We want people to heal. And you can do that with your own body. That's the cool thing about it," Rhodes said. "Your body is resourced. We just have to be quiet enough to pay attention."
Through its popularity on TikTok, HARP RVA raised money to help former members pay for recovery housing after they're released from the jail.
"Tapping's not just changed my life," Neenan said. "It's helped me change the lives of other people. And because of that, I'm forever grateful."