YORKTOWN, Va. -- Three people have been arrested after a Richmond woman's body was found near one of the entrances to the Colonial Parkway in Yorktown last weekend, investigators said.
York-Poquoson Sheriff Ron Montgomery said the murder was linked to members of the Mad Stone Bloods gang in Norfolk.
Officials said 24-year-old Hezekiah "H.K." Janile Carney, whose last known address was in Norfolk, 24-year-old Jamica Danielle Langley, whose last known address was in Richmond, and 18-year-old Acacia Jackson, whose last known address was in Norfolk, were arrested Wednesday in Portsmouth.
There is no word on the specific charges the three suspect, who were being held in the Portsmouth City Jail, are facing.
Body found Saturday morning near Colonial Parkway
Officials said a jogger called 911 after spotting the body "about 10 feet off the road into the woods" along Old Williamsburg Road between Riverwalk Townhouses and the Colonial Parkway entrance around 6:30 a.m. Saturday.
When first responders arrived, 25-year-old Tyosha Tanique Mitchell was pronounced dead at the scene, according to deputies.
Officials later said Mitchell died as a result of multiple gunshot wounds.
Montgomery said deputies recovered 14 shell casings near where her body was found and that a neighbor told deputies they heard gunshots around 3:45 a.m.
Montgomery previously said deputies believed Mitchell was "forcibly taken from Richmond" the same morning her body was discovered.
"Investigators have worked around the clock since last Saturday to determine what happened to her," Montgomery said.
The sheriff said Mitchell was brought to Yorktown by the trio who are affiliated with the Mad Stone Bloods gang based in Norfolk.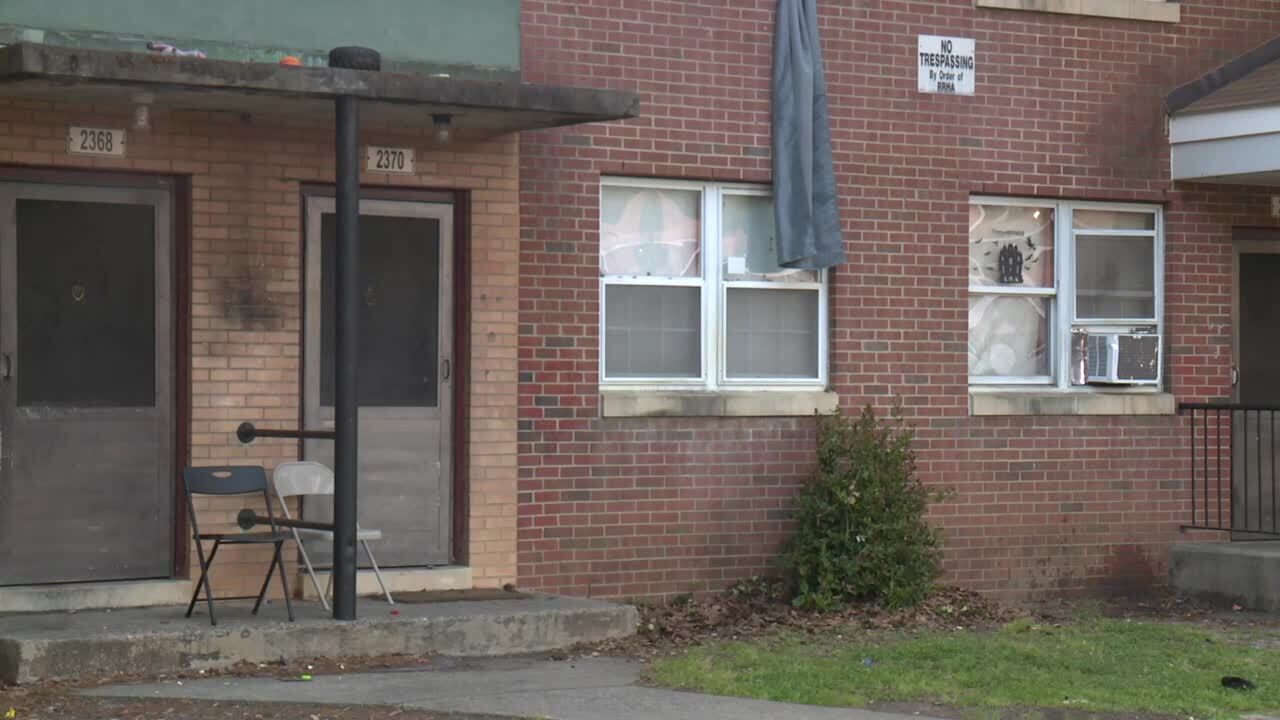 Investigators search Richmond apartment
Richmond Police assisted deputies with a search warrant for more than four hours Saturday afternoon at a Bethel Street apartment, Crime Insider sources told Jon Burkett. That is in the Whitcomb Court neighborhood in the city's East End.
Forensic gloves were spotted on a sidewalk near the apartment and a blanket was seen hanging from a second-story window of the apartment building.
Neighbors told Burkett that they heard a loud argument around 3 a.m. However, no one living close by knew much about the woman, but they said that she would pleasantly wave if they saw her.
"I want to thank not only the Portsmouth Police Department but the Richmond City Police Department for their assistance in this," Montgomery said. "It was outstanding work on the part of our investigators and the City of Richmond Police Department that were able to solve this case and put together the evidence that... lead us to where we are today with these three arrests."
However, Montgomery stressed that the investigation is "not finished" and that additional information could be released later this week.
Anyone with information about about the crime is asked to call 911 or the York-Poquoson Sheriff's Office at 757-890-3621.
This is a developing story, so anyone with more information can email newstips@wtvr.com to send a tip.